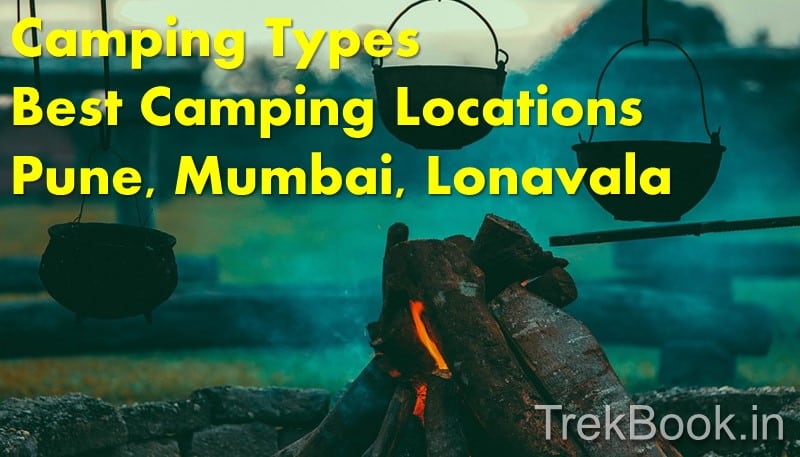 In continuation to my last post on Things to do during Camping I am writing next post on type of camping and locations suitable for you.
Its obvious that latest trend is to spend sleepless nights during camping with enjoyment of Guitar music, bonfire, games and ghost stories … rather than spending night in air conditioned hotel having a small swimming pool.
Camping sites allow you to enjoy clean and fresh air, spending nights under millions of stars .. swimming in big pool with million gallons of water in it .. wow .. fishing .. sky gazing .. bird watching ..
Camping type and options near Pune , Mumbai & Lonavala
Lakeside camping

People love lake view from their tents
Get up early morning you ought to see beauty of lake
Pawana lake is famous for the beautiful views
Bhandardara

about 160 kms from Pune
Places to visit are Bhandardara Dam, Umbrella Waterfall, Randhaa Waterfalls, Harishchandragad and Ratangad Fort
Lake view is awesome and you can tent camp anywhere

There are other places like Kasarsai near Hinjewadi which also provides beautiful stunning views in morning and during sunset. Kasarsai dam also have high and dense greenery than Pavana lake, since farming is still going on in nearby villages
Verified Camping near Pune, Mumbai, Lonavala Options – RainBow Island Camping Grounds

Beachside camping

Kashid beach
Alibaug beach
Murud beach
Bordi beach

Camping under the stars

Pawana lake
Kasarsai Lake
Rajmachi
Velhe

about 46 kms from Pune
Places to visit – Torna fort
You can also do camping on Torna fort
Many village homes provide homemade food, also hotels are there

Bhor
Lonavala

about 65 kms from Pune
Many hotels and campsites are there near Lonavala
Places to visit are Karla Caves, Lion's Point, Lohagad Fort, and Bhaja Caves

Panchgani

about 100 kms from Pune
Best place for camping during summer holidays, its green, its cool
Places to visit are Sydney Point, Parsi Point, Table Land, and Lingmala Waterfall

Jungle camping

Vasota Jungle Caming
Koyna backwaters Jungle Camping

Fort camping

Harishchandragad camping
Kalsubai camping

Cave camping

Kataldhara camping (near Lonawala)

Hill view camping

Monsoon camping

monsoon camping shall not be done on forts due to poisonous reptiles (Cobra, Krait,Russell's viper)
goto safe places which are plain with crush sand which does not allow reptiles to move easily (they don't like)
visibility shall be there, preferably lights all the night, so that any snake is easily visible during walk for toilet or roaming around, do not depend upon the mobile lights which are not so good during night to view snakes or reptiles
goto developed campsites only, with generator backup (its common in Maharashtra to have no power for days during monsoon season in villages)
Recommended site RainBow Island

Eco adventure camping

Many developed campsites are there for adventure camping near Kamshet and Hinjewadi

Aqua adventure camping

in Konkan region many sites are now developed like Tarkarli for Aqua activities along-with camping
---
So what I am doing is getting some options for camping near Pune, Mumbai and Lonavala for you, just fill in the inquiry form and I will try to provide you best options, with this it will also help me supporting my site expenses and you will get a known option.
---
Now coming to the nearby places for camping near Pune, Mumbai or Lonavala, most famous place is Pawana dam. In resent years it has became so famous that thousands of tourists are going to spend weekends and nights there.
Nightlife has developed due to illegal activities are permitted and in resent years deaths due to drowning are increasingly reported
(refer to my previous report after visiting Pavna dam after a techie died .. it throws light on the present situation at Pawana lake – https://trekbook.in/2018/01/visit-pawna-camping-sites-2-techies-drown-pavana-backwaters.html/ )
However if you see there are cases of drugs & liquor, deaths due to drowning so I feel it is unsafe unless you are sure about legality of sites. I  had visited to the different camping sites touching to the Pavna lake but could not find which of them are legal sites !
Why to find alternate places to Pavana dam for camping ?
Too much crowd which is drinking liquor and drugs near Pawana lake
No control from Police or Forest department
Increasing number of cases of drowning in the pawana lake water
Unsafe practices followed
Unhygienic campsites developed just to make money
Constructions has happened over government land which are illegal, by going to such campsites we are providing support to people who are involved in such illegal activities ! I suggest not to support them