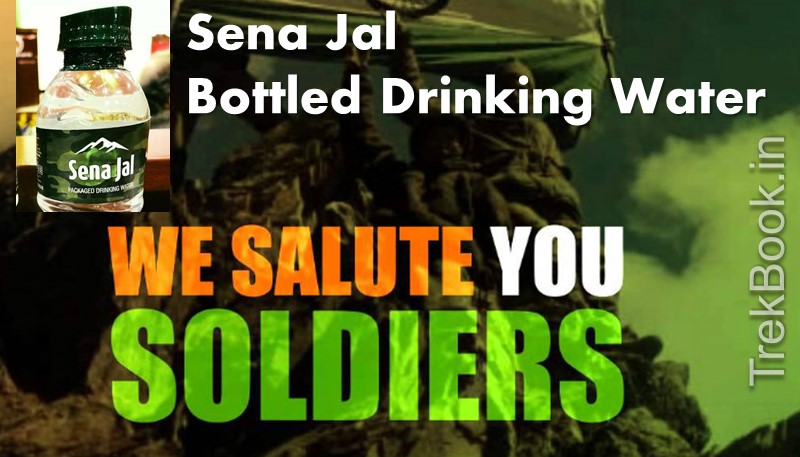 I am proud to be an Indian जय हिन्द

… and if you ask me who carries highest respect in my mind, no doubt its one and the only my countries best "The Indian Army"
And each step I do including paying my taxes, I think that a part of it is going to build my nation and support my Indian Army.
So how to Support the welfare of Soldier & War widows ?
Yes with recent launch of SENA JAL which An initiative by Army Wives Welfare Association of selling Packaged drinking Mineral water bottles at most competitive price as well as generating welfare fund is welcome by TrekBook India.
Buy ONLY Sena Jal: for Welfare of Soldiers & War Widows
So while you are on travel and want to buy a packaged bottle of drinking water, do look and ask to each shop / stall owner about availability of SENA JAL (Army Water) which will generate awareness that people are looking for it and AWWA will get more and more inquires and support faster. I am sure an an Indian you would do this. Plz Plz.
So you will get this packaged Mineral water bottle for just 6 Rs! so why to buy other brands in market which are really only meant to make tons of money exploiting all of us ? Rs 6 (250ml) & Rs 8 (500ml)
Remember that when you buy each of this bottle, the money goes accounted for the welfare of soldiers & war widows, and hence will be a great support to the Indian Army.
Can I be distributor or authorized dealer for Sena Jal?
---
Update 6 Feb 2018 :
Reference news from NEWS18 इंडिया channel
Sena Jal is meant for consumption by  Indian Army only and will not be available for common man.
So you will not be able to buy it in outside shops, malls.
---
Please get in touch with the AWWA Secretariat at the Defence Headquarters in New Delhi.
as on now I have dropped an email to the support services asking for more details on this aspect since I know each of the hotel owner, person wants that this initiative shall go viral throughout India and world 🙂 Will update as soon as I get some information on it. (Last update as on 21 Jan 2018)
If you are living near the Delhi then you can contact this Association for Dealership of Sena Jal as address given below: Please note that there is no sena jal delaership form available for download on their official website
AWWA SECRETARIAT
210, SOUTH BLOCK INTEGRATED HQ OF DEFENCE(ARMY) DHQ,
PO, NEW DELHI – 110011
or you can call or email them as mention below:
TELEPHONE: 011- 23018183
FAX: 011- 23012897
EMAIL: centralawwa@gmail.com
You can visit Official WEBSITE of AWWA for more information
Official WEBSITE of Sena Jal AWWA:  www.awwa.org.in
AWWA aims at the holistic development and well-being of Army Wives including their children and rehabilitation of war widows and differently-abled children.
It also takes an active part in protecting the human rights violation against the Army personnel and their families. AWWA not only provides emotional support, but also the financial support to its brave heart widows.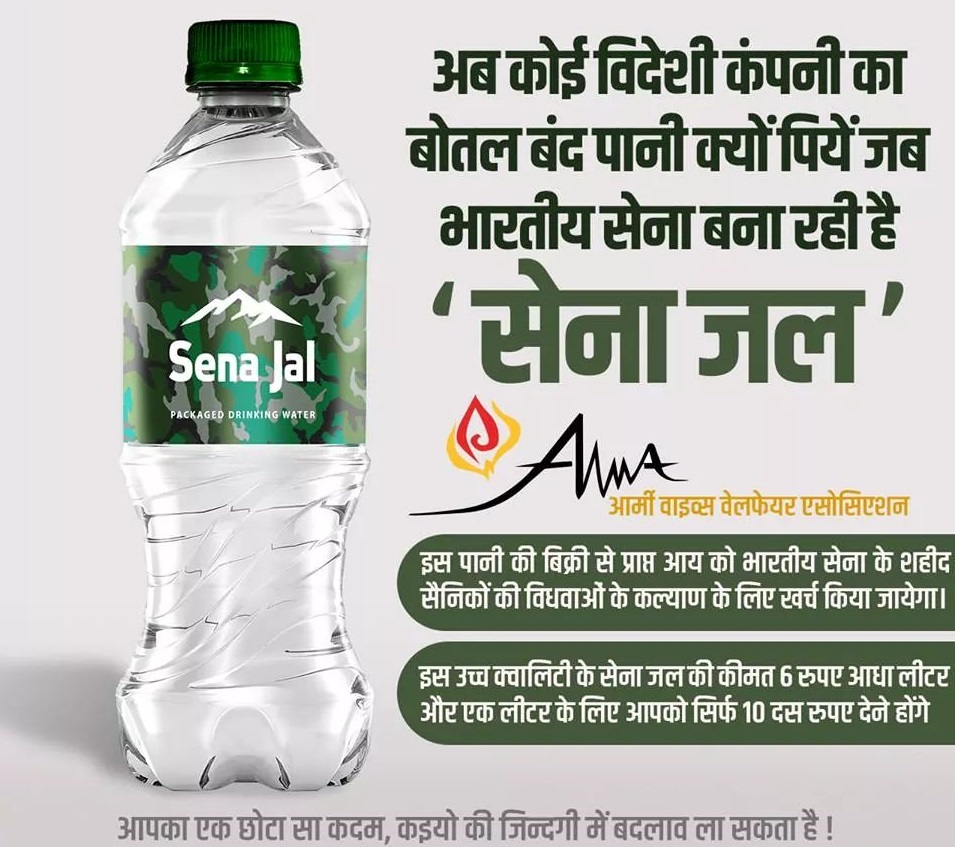 ---
TrekBook India Salutes for the Brave Soldiers who gave their life to protect this great nation. Jai Hind !
---
#defence #indianarmy #proudindian #army #support #soldiers #braveheart #salute #respect #incredibleindia #military #awwa #mineral #water #SenaJal #dealer #distributor #authorized #form #download
#सेना जल  – पानी के बोतलों की बिक्री से होने वाली कमाई जवानों और युद्ध में शहीद हुए सैनिकों की विधवाओं के लिए खर्च की जाएगी
#senajal – an initiative of the Army Wives Welfare Association (AWWA)