Update 15 Oct 2017:
Our honorable guest Somji sir revisited RainBow island with 100 guests today 🙂
The experience was awesome, all the guests were very jolly and loving. Every body enjoyed a lot. All had a wonderful time….. played Tambola, passing the parcel, boating, dancing, singing, fog dance and much more….. 
?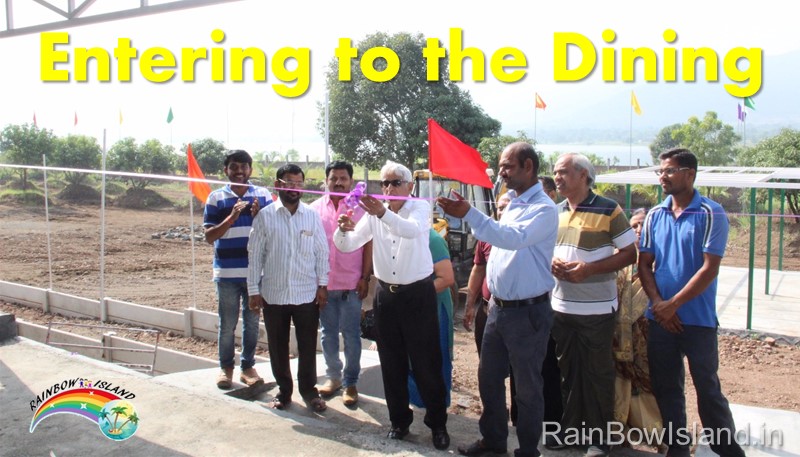 Yesterday was a surprise day for Omkar when he got visit by Very Very Special Guest Gulam Ali Somji Sir (Owner of Sanskruti & The Splendour Country Club – Pune) to RainBow Island.
It was quick decision to get ribbon to the dining hall entry and greetings to Somji sir with a Rose flower …
Although the facilities are gearing up .. Somji sir decided to visit the RainBow Island Garden and Camping grounds as a blessings and Suggestions for improvements before official opening happens.. So kind of you Somji sir …
As our Special Guest Gulam Ali Somji Sir is Owner of Sanskruti & The Splendour Country Club – Pune, his suggestions are most valuable which we will be implementing this week, some of the valuable suggestions are –
Addition of First Aid Box
Maintain Suggestion Book
Improve access to the Fog dance setup
Make Chess, Cards, Carrom board available for elderly people
Morning was warm welcome with Simple but special break fast prepared by Pramod Singh and his team.
Followed by a dance and singing program by his group .. the sound system sounds great 🙂
After a while team went to Boating tour (deck is a kilomter away from RainBow Island)
Back for lunch .. served by delicious lunch 🙂 here are just a snap shot of food items being served …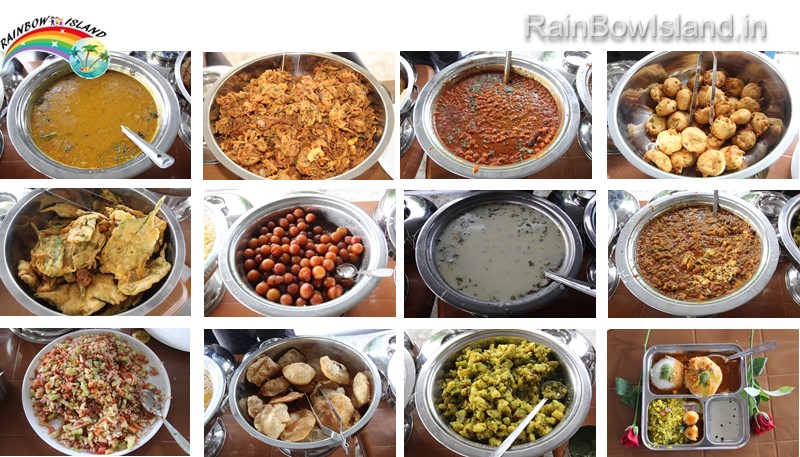 Followed by some rest and then Fog dance …
Concluded by the high tea … Somji sir and his team carried happy memories of being first customer on Day Zero …
Omkar and his team is thankful for such graceful visit by Gulam Ali Somji Sir (Owner of Sanskruti & The Splendour Country Club – Pune)
Hope to see such special guests again and again …
Sample Iternary for Saturday (example – You can change it as per your wish)
Saturday
2.00 pm
Reach Campsite by your own travel (car/bike)
2.30 pm
Optional Activity – Go for Trek to Waghjai Temple
2.30 pm
Optional Activity – Go for Boating (deck 1 kms from campsite)
5 pm
Back to RainBow Island for High Tea
6-7 pm
Fog Dance (after 7 pm no DJ plz)
8 pm
Dinner (Only Veg)
9 pm
Campfire & Enjoyment
Tent Stay (Please bring your own bedding)
Sunday
6 – 7 am
Wake up to beautiful sunrise view & chirping birds
8-8.30 am
Bk fast
9.30 am
Checkout with loads of memories and pictures
Standard Package = Camping + Food
(Deluxe Package = Standard Package + Boating + Campfire 1 hour Fire-Wood Supply
Inclusions –
Tent Stay
Dinner
Evening High Tea
Morning bk-fast & Tea
Fog dance (Evening 30 minutes before 7 pm, No DJ allowed after 7 PM)
15 minutes of Educational film (subject to Power availability)
Parking
Filtered water
Exclusions
Personal medication
Trekking to nearby hill, you can do on your own.
Trek Guide can be provided on chargeable basis
Boating available at extra charges of 75 Rs per person
Barbecue – Charges depending upon menu, pre-booking required
Camp-fire – for group over 20 people we will provide (1 hour) complimentary wood for camp fire.
Bottled water
Cold drinks / Ice cream
FAQ
Is washroom and changing facility available?
Yes
Age Group criteria
Any age group can enjoy at lake side, as campsite is fully safe
Can I do swimming
No, we do not recommend swimming in this lake since its very deep
What kind of vehicle is preferable?
Any vehicle can reach campsite. Parking space is available
BBQ
We will provide you BBQ equipment with screw n coal. You have to prepare it on your own.
How will be stay facility?
Stay will be in Tents (sharing of 2/3/4 basis);
Blanket, Bedding and pillow you have to bring on your own
Inside tent we will put PU foam sheets which provides basic thermal insulation & provide basic comfort
Cancellation and Refund applicable on the tour cost:
if cancellation done prior to 15 days of outing 75% will be refunded.
If done prior to 10 days of outing 50% will be refunded
After that no refund will be provided
You can visit their website www.rainbowisland.in
or book your camping or day visit using Booking Form
Also they are offering FREE Passes .. please visit their website and fill the form to enter the contest ?