It was day two of my Srinagar-Leh tour and plan was to enjoy the mountain views, heights through cable car at the most famous Gulmarg ! But my cab driver told that it would be hell of crowd at Gulmarg and I will not be able to reach stage two of cable car !! I immediately called-up my friends Shailendra, Sharad & Santosh who all went to Gulmarg last year different times and got confirmation that reaching stage two is extremely difficult due to crowd & reaching stage three is virtually impossible. (This is due to less cable cars from stage 1 to 2 and 2 to 3). So I decided to change plan and move towards Pahalgaum instead of Gulmarg 🙂
[You see this is advantage of being on your own, you are able to change plans quickly depending upon the situation]
On the way to Gulmarg we went to visit an Apple Garden. It was just a small garden maintained by a Hotel owner to give an idea about the apple trees but good that you get to see the apple trees. You can simply order your food in otel and then roam for few minutes in the garden, buy some fresh cherries, apple jam etc or do some shopping in hotel shop.
Lunch at Apple Valley Restaurant was tasty, good quality and quite reasonable cost (Panjabi food served, no dosa/idli options, Roti's were good so as the rice) [Wash room available]
You get magnificent views on the way to Pahalgam needless to say that Kashmir is heaven on earth 🙂 You traverse through roads and rivers .. Beautiful mountain views … Kashmiri boys on the roadside …Look at changing colour of river water … wow …
Time to reach to Pahalgam from Srinagar depends upon traffic conditions, for us it was around 5 hours out of which 2 hours we spent in traffic jam [Small reasons can cause traffic jam hence it is advisable to start early morning, minimum 8 am to get through. In our case it was some small strike from truck owners !!]
[Remember you have to pay Toll just before entry to Pahalgam]
While I entered the car parking area which was already over crowded ! I was greeted by horse owners and they started negotiating the horse riding rates !
Really negotiating is a skill and I tried all tactics to get horse riding best rates (including calling Shaildendra to do telephonic negotiation !)  I could settle down at 1500 Rs per person to show five important points [Kasmir valley, Dabyan, Baisaran, Waterfall]
Just for reference I have given the Horse riding rate card, but mind it, you need to negotiate ! Better you are at negotiation lower rates you get … But at 1500 Rs horse riding for two-three hours is good deal … You must experience it once …
Climb to scenic points is thrilling .. Most of the tourists are not so used for horse ride so suggestion is to keep your grip on horse loose, if you hold it tight after an hour or so your wrist will start paining ! Also better to wear your jerkin since it rains cats & dogs in June … Also do take care of your camera, horse tend to jump over obstacles !!
Enjoy your horse ride and beauty of Kashmir around … It will be memorable experience for you … [Although riding on horse I felt bad ! I felt like cruel to him 🙁 ]
You reach few photo stops around … One of the big green patch being crowded with people playing .. rolling into big balls …Just look at the photo which gives you an idea of people, horses and the scenic mountains around ..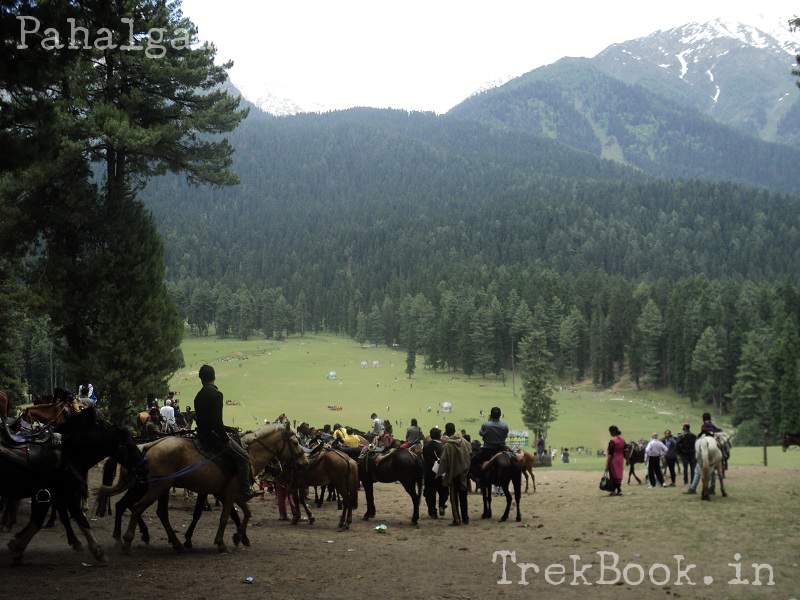 Just a closeup look at the ball games … will cost you around 250 Rs per person for a ball ride …
And if you wish you can have a photograph with Kashmiri cute boys 🙂
Moving on to the next point of waterfall ! where we had the most famous Maggy … Mind it I am not a big fan of Maggy but believe me in the chilling winds it tastes like a heaven .. try putting your hands into the stream water and feel the shock 😛
[btw I did not see any waterfall but it was beautiful stream of cold water]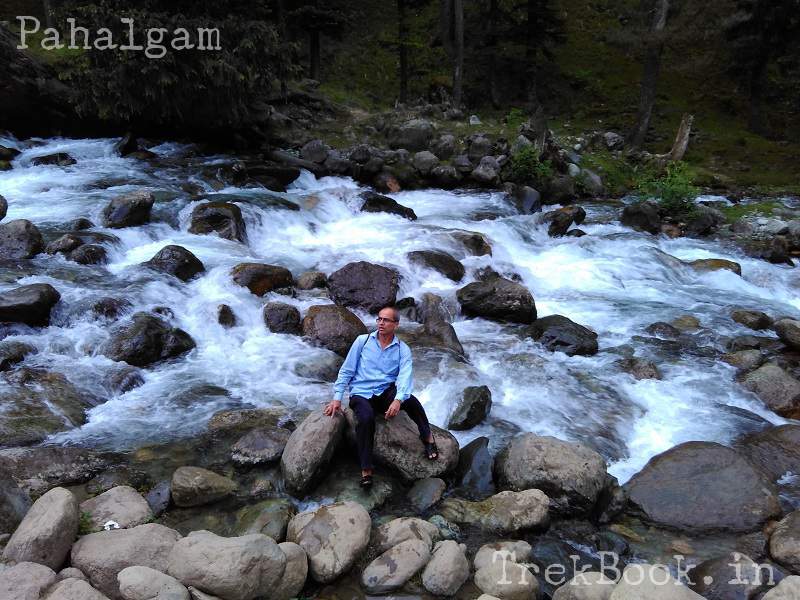 Valley view point is as beautiful as all other points … You see boys asking you photographs for 10 Rs .. They offer rabbits & baby sheep … I had one with … Look at the valley views with passing river … Awesome …
Overall my decision to move on to Pahelgaum instead of Gulmarg proven good … Having experience of horse rides in valleys of Kashmir was unforgettable experience for me ….
On the way back to Srinagar you can do shopping of Spices (There is huge spice market on highway) as well as you can shop for Cricket bats (costing from 200 Rs to 20,000 Rs) but you should know of the quality you are buying for.
I bought sample of spices and dry fruits, but my recommendation is not to buy dry fruits. You can only buy cloves which I found the best. Also at the spices/dry-fruit shops you can enjoy the special Kashmiri tea called as Kahwa
We will continue tomorrow to Kargil via Sonmarg and Drass ….