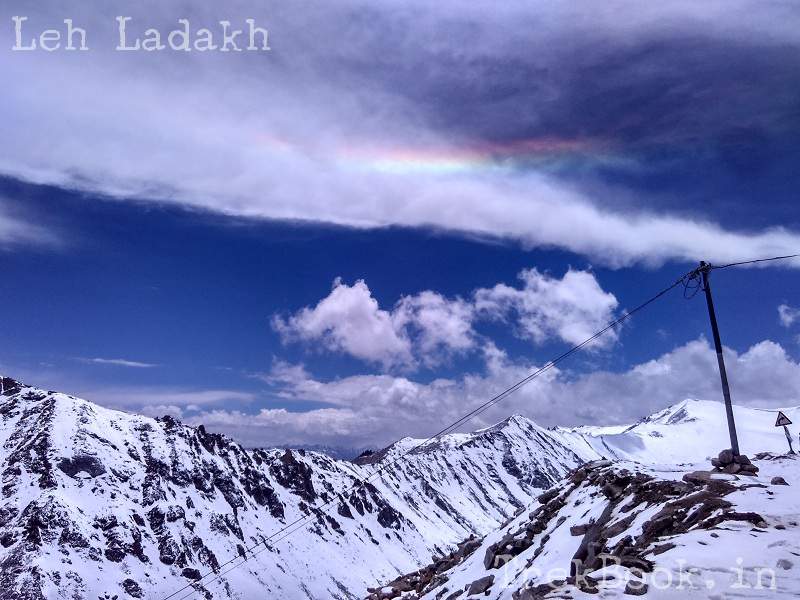 Couple of years back when I went to ask my German Boss Andreas Funk to get leave for Switzerland trip he immediately asked me "Mahesh have you visited Leh Ladakh ?" I said "No Sir" … He said "I have visited Leh Ladakh three times in last five years !! and it is more beautiful than Switzerland and instead of visiting it why you are going to Switzerland which is costliest place in Europe ?" …. Now after visiting Leh Ladakh I can surely say what he said was 100 % correct 🙂 …
I felt proud Indian when I was crossing Khardungla pass which is the world's highest motorable road … I felt proud of our Military who takes care that this most beautiful part is protected from enemy attacks .. Who stays there in -35 degree Celsius temperature … Who has sacrificed since ages for our country … my Salute to all the Javans on Indian Army for that !! I was really at tears when I visited the Kargil War Memorial …
Wow … Just mesmerizing nature … Great Himalaya mountain ranges … Tough roads … Kind people of Ladakh … Expert drivers … Unpredictable nature …. and amazing mountain ranges of mighty Himalaya !! Just go for it ..
Since this is the first post of my Leh Ladakh series I shall begin with my travel plan and budget estimation .. Mind it I could do comfortable and tailor-made journey with unlimited water consumption, quality stay, luxury travel, houseboat stay,  variety of food, flexible 11 nights 12 days travel plan in just 55,000 INR per person including flight from Pune 🙂 just compare it with famous tour operators who ask you double money and they stuff in 6 persons in one Xylo or Innova vehicle (whereas we traveled 4 persons per vehicle) So being on your own has its benefits in terms of flexibility and cost too 🙂
Below is my original plan which I prepared from internet study, however you will understand how this plan was changed by me depending upon the situation of traffic and natural situations … Somewhere it took us 9 hours for journey of just 160 kms where in normal circumstances it takes only 4 hours !! I will give updated plan again when I write in details about each place I visited and how the plan changed … There are many learnings for me …
I would also write guidelines on what to wear, what to eat, how to maintain Oxygen levels, what to buy and shopping budget too 🙂
Day
Date
Dep.  /  From
Arrive    /  To
Programme
Stay At
1
5/6/16
Pune

5:25am

Delhi

7:35am

Getting to Srinagar experience & tips
House Boat,  Srinagar
5/6/16
Delhi

10am

Srinagar

11:20am

Houseboat stay & Shikara Ride in Dal Lake
2
6/6/16
Srinagar

8am

Gulmarg

Pahalgam

55 km

2 Hrs

5 hrs

Snowy mountains – Cable Car
3
7/6/16
Srinagar

8am

Kargil

2pm

205 km

5 Hrs

Via Sonmarg -Kargil via Zoli la Pass & Drass.  War Memorial
Hotel Siachen-  Kargil
4
8/6/16
Kargil

8am

Leh
234 km
Mulbek and Lamayuru monestry
Hotel K2 Continental      Skara Road,   Leh-Ladakh – 194101, J&K  +91 1982 252999
5
9/6/16
Local sight seeing – visit Hall of Fame Musium, Magnetic hill, sindhu Sangam and Gurudwara Pather Sahib & Shanti Stupa
6
10/6/16
Leh
Pangong

Lake

85 km

2 Hrs

Pangong Lake – changes its colour 4-5 times a day. 3rd World's hightest motorable raod thr. Changla Pass.
Nature Nest Camp,  Pangong
7
11/6/16
Pangong

Lake

 Leh
85 km

2 Hrs

Local Sighseeing & Locak Market Leh.
K2 Continental      Leh
8
12/6/16
Leh
Nubra

Valley

138 km

4 Hrs

 Numbra valley of flowers. Diskit Village & Camel ride on Sand dunes.
Habib Guest House / Royal Camp / Nes  Nubra Valley
9
13/6/16
Nubra

Valley

Leh
50  km
Leh –  Sangam  ,  Sunset at Shanti Strupa
Hotel K2 Continental      Leh
10
14/6/16
Leh
TurTuk
128 km
Sightseeing and beautifull Mountains & Hill
11
15/6/16
Local City of ladakh & Market
White Water Rafting (Optional)
12
16/6/16
Leh

6:45am

Mumbai

10:45am

16/6/16
Mumbai
Pune
Back to Home (Pune)
Just rough cost breakup per person is as follows
Air tickets (Pune to Srinagar & Leh to Mumbai)
 INR 20,000

(Best air price you can get it 18,000 Rs if you book well in advance)

Total package of land travel including stay (MAP), tempo traveler (travel from Srinagar to Leh and local Phelgaum trip) + Xylo (4 persons per vehicle) + entry taxes
INR 31,000 (including taxes)
Misc expenses (additional food, tea, water, lunch for all days, entry to monastery, driver tips)
INR 4,000
Total trip expenses
INR 55,000
Shopping expenses were few thousand rupees … I will detail it out in shopping post .. but just to say .. Pashmina shawl ~2K, Sweters 1K~2K, thermos flask 0.7K etc etc … Oxygen cylinder 2 mins pressure can 450 INR (if returned you get 350 Rs back) .. all these details will be in my Ladakh shopping guide page …
I tried all sort of local food including Thentuk, American chopsy ! momos (veg & nonveg), noodles, mutton soup and so on … again details will follow …
So I shall begin the trip from Srinagar and end at Leh airport … feel free to ask questions (like you all did for my Switzerland tour blog) …
Cheers !!