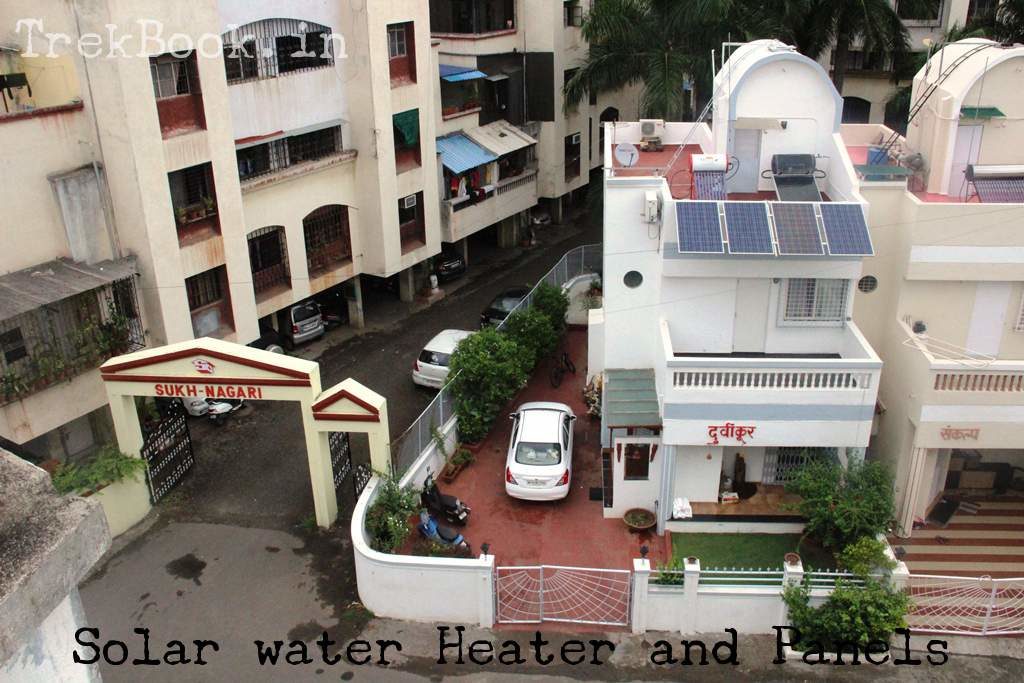 Continuing to my endeavor towards Green Home I have installed 1 KW Solar panels and 200 Liters Solar water heater system at my home. [Read on Wiki on Solar water heating system]
I already had 100 Liters Solar water heater system installed 15 years back which was giving problem of electrical heater failure (I need to use electrical heating in rainy season when there is no sunlight available) and hence I decided to install new system with larger capacity i.e. 200 Liters (Assuming that I need not use electrical heater in winter seasons due to increased capacity)
While I discussed with solar system installers in my area about reconditioning my old system or scrapping it I came to know that this is flat plate collector type system which is capable to withstand high pressures however reconditioning it will be a costly affair. Although the electrical heater was failing frequently the system was good to its natural heating strength.
So I had two choices
Scrapping my present 100 L solar water heater and installing new 200 L capacity system
Using my old 100 L system and adding one more 100 L system

Again additional 100 L system could have been connected to ground floor and present system for top floor
Or I could have connected them in series or parallel to  make it 200 L in total supplying to both floors
After brain storming with the most effective way I decided to add new 100 L evacuated tube type solar water heater system with electrical heater system in series with old.
Purpose of using evacuated tube type solar water heater was cost, it is almost half the price of flat plate collector type systems.
Below photographs shows installation of two 100 Liters solar water heaters versus single 200 Liter water heater system installation side by side.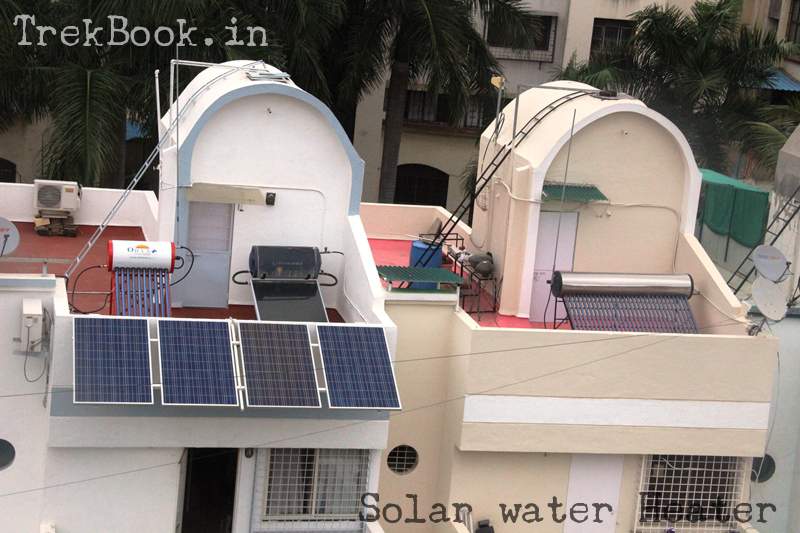 Now here are the advantages and disadvantages of having two separate 100 Liter systems versus single 200 liter solar water heater system
Two 100 Liter Solar Water Heaters in Series
Single 200 Liter Solar Water Heater System
Major advantage of being in paralle is that when hot water is drained from main system of 100 L then fresh water entering into that system will be supplied by another 100 L system, hence if the water temperature is 80 degree in main system, it will be added with 80 degree water from another 100 L system hence the drop of temperature in main system will be negligible. Now the secondary 100 L system will have fresh cold water of 15 degree entering inside and dropping its temperature.

This ensures hot water for more time available in mail 100 L system 🙂

Major issue in single water heater is that if you use say 20 liter (one bucket) hot water, then 20 Liters of cold water enters into the main storage, hence reducing overall temperature of main storage system. Say water stored is at 80 degree centigrade and fresh cold water of 15 degree enters into it, average temperature of water will drop down to say 70 degree
In case of failure of one system you have backup system working, there is less chance of failure of both at a time
In case of failure of system, you do not have hot water at all !! No backup ensured
Electrical Heater is used only to heatup 100 Liters thereby consuming less electrical energy
Electrical Heater will heat complete 200 Liters of water even if you wish to use 20~40 liters of hot water ! thereby increasing electricity bills
Two independent 100 Liter systems if bought fresh will cost slightly more than single 200 Liter system, however looking at all the advantages enlisted above I think this will offset within no time 🙂

You can get 100L Solar water heater at as low as 13,000 Rs on Amazon India
So below is photograph of my two 100 Liter Solar water heater systems connected in series working miraculously as expected, means even if I use hot water from main system (white one) the temperature drop is very less since old system is supplying hot water to the new system … old system gets fresh cold water thereby dropping its stored water temperature in that system.
Flat Solar panels in front of that are 1 KW solar panels and I shall speak on that in my next blog post soon …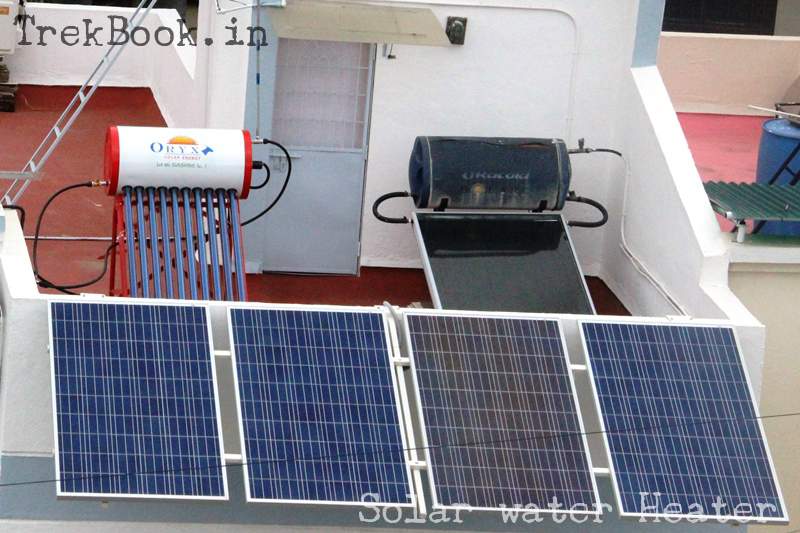 I hope this simple trick will help you resolving issues of getting cold water as soon as someone takes a bath and you need to get hot water after couple of hours …
Do let me know your opinion on this experiment and feel free to drop a mail or call me 🙂
Cheers !!