The #CleanMyIndia drive was successful beyond expectation … and yesterday we went for discussions on sustenance of #CleanMyIndia in our area with Mr. Subhash Machare (Assistant Commissioner) at B-Zone of PCMC. It was holiday for PCMC but believe me he was present in office as well as gave ample time to listen to our thoughts and positively supported calling respective officers quickly 🙂 Wow …
As he saw letterhead of FONA asking for help, he inquired about the organization and work done till now … He expressed due interest in understanding the organization .. and quickly suggested to meet Mr. Sanjay Kulkarni, Executive Engineer (Environment) who will further help out carrying our Nature conservation related drives by FONA in PCMC area 🙂 Really I felt blessed …
After briefing and further instructions by Subhash sir we decided to give a try with Sanjay Kulkarni sir (remember it was holiday for PCMC) .. again  a pleasant surprise he not only picked up our call but also agreed our request to visit Solid Waste Management facility of PCMC at Moshi 🙂
In next hour FONA team headed down to Moshi !! (no patience :-P)
As I was driving we were joking (& expecting) that we will be auto guided by he strong smell to the depot ! Now this expectation came from my regular driving to Pandharpur via Phursungi where PMC Waste management happens .. and there I get to know it from distance of a kilometer !! But here we were at the entrance of PCMC Solid waste Management facility and we did not even knew we reached !! No foul smell at all !
We went ahead to meet Mr. Rathod who is again a most dedicated person for his job .. controlling the waste 24×7 from the bottom of his heart ..
Now I shall explain you what I got to know from Mr. Rathod about the facility ..
Solid Waste Management Stage-wise Process
Stage 1 – This is location where fresh waste is dumped from trucks .. May be you can see the sprinklers at the top of shade which sprays de-compositor every morning, this ensures that foul smell do not occur and the process of decomposition begins … the waste is then moved on to the next level where it becomes dry. Also note that whatever you are throwing inside plastic bags has to be separated manually by workers here ! so just remember the pain they must be undergoing with smelling waste to be handled !! you can help preventing this by putting wet / dry waste separately ..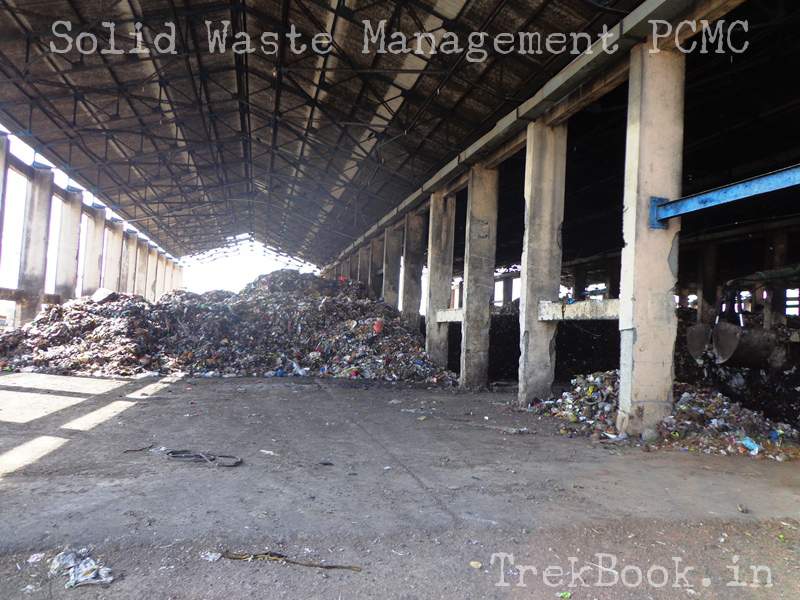 Stage 2 – The dried waste is picked up and sent from conveyor to the first tumbler and mesh where big size waste is separated and then manually segregated (what a tedious process)
Stage 3 – The output from tumbler mesh is big size waste like bottles, plastic bags, chapples, wood etc .. which is then sorted manually by workers .. just imagine ..
Stage 3.1 – Have a look at output from the tumbler mesh .. you are getting solid waste which needs to be treated further in 5 stage process
It is important to note that even after filtration process there will be 10% waste generation which has to be resorted again (Garbage in Garbage Out) … look how difficult it is once you throw something of your house !
Stage 4 – After second tumbler and mesh screening and manual sorting you get something which is plastic out of all waste which again contains soil, dried material and what not .. so they put it in a machin called as Zatka machine … which removes all the solid waste out of plastic bags .. Rathod sir stopped this machine so that we can stand there without issues .. he was so caring about common man who came to see the facility … I am speechless …
Stage 5 – Now the plastic is ready for shredding … it is cut to small pieces and filled into bags which is then moved to Plastic Waste Management facility a kilometer away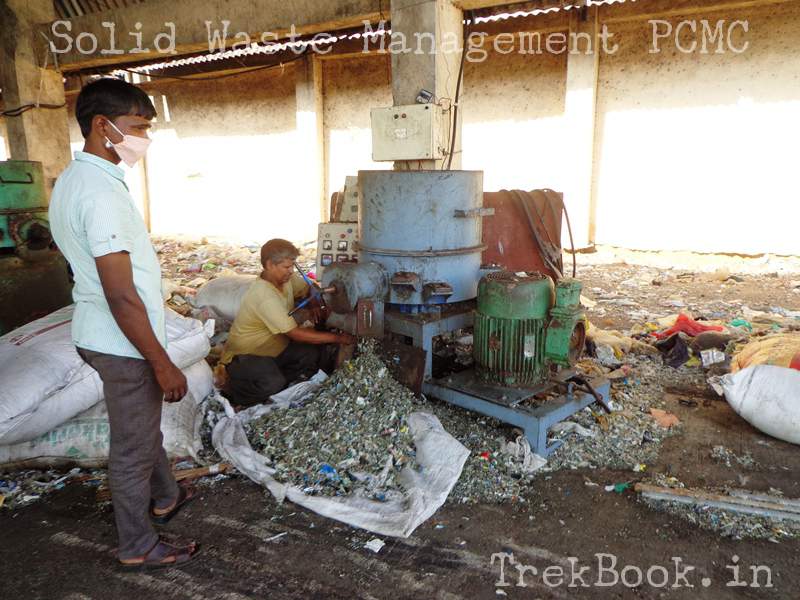 Stage 6 – The shredded plastic is again screened with magnetic separator where metal parts are separated . Now the shredded plastic is ready to go for further processing
Stage 7 – Plastic is fed into the reactor below through screw chute and using heat from gases (which again is bi-product of this process) thermal reactor generates fumes which after condensation and filtration converted to diesel (which is being used in BVG vehicles and generator in facility)
So here is output from plastic reactor plant Diesel & Carbon black (in powder form)
Now coming back to the solid waste after complete processing is stacked in neat form with multi layer process (layers of plastic, khadi, black soil with ~1 feet ID pipes to extract water from beneath to prevent it being seeped inside ) the organic waste undergoes natural decomposition and generates a fluid, which is known as leachate, and is very harmful to the ecosystem and hence needs collection through pipes and recycling in the form of spraying over fresh waste.
Look at the neat pileup of waste which will remain there for years now …
Due care is taken not to generate foul smell in the entire process which you can feel in the plant itself .. all credit goes to officers like Sanjay Kulkarni who are putting all effort and knowledge to get things in place. My sincere salute to them …
Before you say something to sweeper in your area do not forget to visit this waste management facility ! I think is a MUST that every citizen shall visit this plant to understand the seriousness of future …Schools shall have visits of children to make them aware of what is right and how waste management to be done from house …
Our future plan is to meet Sanjay Kulkarni sir and see what small help can be extended from FONA team to get things going …
as said WE CAN DO IT ….and WE WILL DO IT ..
What should I do then to Support City Waste Management ?
Use 3 R Principal – Reduce, Reuse, Recycle
The first and most important thing is that DO NOT THROW HOUSE WASTE IN PLASTIC BAGS
Separate wet and dry waste at the source
Wet waste – To be unloaded directly into collection bins
Sanitary Waste – To be handed over daily along with wet waste suitably wrapped in paper
Dry Waste – Paper, Plastic, Electronic – To be collected and sold to scrap dealer, money generated to be used for cleaning activities or token of appreciation to sweepers in our area
Garden Waste – Spend some time to get into composting it in society area
Discuss with PCMC authorities to implement wet waste management in public gardens in our area where corners can be used
Discuss with PCMC authorities to get more suggestions for waste management in our area