I Love camping and that's the reason to quickly decide upon our FONA Chinchwad first trek as not only trek but camping too …. I feel that all friends can spend more time during camping .. its less fatigue and more relaxation … You get closer to your family and friends …
The challenging part was most of Chinchwad FONA members were first time trekkers and not so used to outing … So Manoj and me decided to have a place where we can have safe camping and a simple but interesting trek.
Manoj friend Sumit of Shivdurg Samvardhan has his camping facility at base of Fort Tikona with food and tents so we decided to go ahead with the plan 🙂
Here is photo of our camp I took from the fort top … The white dots with green compounding is camping location .. beautiful .. isn't it ? and moreover you can drive in your car till the camp site …
Have one more close-up look at our camp site where we used our tents too .. and believe me children loved building tent and so fascinated with concept of being somewhere amid jungle inside tents … No five star hotel can give you that feeling …
The night camping was real fun with children performing art of Yoga … Snehal singing song … Having some introduction session in Irani, Kannda language !!
And the food prepared on Chulha was sooo tasty …. that you will love it …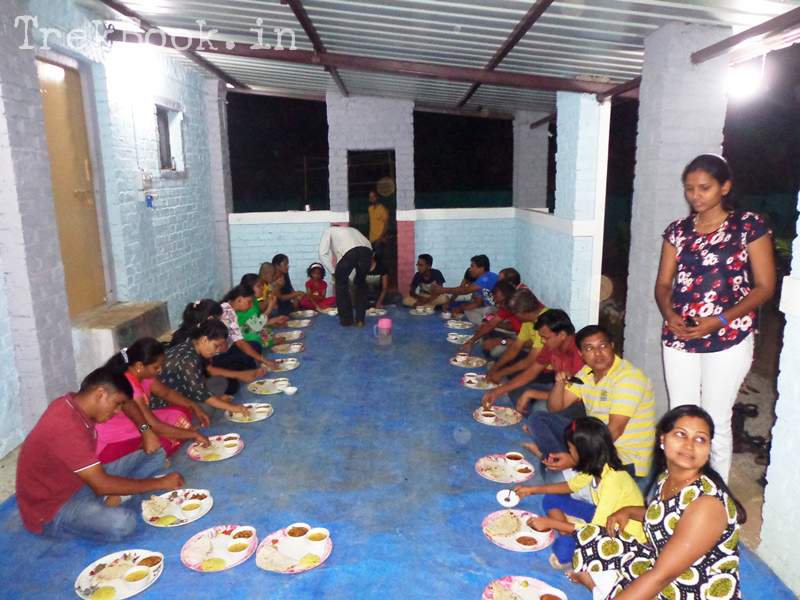 Early morning we had our tea and most of them got ready for FIRST ever trek in their life !! (So Manoj and I was careful)
Since we decided to have this trek immediately after our #CleanMyIndia drive we did not have time to get our FONA banner 🙁 So here is a group photo without banner … felt so sorry for that 🙁
Look at the fort Tikona at the background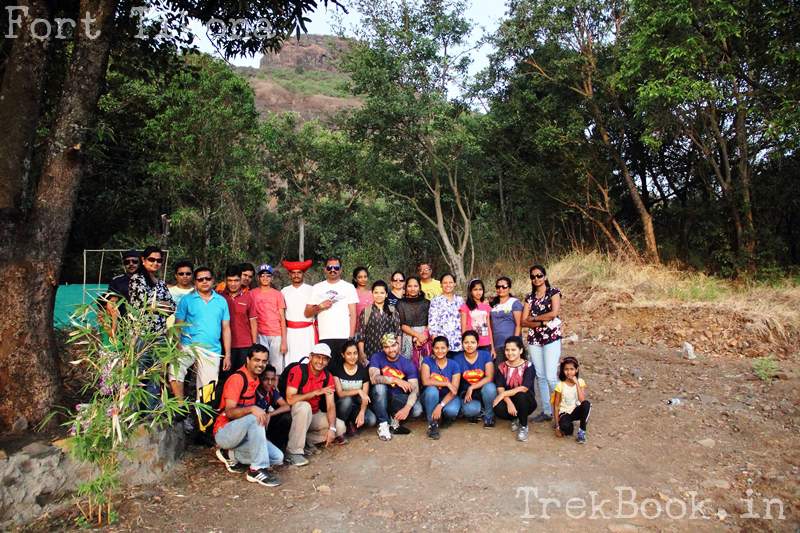 Most interesting part is that Sujit brother accompanies you in traditional Shivajicha Mavala uniform … and he provides you complete in depth information on fort .. wow .. hats off to him and Shiv Durg Samvardhan team for such arrangements as well as keeping the fort clean from plastic and other things like liquor bottles (Their vigilance has helped getting this stage)
 Route to the fort top is very easy with few steps giving a thrill to the first timers 🙂
One the way to top you can see the tree plantation done with plastic pipes embedded to water them through the day … trekkers going up the fort have to pick up plastic bottles kept near plantation and while descending down they are supposed to get them filled to water the plantation … We did this work happily 🙂 and Krunal brought almost 50 bottles at a time by putting them in big bag 🙂 Good work Krunal .. keep it up …
Half the way to fort there is chunyacha ghana(Thing used to crush limestone and jaggary which was used as cement in building the fort) which is found by Sujit and he alone dug the whole thing in  a day .. great work …
Immediately after the Limestone crusher you get on to few steps giving you glimpse of valuable work done before years .. the thought process of stage-wise protection which gave layers of security due to type of doors, quick shoutouts and so on …
You get on to pray the almighty god Veer Hanuman …. which is rarely seen in such sculpture.. here you can see that Lord Hanuman is killing demon under his foot … Recently Shivdurga samvardhan team has supported the structure.
Get on further to huge storage of water which is full in month of May !! This is used to water the plantation on fort … there are huge cat fish (sized @2~3 feet) … you can see them by some small feeding … This place is also good for camping in rainy seasons …
On fort top there is small temple of Lord Mahadev .. where we submitted our prayers …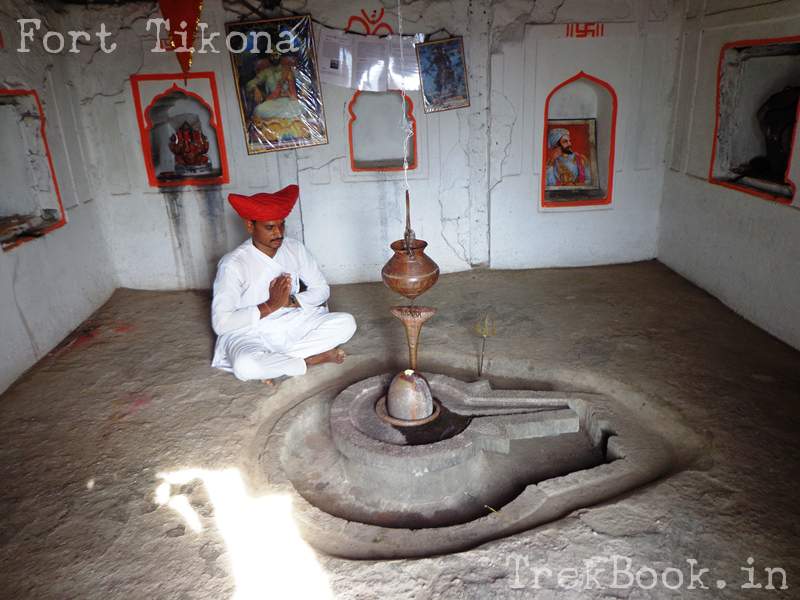 Well well since this is the first trek .. group photo to banta hai boss ..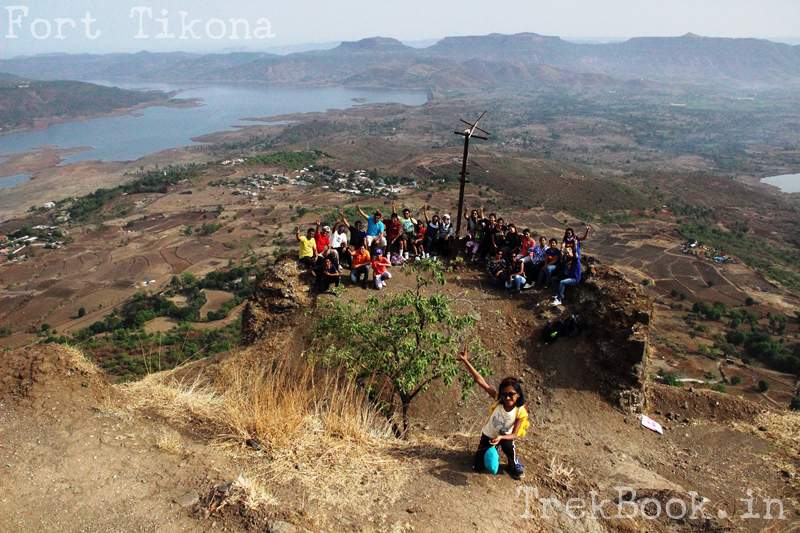 And at last while coming doen we collected micro level plastic (as the fort is already clean) which is small wrappers of chocolates thrown by trekkers … but that was not much .. credit goes to Shivdurg Samvardhan team…
But as we reached car parking area there was hell lot of plastic garbage thrown by people coming for trek (or picnic !) .. we collected almost two bags full but it was not ending .. due to time constraint we came back to camp …
Looking at great work done by Shivdurg Samvardhan we donated small amount to Sujit as helping fund … which is not great work but still it is token of appreciation to them 🙂 And my friend Omkar Oak has promised me to get introduced to the founder member of Shivdurg Samvardhan foundation …. I am just eager to meet him understanding his sustainable model of clean fort ….which will help me impelmenting the same in my own area …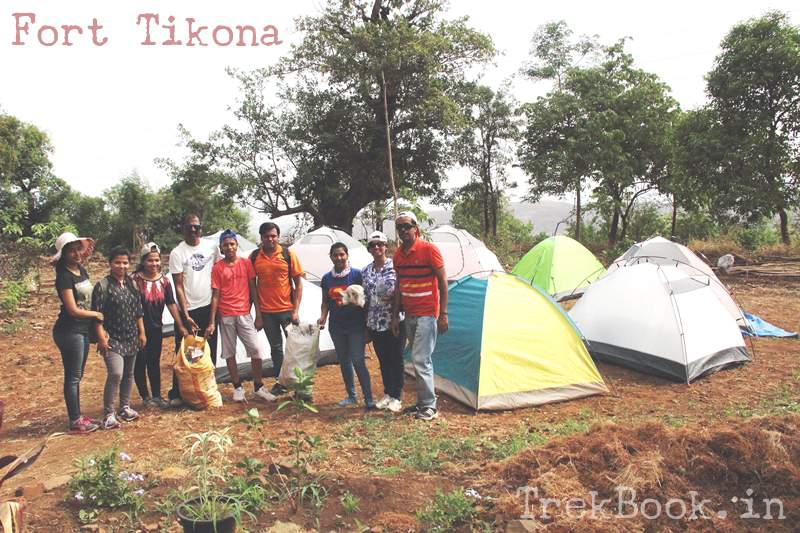 Difficulty level of fort Tikona aka Vitandgad
Easy (Recommended for beginners in Winter and Summer season)
 It will take only ~45 minutes climb to the fort top
Height from sea level : 3580 Feet
What to see !
– Chunyacha ghana
– Hanuman Murti
– Views of Tung, Lohagad, Visapur
– Views of Backwaters of Pavana Dam
Brief History
Year 1657 – Took over by Chatrapati Shivaji Maharaj
Year 1660 – Netaji Palkar designated to take care of fort Tokona
Year 1665 – Fort taken over by Mughals (taken over again by Marathas after death of Auranjeb)
Place to stay/take food & water
Water – Clean drinking water is available at fort top cisterns
Food and stay – Local people provide food (lunch & breakfast)
Contact person – Sujit Mohol (Hotel Tikona Palace) 9637148524 He also provides Veg / Non-Veg food, Tea & Bk fast
Camping Charges – 1000 Rs for tent of 4 persons
Location
Fort Location 18.631924, 73.512589
Camp location (Hotel Tikona Palace) 18.633808, 73.516132
How to reach
Base village – Tikona Peth
Approach 1 – Via Bedse caves to Tikona peth village …
Approach 2 – Get on to Tung to Tungwadi to Kevare gaon .. catch launch till Bramhnoli gaon and walk till Tikona peth ..
Approach 3 – Via Tikona  peth. Option via train is to get down at Kamshet railway station, and catch bus to Kale colony from where you get Jeep till Tikona peth
Precautions
Use proper trekking gears for this trek