Andharban Trek is one of the most beautiful & fascinating monsoon trek among Pune & Mumbai trekkers. This trek is simple [but hectic at descend] trail of around 13 kilometers passing through dense forest walking on the valley edges running parallel to the famous Tamhini ghat … overlooking the waters of Kundalika river and numerous waterfalls … Wearing proper trekking shoes is a must for this trek.
Andhar [अंधार]  in Marathi means  Darkness  and  Ban [बन]  means jungle,  so  Andharban [अंधारबन] means  The  Dark Forest where you will feel darkness during daytime 🙂 you can call it as Dark Forest !
You begin the Andharban trek from Pimpri  dam in during the daylight .. and once you enter the Andharban, you can immediately fell the darkness of the day …. You get into the dense part of the forest, and in between get some clear patches of sky, giving you the magical sensation … well the mist during monsoon adds to the flavor of darkness !
The trek ends at the Bhira dam which is the source of the Kundalika river.
[ Kundalika river is most famous for White Water Rafting ]
Andharban trek Pune – update June 2020
In view of Covid-19 I suggest avoid going for this trek. As a trekker all of us are responsible to keep the Sahyadri mountain ranges and the local people free from corona virus. Hence it is humble request to refrain yourself to visit Andharban in June – Sept 2020 season.
---
Andharban trek Pune – update July 2019
Entry to Andharban and Plus valley is banned by forest department from 15 July 2019 to 15 August 2019.
Ankita Tarade (Department of Forest – Tamhini Nature reserve) – If entered in Andharban during this period legal action will be taken by forest department under rules declared in 2013 by Government of Maharashtra.
Please read news regarding this in Lokamat below –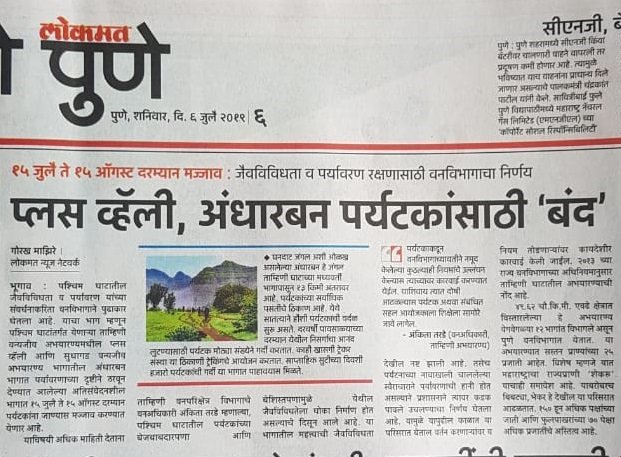 Andharban Trek update June 2019
Three trekkers lost in Andharban valley near Tamhini ghat were rescued by local villagers in June 19, so take care to get alongwith experienced guide with you for this trek
Read detailed news here on TOI
---
Andharban trek
Andharban Trek Difficulty level
Medium (Recommended for beginners under expert trek guide)
The trail is through dark forest without any ups and downs, last descend is critical.
Caution to be taken since trek path moves from the valley sides without any protection
Read the guide on Things to carry for Andharban trek
Andharban Height
~2100 feet at base village Pimpri from where it is all descend
Time to reach
6~7 hours from base village Pimpri to walk ~13 kilometers depending upon where you end the trail may be you end the trek at Bhira dam
Best Time to visit Andharban :
August to December (Do not attempt this trek at the beginning of monsoon, this is due to the common known fact that Sahyadri mountain ranges you get some rock patches loosening due to summer heat, which tend to come down during initial period of rains, so better to be safe and differ the visit after say 15 days of regular monsoon rain showers)
What to see !
Beautiful views of Bhira dam backwaters
Independence point [Look at the photograph at beginning of this blog-post]
Kundalika valley views
Crossing the streams and enjoying natural bath
Waterfalls across (only during monsoon trek)
Place to stay/take food & water
Water :  Carry along-with you or if you are trekking in monsoon then you have plenty of waterfalls
Food and stay : Carry food
Andharban Trek Start point location :
Google coordinates 18.510341, 73.417509 (This point is exact point from which you leave the main road and start trail aside the beautiful Pimpri dam, point added on google maps by someone is ~1.5 kilometers away which is village Pimpri)
Andharban trek end point GPS location – 18.462590, 73.383354
How to reach Andharban trek from Pune ?
Drive down :
ST Bus Route : 
Lonavala to Bhaburde village by ST bus [40 kilometers]
Bhaburde to Pimpri village, walk or get lift [13.6 kilometers]
Suggestions :
Andharban trek is a one way trail, hence be ready to walk till the end, start early so that you can exit the trail before its too dark.
Better to have experienced guide with knowledge of snakes & insects
Must wear proper trekking gears during monsoon season, trek looks simple but has risk of valleys alongside
Here is a good guide on Which are the best trekking shoes for Sahyadri mountain ranges ?
Update 2019 :
I did my first Video blog after Andharban Monsoon trek, do watch it and provide me suggestions and comments for further improvements. This will help trekkers to get idea on difficulty level of trek as well as what they can enjoy 🙂
Blog was written when I did trek in March .. Now the Video of Andharban trek prepared in Monsoon … just look at the difference … Lush green surroundings with numerous waterfalls and mist 🙂 Wow !!
You can also plan trek to Ghangad which is just nearby Andharban location, where you can do camping and fun.
Andharban Trail begins at Pimpri dam (Google coordinates 18.510341, 73.417509)
Immediately after end of Pimpri dam, you will get to see electric towers from where the trail continues to Independence point
And the trail continues to independence point along the valley sides
If you look from a distance you will see valley-side trail something like this (look at tiny trekkers)
After crossing the waterfall (which was dry during January !) you will begin with dark forest trail
No water so we just rested inside the dry waterfall … photograph below just provides you size of waterfall … I am sure you will enjoy it during monsoon season (Which I am planning anyway this June)
Finally you enter inside the Dark Forest Trek …. This trail continues till the Bhira dam …
Andharban Trek location Map
Summary
Reviewer
Review Date
Reviewed Item
Author Rating