It sounds boring every time to be in a hotel to follow the routine holidays … Tension of pre-booking the hotel or resort ! Facing Traffic jams !!
Surely camping is exiting and new idea to get energized and refreshed in vicinity of nature  (and its cheapest way to spend holidays) … Your kids will have fun and also learn new things … cooking, camp fire, swimming, climbing, trekking, birds, butterflies, insects, trees  and so on …
---
Read my latest guide based on my practical experience
Selection of  Camping Tent Branded Vs non-Branded Tent
---
Fortunately in Maharashtra (and all over India) we are blessed with plenty of camping space with backwaters, rivers, lakes, mountains and forts all around. You need not worry about searching for it … Just head down to any of the above places …. Of course I will suggest places at the end of blog post specially for you 🙂
Summer and Winter holidays are best seasons for camping in India (avoid rainy season for the reason of reptiles)
So with all here are some of the snaps of my first camping pilot we conducted so as to take larger group … this was done to understand things that are required at remote places (we are so used to get things at fingertips !!)
Reaching the camp site itself was a task ! due to grass all over the road to the dam backwater was not visible, but with little care and guidance finally I reached to the camp base ! [This was site in Maval]
Next task was to get down to the camping location, very near to water … flat land for tent camping …
So you have to carry things to a distance (keep this in mind while you think of adding heavy stuff)
And immediate task was to set up tents before its too dark … if you are aware of the process it is matter of maximum 10 minutes to setup tent … So we did it proficiently …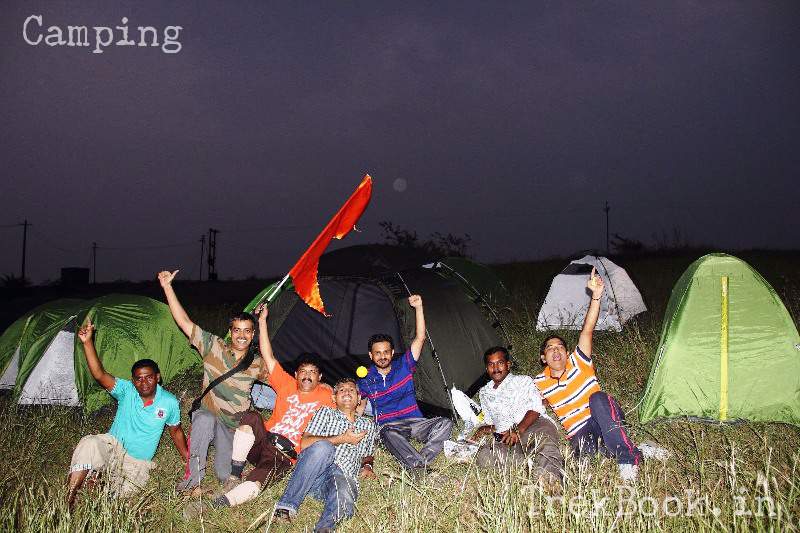 By the time it was so dark and lonely .. at such a distance from village with no one there ! it was so quite !!
Anyway after setting up tents, next task begins with setting up chulha for cooking using stones lying nearby … In Maharashtra it is quite easy to find stones anywhere you are in Sahyadri mountain ranges …. So that is also not an issue …
Just look at the utensils covered with mud to protect them from overheating due to fire as well as ease of cleaning after use 🙂 [pretty old trick]
Also alongside you can also set-up barbecue [here I carried out my own barbecue setup, however now a days you get simple barbecue grill which is light to carry and you can simple keep it over stone made chulha]
Look at the head light, which becomes very handy since your hands are free to do things 🙂
And at least one mouth watering photo for you 🙂
Setting up tent …
Finish setting up the tent before twilight
Find an area that is flat and free of sharp objects [during my camping, I selected area which was flat but on slope, so whole night I as just sleeping !!]
Orient tents such that you can keep an eye over each other
Most of the tents you get are easy & quick to set, just practice well at home to set it up
Make sure to drive tent poles at an angle, fasten the corners of the rain-fly to cords at the base of the tent
Offers going on Flipkart and Amazon for 4 persons tent for only ~1000 Rs !
Check offer on Flipkart for 4 person tent
Check offers on amazon for 4 person tent
Here is video showing how to set up tent
Camping Do's & Don'ts
Inform your friends / relatives about your location and schedule, with emergency numbers
Nights are cooler than you get at home, so get adequate bedding
Use insect repellent to avoid Mosquitoes, ticks, and other insects bites. Better to Wear long sleeves, pants, and other light-colored clothing
Use sunscreen and lipscreen
When you play in and around the water. Don't swallow the water you swim [Never swim alone]
Be sure to bring protective gear, such as helmets, sturdy shoes, and life jackets
Avoid Unknown / poisonous plants
Know your limits and avoid injury during activities
Watch your kids closely
Avoid wild animals [They get attracted to strong odours], make noise if any animal approaches [blow the whistle, wave the arms in order to look big etc] Specially dogs trouble a lot if you are staying near villages
Pack foods in tight, waterproof bags or containers. [Use insulated cooler]
Often wash your hands. Use hand sanitizer if water is not available
Never use gas stoves, lanterns, and charcoal grills inside a tent or enclosed shelter to avoid Carbon monoxide poisoning
Be sure to bring along a supply kit that includes a first-aid kit, compass or GPS, map, flashlight, blankets, batteries, food, water, clothes, and medications.
Camping Checklist
Tent + Ground Mat
Utensils for cooking
Water [Prefer to carry big 10 liter bottle]
Lighter / Match box
Coal for barbecue [Not a nice idea to cut trees in jungle for your enjoyment]
Knife
Compass or GPS + Map
Garbage Bag
Flashlight
Torch
First aid Kit
Warm Clothing
Medications
Mobile + Power bank or solar charger
Suggested Camping Locations Around Pune & Mumbai
RainBow Island touching to Kasarsai dam (lake  its a catchment dam) – This is safe camping ground, with compound all around, tents are situated on concrete uplifted places so no worry of snakes etc. Lights and toilets available. Barbecue kits are available on request. Dining facility available. Boating facility available. Also you can visit ancient temple nearby or do small treks around the mountains …
Pawana dam – With Lohgad fort, Visapur fort, Tikona fort, Tung fort, Hadshi, Prati pandharpur, Bedse caves, Bhaja caves Pawana dam is ideal location for camping.
Raireshwar fort – This fort has a big shade at fort top which can accommodate at least 10 tents, easy access by drive in way till foot of fort, Safe due to pretense of village at fort top. This is ideal location accessible just in couple of hours from Pune
Backwaters of Ujani dam, Veer dam, Bharghar dam
Many other fort sites like Koraigad, Rajmachi, Tung … & so on …
You can also enjoy stargazing during camping
Suggested purchases for camping are available exclusively on
Explore there for tents, buckets, camping goodies …
Cheers !!