Knowing the difficulty level of Fort Jivdhan, I was bit skeptical to take Roopa along with me … But looking at number of treks she has done so far I took a call to take her along and to my expectation she could complete the climb and descend on rock patches 🙂
The most important thing is this trek shall be done with proper trekking shoes and cloths covering legs (do not wear half pants) for the reason of climbing as well as pointed shrubs scrubbing your legs all around !! and for the beginners Jeevdhan is absolutely NO NO trek !!
Anyway the climb begins from village Ghatghar, takes you slowly to steps carved on the rocks … moving to the fort top through one difficult rock climb (where we used rope to assist climbing) … honestly on the fort top you can not see any remains at all ! but you get stunning mountain views from the fort top … specially you will enjoy Vanarlingi and Nanacha angtha …
Basic information on Fort Jivdhan & Naneghat trek
Naneghat was one of the commercial route for connection to coast & eastern plateau, toll was being collected to move goods from seas to the main land. Hence it was necessary to guard the route from enemies, Fort Jivdhan (Satvaahan era) is located so close to ensure protection of this important pass.
Difficulty level 
Hard (Not recommended for beginners)
Difficult rock patches while climbing and descending (may need use of rope)
Misleading jungle trails while climb as well as descend from any route
Height is 3757 feet, time to reach is around 2~3 hours to climb from village Ghatghar, around 1.5 hours to descend down from the Naneghat side route
What to see !
 Vanarlingi also called as Khadaparshi  (~415 feet hright, heaven to rock climbers, many adventure institutes organizes rappelling and valley crossing here !)
Nanacha Angtha (Nana's Thumb !)
To the North – Vardya, Harishchandragad, Nakta, Alang-Kulang-Madangad and Kalsubai
To the East – Vesni, Budhlya, Ghatghar village, Junnar, Kukdi River & Manikdo dam, Kukdeshwar Hill.
To the South – Durg Killa, Dhakoba, Gorakhgad & Machindra Pinnacle
To the West – Naneghat, Nanacha Angtha & The Konkan Plains
Place to stay/take food & water
Water – cistern at fort top, had drinkable water
Food and stay – You have to carry food on your own and do not have any space to stay at fort top (there is a Kothar (Storage space) at fort with lot of space inside, however it is not maintained well hence you can not stay)
Jivdhan hotel food phone number :
Subhash Adari 7767981930 / 9850184948 / 9405875675
Jivdhan Gad Location
Google coordinates 19.276661, 73.686309
How to reach (~125 kms from Pune)
Pune > Rajgurunagar > Manchar > Narayan Gaon > Junnar > Bhatghar > Ghatghar > Jivdhan Fort > Naneghat Caves
How to reach From Mumbai
ST bus – any bus going towards Ale phata, Malshej ghat, Junnar (Ask conductor to get down at Naneghat gate)
Or get down at Tokavade (Just before Nangeghat) and catch any local ride
From Kalyan to Tokavade takes ~1.5 hours
Naneght gate – is on the right side of road (just before gate you will see small hotel in the village Vaishakhare)Trail from Naneghat side, Map curtsy Dr, Chengalva
From Naneghat you need to follow the cart track to Ghatghar village (~10 min), take right turn & keep walking towards Vanarlingi pinnacle. ~25 min you will reach a plateau having dense jungle on the left side. Finding upward route is bit tricky, but remember to keep climbing towards Vanarlingi. Once you are very close to Vanarlingi take left turn and walk tillyou get upward step frm which you reach the Jivdhan rock wall. After climbing sucessfully one reaches the main entrance of Jivdhan fort.
A couple of home-restaurants have come up on the plateau, where you can even get a room to stay at night, sharing it with other trekkers who may already be holed up there.
Precautions
Use proper trekking gears for this trek (This is most important due to rock patches, people tend to use old shoes which is most dangerous)
Do not wear half pants, Bermuda, Capri since this fort has bushes with pointed leaves which harm you even in full paints …
Recommended reference reading –
One day trek in Sahaydri mountain ranges – Do's and Don't, Things to carry list
As soon as you reach village Ghatghar you will see stunning views of Sahyadri ranges …
Beginning of trek from base village Ghatghar .. it will take @2~3 hours to reach fort top including the rock patches ..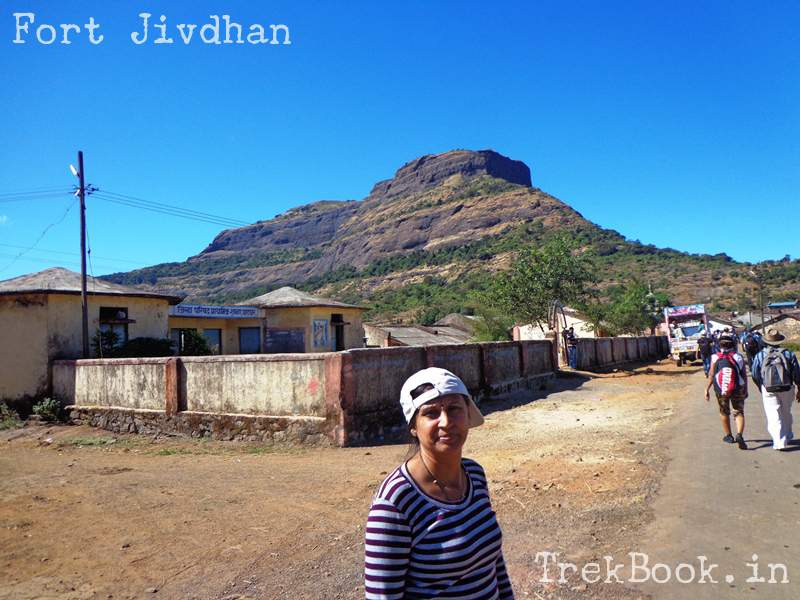 Look at this photo carefully .. you will see tiny dots climbing up ! … my friends are climbing up the steps carved in rock .. after the steps you will face a rock patch ..

First rock patch after the steps climb .. it it not difficult for experienced trekkers but better to avoid high confidence !
Once the rock patch is over .. main climbing challenge is over and you reach the first cistern in cave .. be careful .. here the water is colourful and  you tend to step in ! falling inside !! so do not enter the water !!
Go further to the top to see one more water cistern … however this is also not that clean (although Rohit drank water from this !) but at least you can use it to clean the hands off
All over the way whereever you go on fort Jivdhan, you will come across thorny shrubs who prick your legs !and when you take support by hands they prick your hands 🙁 be careful …
Just before the fort top there is a Kothar (Storage space), pretty big from inside, to accommodate 50 people .. but unfortunately it is not clean ! I saw ~100 oil lamps inside the dark .. but did not dare to get inside may be due to snakes …
By the time you reach the  fort top you are so hungry that you tend to find shelter to get your lunch done ! but Jivdhan is no good for this .. it do not have good shade trees at all !! so you have to take lunch in shining sun-light ! Only what bonus you get is a clean water cistern …
In the background you will see Nana cha Angtha ..
After lunch it is time to visit Vanarlingi cha sulka (Pinnacle)  and have photographs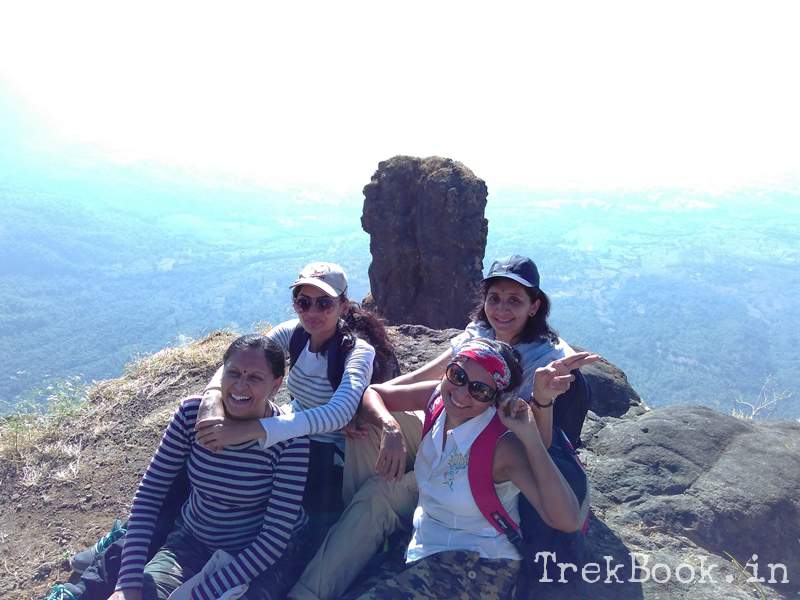 Look at it while you descend down from other route to Nanacha angtha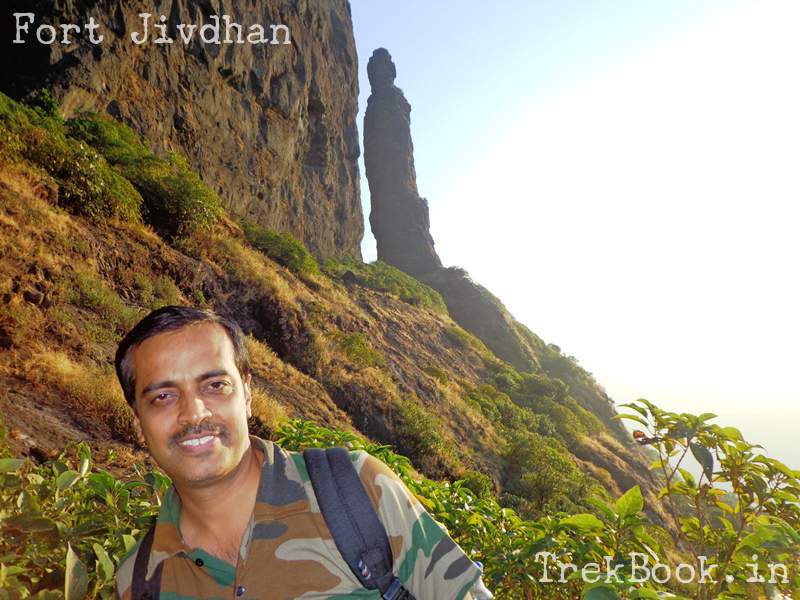 Now it is time to get down from other route i.e. Nanacha angtha route … you will see clear way to descend down … it is huge entrance cut into single piece rock … below photo you can clearly see entry and exit point from the fort ..
Now be ready to face the second challenge rock patch … so here we are waiting for our turn . since the line is going slow we waited for an hour at this point !!
Just to give you an idea of how this rock patch looks I have added this photo showing view from bottom side … we used rope here to assist the descend .. experienced trekker can do it without rope ..
Look at the happy face 🙂
Way down from here it bit tricky in the sense of getting lost inside jungle … since Jivdhan is not that famous .. roads are not that defined .. once you get down this difficult rock patch … remember to get to your left and walk till you see Vanarlingi .. its almost reverse travel .. but that is how you have to go .. if you try to get down directly straight ahead . then for sure you will be in big trouble !! so be careful .. go upto Vanarlingi and then you will see the path down …
Finally you reach to plateau from where you can enjoy the sun-set or move on to Nanacha Angtha ..
Do let me know if you wish to know more about this trek or other treks by FONA ..
You are most welcome to join the nature group FONA (Friends Of Nature Association – Talegaon) and enjoy the beautiful forts and jungle safaris …
Fort Jivdhan Hotel Contact numbers [added on request of Blog reader Amit  and phone numbers provided by Onkar Oak]
Subhash Adari – Fort Jivdhan hotel contact
7767981930 / 9850184948 / 9405875675
and do not forget to check for the list of things to carry for trek
Summary
Reviewer
Review Date
Reviewed Item
Author Rating