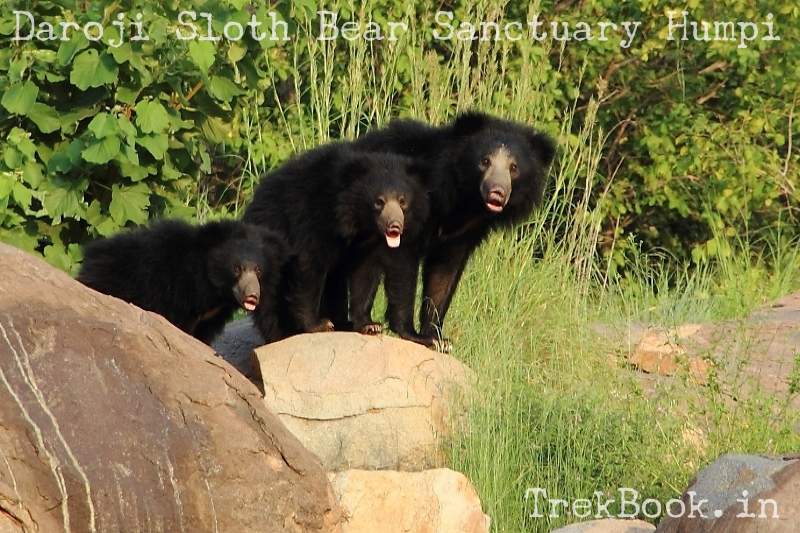 If you plan for World Heritage Temple tour of Hampi … then do not miss to visit Asia's only Sloth Bear Sanctuary aka "Daroji Sloth Bear Sanctuary".
Situated in Bellary district and just 15 kilometers from Hampi this is a must visit destination to be included in your itinerary …
Declared in October 1994, this 5,587.30 hectares of Bilikallu reserve forest looks to be made of only stones … which are found everywhere near Hampi …
The area between Daroji in Sandur taluk and Ramasagar of Hospet Taluk host to the Sloth Bears.
After my stay at Badami … I started early morning (~8 am) to Hampi …. visited Pattadakal temples on the way and reached Hospet for lunch and check-in to the hotel .. by the time the lunch was over it was about 3.30 pm … So decided to immediately head down to the Sloth sanctuary ….
At the entry gate we paid the fees … took our guide alongwith and headed to the second gate which is inside the core zone …
From the left side of this entry you can get to the observation tower and from the right side gate (Which is normally closed) you can enter inside the forest, however for this you need prior permission from forest officer …
This observation tower photograph is captured by me from the jungle …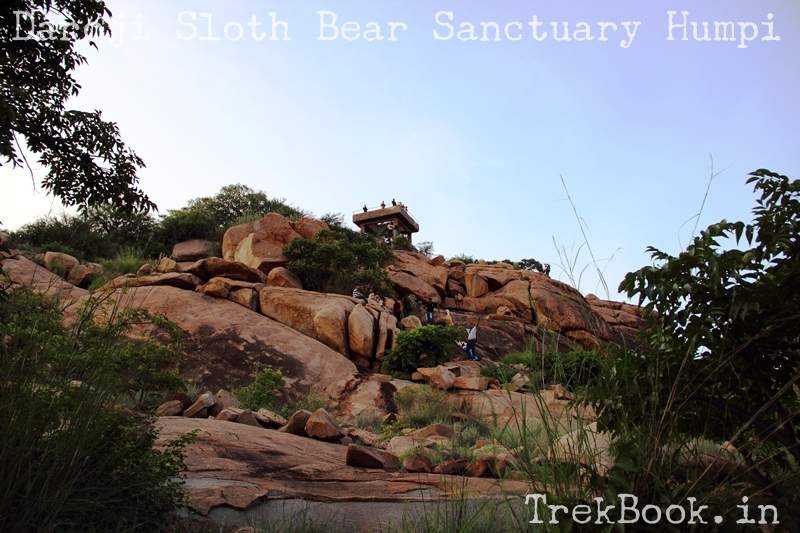 You can get up on the top of observation tower in matter of 5~7 minutes … here is a panorama capture to give you an idea how it looks from top …

It was around 4.15 pm and Guide told me that bears would appear by 5.30 pm !! forest people pour honey on the rocks so that tourists can see bears licking the honey .. So bears get daily party & you get guaranteed siting 🙂
And finally after an hour bears appeared 🙂 … as you can see from below photograph that you can see tiny bears !! I discussed with the guide and convinced him about importance of writing on blog to get more visitors to the sanctuary … he kindly allowed us and sent inside jungle with forest assistant 🙂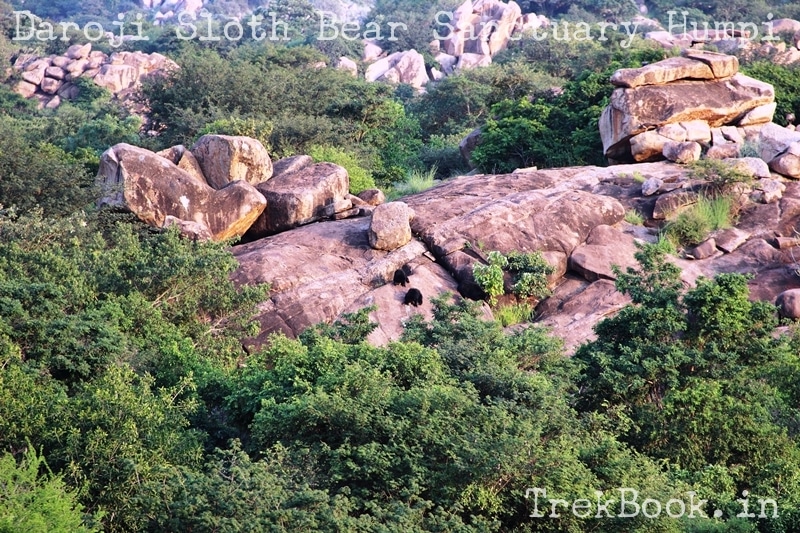 Alongwith the forest boy I descended carefully and quitely inside jungle .. once you reach the inside roads …. you need to be extra careful not to make any noise … since bears are very much sensitive to noise and will disappear quickly !
And I could see them very near to me …. with my 18-135 mm lens I could get some fine captures while they are licking the honey …
The forest boy suggested to get on small observation tower inside to get more clean and close photographs !!! and while climbing on it .. suddenly the wooden plank broke making noise !!! immediately they became alert !! suddenly moved in a lone looking at me !!
And that time I could get this beautiful capture of students standing in a line 🙂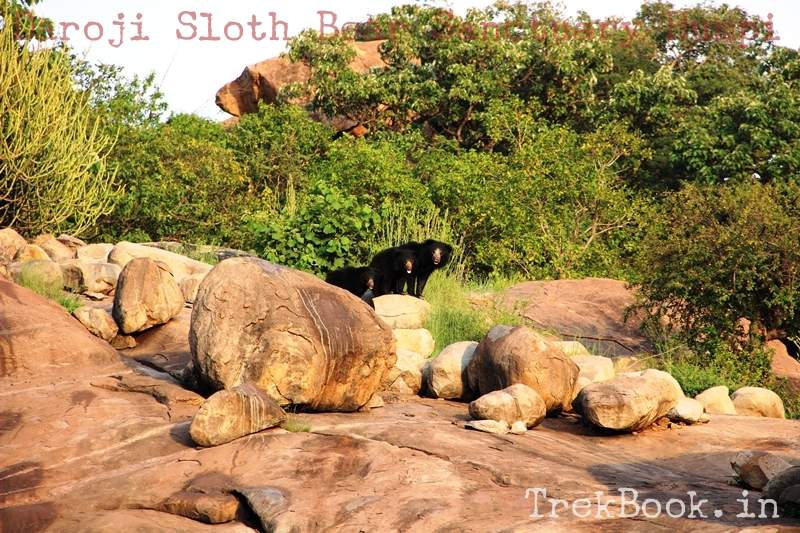 You can also spot many peacocks around the bears … I think they also like honey !
One more photograph with peacocks in background of bears licking honey …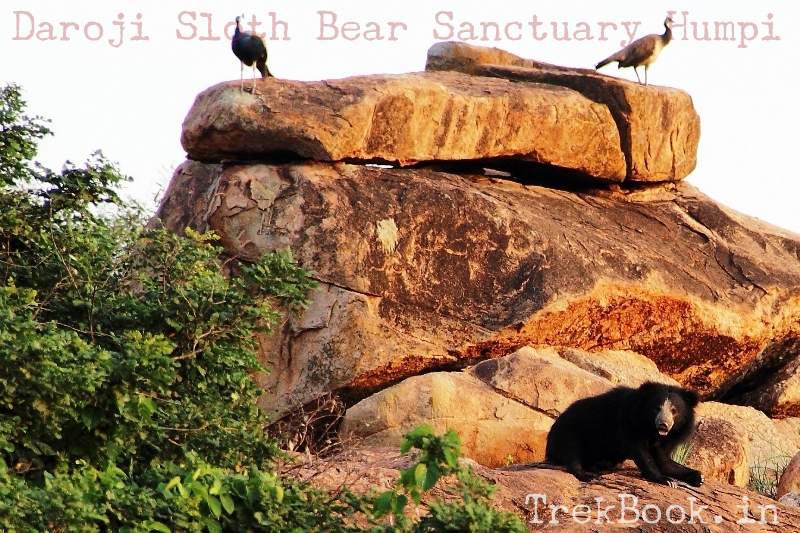 After spending some time, I headed back to the exit gate … the visiting hours are from 6.00 am to 6.00 pm (all 7days) so you need to respect them …
Interesting to note that you can even spot bears from outside of entry gate !! look at the last capture at @ 6.15 pm while I was about to board the bus …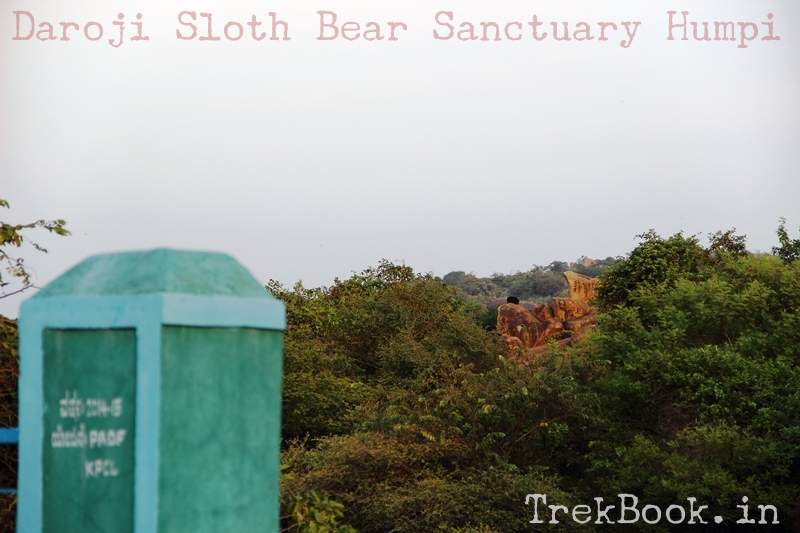 Guide also told me that there are if you are lucky .. there are  chances to spot leopard during evening hours …
Anyway I think with proper planning you can make this quick visit in matter of 3 hours still making Hampi trip memorable …
And if you to plan this trip in advance do contact Pompayya Malemath (mob. 9449136252) who is wild life photographer and guide too .. very humble person with lot of care about nature ..