We started early morning from Lake Nakuru, met Lion family on the way and headed down to the most famous and awaited in the trip, Masai Mara … just 215 kms drive !
Driving through highway was fun, but the final trail of ~80 kilometers goes over rough road, so be ready for FREE Kenyan massage 🙂
David instructed me to stop photography as soon as van started travelling through the Masai region !
He said Masai people do not like it, if at all I feel, first I should bargain and then take photo !!
The 80 kilometer road was endless and I was eagerly checking GPS location of the Mara Leisure Camp site ! … and suddenly after last traverse through Masai village, the van confronted with the camp entrance … finally hussssh !!
Important thing I noted is that throughout Kenya travel I did find very little littering of plastic bags or bottles, however at Mara village I saw abundant plastic bags everywhere !! David said there is no understanding at local front to manage plastic waste !! I felt so sad to see this !!!
A warm welcome with wet towels and mango drink at the camp was sooo good … It was really needed …
I was given room number J5, way to my room was through dense trees (see photo below) .. besides the rooms was the Talek river .. I loved the location and the chirping birds all around the camp …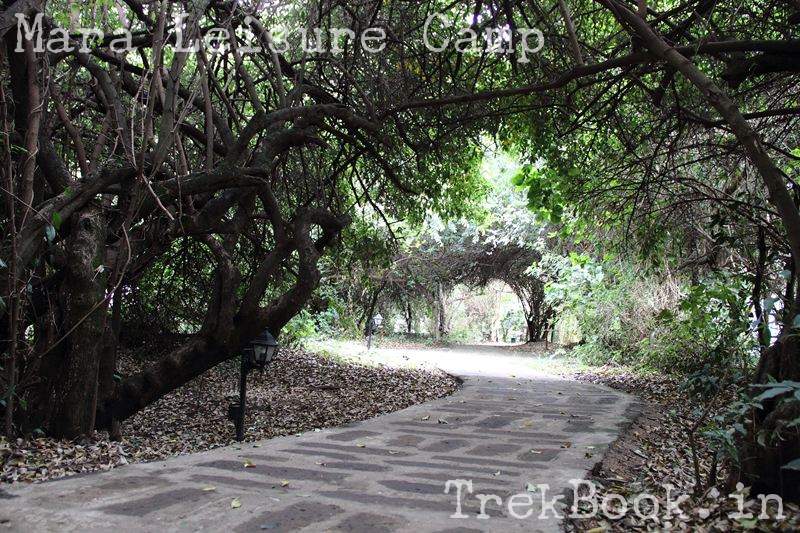 The tent was spacious, the first look only I was comfortable with the layout of room …
After refreshment, I started roaming around, had wonderful photograph over the bridge of river Talek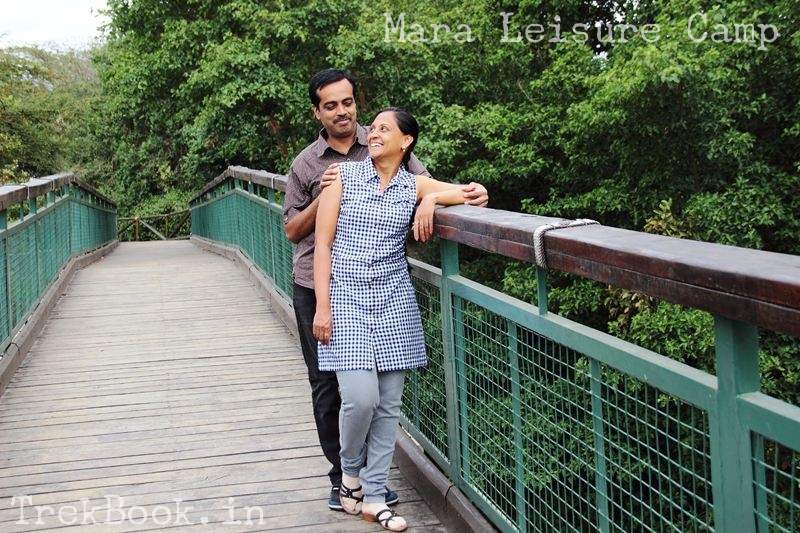 Evening was chilling … and the enjoyment began with barbecue in the garden … Michiel Reinecke the General Manager of Mara Leisure Camp was personally looking after the arrangement. He was very much listening to what we wanted for …
After the dinner there was small campfire program … but we winded that up quickly since it was time for Masai Dance 🙂
And the most interesting part began .. meeting the Masai tribe  with traditional rain dance … believe me participating was great fun …
Finally the group photos with Masai tribal people  …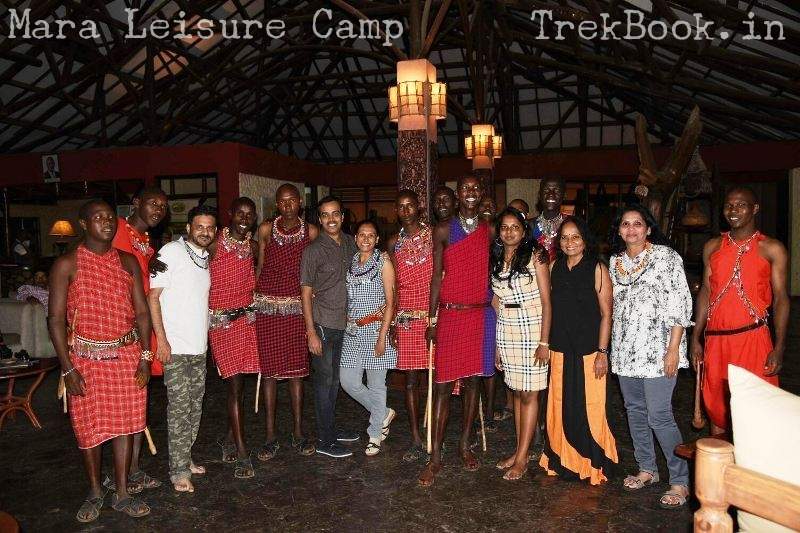 Overall the stay at Mara Leisure Camp was fascinating for me, given the chance I would love to visit this again … TrekBook recommends this hotel …
Good points :
Torch is provided in rooms
Hot bath water available all times
Location of rooms is fantastic
Staff is very much caring, they try to provide their best service
Chef was very much listening and provided us Indian delicacies .. including Dosa
Masai dance was really enjoyable experience
WiFi is available for FREE
Drinking water bottles provided in rooms
Few Suggestions for the hotel :
Tourists will surely enjoy Masai traditional wear with ornaments & carry photographic memories alongwith them. This can be good monetary resource for the tribal's too
Tent zippers needs repairs, they are really pain taking to zip down and lock every time you leave the room. It needs preventive maintenance, simple thing to do is use of wax to reduce the friction and make them flowing easily as you zip up/down
Coffee maker shall be given in rooms, since cold climate makes difficult to drink water for Indians during night (The place where I belong to keeps average  25 degree throughout the year)
Power cut happens from 12 night till 6 am morning, simple provision of UPS with one light per tent will help old aged travelers
Barbecue was nice, needs slight improvements to suit Indian taste