Anand Sagar was known to me from many of my friends and relatives….Everyone admired the beauty of architecture, Nature, Systems and cleanliness of the place…
Situated on about 350 acres of land Anand Sagar is Spiritual as well as entertainment center for devotees coming to Shegaon.
One has to buy entry donation ticket of Rs. 50 per person (refer to details at the end of blog post)
Grand Entry Gate of Anand Sagar … Gives you comfortable feeling as soon as you reach the place ..
As soon as you enter the garden through entry gate, you can catch the first attraction which is a mini toy train … which will give you quick flavor of the place and it will be easy to decide upon next place to visit easily …
Mini Toy Train Railway Station, buy ticket of @15Rs per person for a ride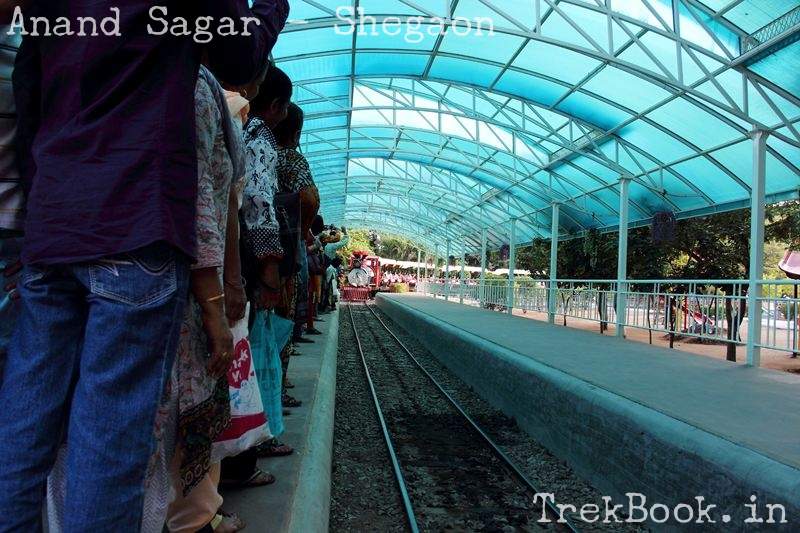 Children would love this Vibrant colored mini toy train ride …
As you get through the panoramic views of the lake … you can get down later to capture it with your camera .. (Although I have tried to compress this image, it's bit heavy 🙁 )

You will also see children play facilities all around, rotating wheels, zula's (swings), adventure games and so on … Children can spend full day there itself .. and Sansthan makes sure to feed you at very very nominal rates for lunch and staple food (Kulphy is special here, you must test it, will cost you mere 10 Rs !) .. Mineral water also available at all places at nominal cost of ~11 Rs/Lit
After the train ride, you can proceed to Children play area or Lakeside depending upon with whom you are 🙂 I preferred the lake side … see above the first Panorama capture of the lake side …
Moving on to the next attraction which is Dhyan kendra(Meditation Hall) you have to walk a long distance of about 1.5 kilometers ! My wife went on though I had to stay back with my mother … remember the kendra closes by 6.30 pm …
Here is another capture of lakeside with Krishna lila statue in the front with Meditation hall in the background ..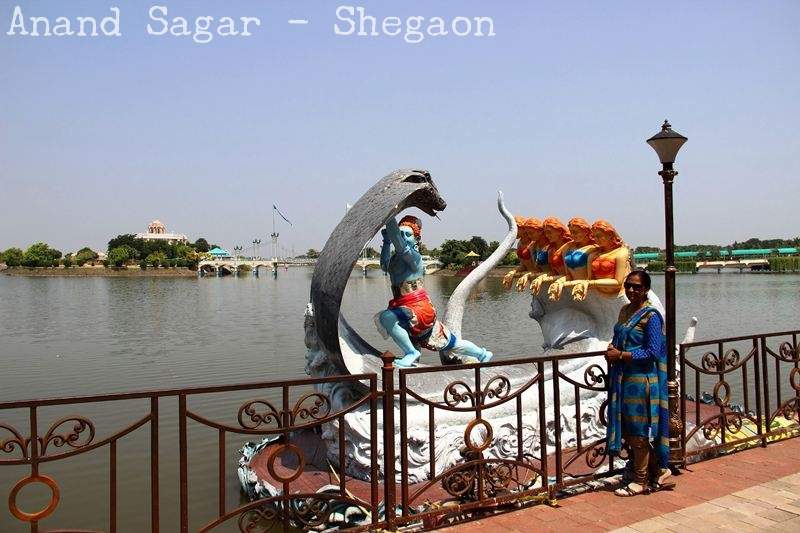 If you do not have sufficient time to reach Meditation room, then you can opt for going to Srikrushna Dwarka Bet (mini island in lake) from where you can get at the mid of lake and also have closer look at Vivekananda Dhyana Kendra
Getting closer look at Vivekananda Dhyan kendra from the Dwarka Bet
All over places beautiful statues are placed, which are popular for selfies !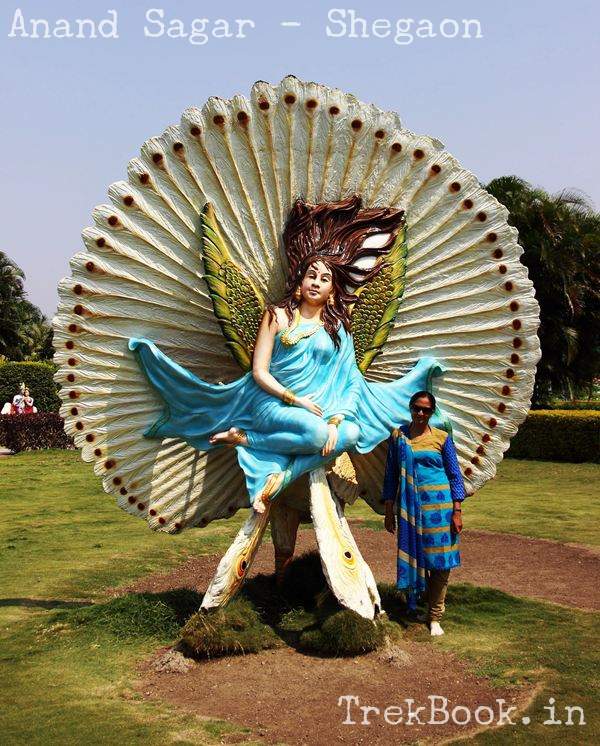 By the time you roam around the place,be ready to enjoy the sunset and night beauty of the place, I missed the sunset photographs ! but captured at least night views around the lake ..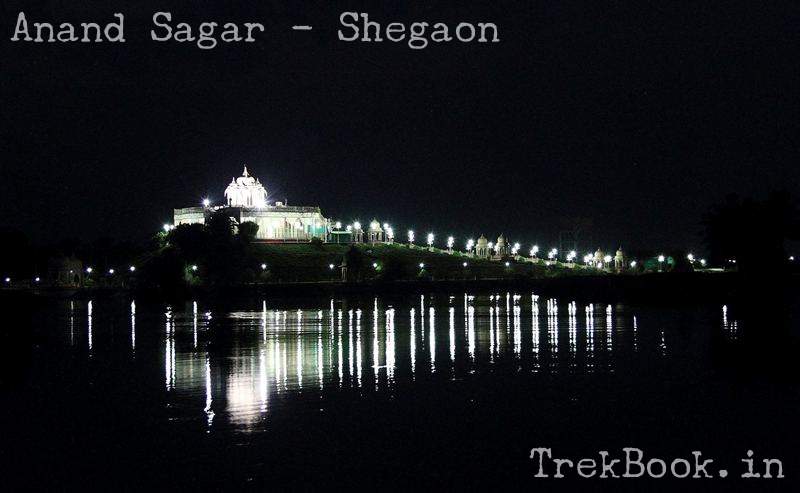 And now its time to move on for the Musical fountain show which is near the entry gate …
The musical show lasts for only 15 minutes .. after which you still have time slot to visit the aquarium ..
Aquarium here having variety of fish species and very clean and neatly maintained .. the layout is also pretty attractive … children would love to spend time here ..
So while you visit Shegaon you have to reserve minimum 5~6 hours to visit this marvel … even if you have more time spend full day …
Finally to help you out planning this trip .. here are timings for the Anand Sagar entry and food ..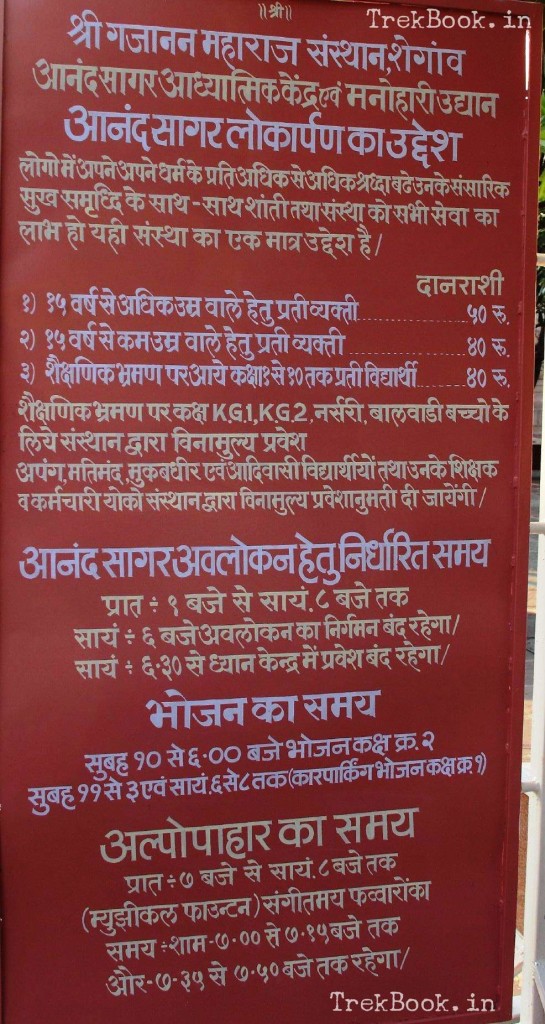 I would be writing detailed guidelines about the Shegaon visit in 2 days (Saturday and Sunday) in my next blog post ..
till then .. enjoy and have happy weekend ahead 🙂