I wonder … So many years … how could I miss visiting Matheran "World's Tiniest Hill Station" just 100 kilometers away from home  !
Another interesting thing about this place is that is the only pedestrian tourist destination in Asia !!
And not to miss that it is the most clean hill station in India !!!
Last but not the least is to ride the mini-train running since 1907 !!!!
Its Matheran .. Most favorite tourist destination near Mumbai & Pune …
Situated at an altitude of ~800 meters.. Matheran meaning "Forest on Top"  ….. There are numerous walkways through dense forests on this hill top…. Since the vehicles being banned post Dasturi point, Matheran still retains an old world charm that many hill stations lack now a days …
You must not miss riding the Matheran Mini Train with its 20 km (12.6 miles) long path … Riding on a gauge of two feet with a ruling gradient of 1 in 20. The track zig zags up the top of the hill, bringing into view the full beauty of the Matheran Hill. You can easily get down the train at any point due to its low speed ! (although it is not advisable to get down the running train)
This mini hill town of Matheran is located ~120 kms from Pune & mere 83 kms from Mumbai.
A short hike from the parking lot will take you to this oft visited tourist town, where you can expect to relax, refresh yourself … (someone,likes hikes and trails can do so 🙂 ). Heritage stays and horse stables are a common feature and one can expect to have a leisurely weekend here.
Most of the hotels are located in grove of trees, I would say it's the perfect place to curl with a book or spend some quality time with your loved one. The clouds and fog will make it even better. A perfect way to unwind yourself ….. Mostly next time I would stay there with my love.. on odd days to avoid crowd of weekends 🙂
Matheran – World's Tiniest Hill Station
Now which are the points in Matheran that I recommend for you ?
I parked my car on the road side (much before you see entry point) … booked entry ticket (50 Rs per head) and Walked towards the Main Bazaar.
Once you pass MTDC resorts you will see numerous horses on hire, rates start from ~1200 Rs per person to show 15 points ! I felt it unnecessary and just walked further from the railway track …
Its on the way to your view points … So obviously you get to the bazaar first. I could see many heritage buildings looking 150 years old ! I could feel the taste of the local culture.
There are numerous little shops selling leather goods, hats, footwear and the very ambrosial sweet 'Chikki'. You should also taste the honey here, which is one the top notch quality found in India.
Now you can look maps displayed outside shops showing Scenic Points in Matheran 
All over Matheran you will find red mud paths with ~33 look-out scenic points!
Just to enlist …. Porcupine Point, Echo Point, Monkey Point, Panorama Point &Heart Point are some of the popular once and there are many more where you can experience the most stunning views of the sunrise and sunset on the Western Ghats as well as of the Sahyadri range and its valleys.
This time I did not plan for stay and thought that I would cover many points walking ! but I am sure next time I would go here for night stay, so as to enjoy the sunrise and sunset, the same I recommend to you.
Further from bazaar I headed to Charlotte Lake
A.k.a. Sharlott Lake(!) a serene scenic spot in ~3 kms from bazaar. There is an ancient Pisarnath temple located at one end of the lake. Since I was there at monsoon … I could feel the windy weather with misty clouds around .. people were enjoying in the beautiful waterfalls that spill out around the Lake… It was splendid !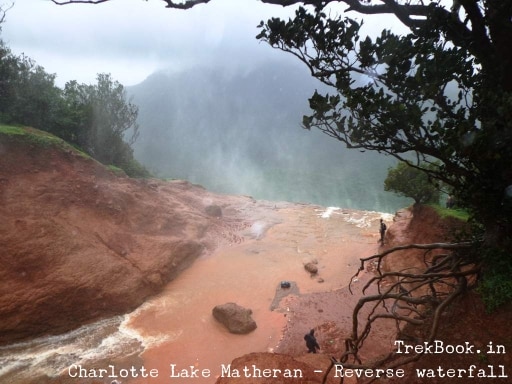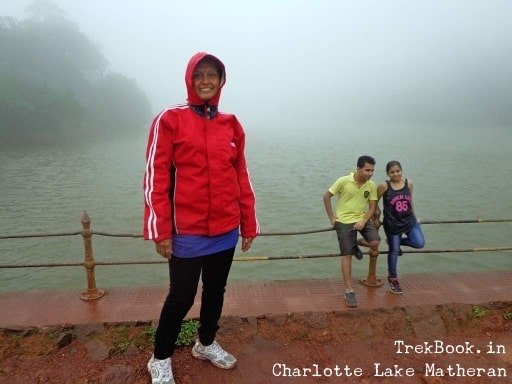 And then I walked down to nearby points Louisa Point and Echo Point.
By the time I reached Echo point I was so tired of walking that I decided to head down to car parking !! This is due to the fact that roads are muddy during rains & difficult to walk (compared to trek where roads are not muddy normally)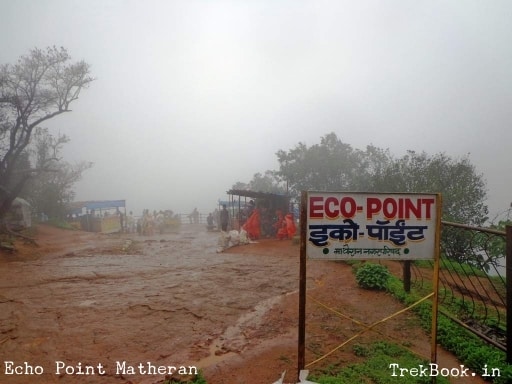 Here is a small video I shot at Echo point just to give you a glimpse of touching the clouds …
There are multiple trekking routes to Matheran, the most famous being the one through the Garbert Plateau where the route starts from Bhivpuri station (specially during monsson)
At Echo point .. I could see a adventure group offering Valley Crossing for 300 Rs per person … The trip is from Honeymoon Point to Louisa Point,  which are located on a U- shaped mountain and valley crossing can be tried here with a breathtaking view of the 1000 feet beneath you ! Since I am a trekker and aware of the safety protocols … Looking at the way thins were going on I avoided risk but just shot the event with my Sony camera. (During our treks we take immense precautions to ensure quality of rope that we use, which I was not sure here)
best time to visit matheran
My best guess for visiting Matheran is during September – October months when the wildflowers, hovering with butterflies will be in full bloom. If you stay during this season you can spot golden langurs, giant squirrels.
I also heard about Parasailing available during October to May
Summer (March to May) : Best for sightseeing. Temperature never exceeds beyond 30° Cel.
Monsoon (June to September) : Covered with clouds and thick rains. Average 200 Inches rainfall observed. Enjoy waterfalls on the way from Nerul to Matheran Hill top.
Winter (December to February) : Temperature observed in winter between 12-15 °Cel.
How to reach
By Train : Mumbai and Pune up to Neral Junction Station

From Neral catch a small Toy Train to Matheran in two hours time (Narrow gauge)
Toy train booking to be done in advance from Mumbai or Pune.
No reservations are accepted at Neral or Matheran but tickets go on sale 45 minutes before the departure.
From Mumbai CST, few of the Pune expresses stops at Neral Junction, including the Deccan Express and the Koyna Express.
Alternatively you can catch an expresses from Mumbai to get down at Karjat
OR take a local Karjat bound train from Mumbai CST and get off at Neral.
Pune-Neral, 120 kms.
From Pune few Mumbai expresses stops at Neral (such as the Sahyadri Express) or stops at Karjat and then get a local train from there up to Nerul.

In case you wish to catch taxi, you can reach Matheran from Neral in 70 Rs per passenger
By Road

Mumbai-Neral-Matheran, 108 kms.
Mumbai – Neral, 90 kms. Neral – Matheran, 21 kms
Take Mumbai-Pune Highway (NH-4) upto Chowk Village and turn to Karjat road. From Karjat, the same road goes to Dasturi Naka, which is an entrance to Matheran via Neral.
Mumbai Pune Expressway at Panvel (Near McDonalds) – Take the first exit (Shedung/Khopoli Exit) – This now you are back onto the Old Mumbai-Pune Road – proceed towards Pune for about 10 kms and turn left for Karjat/Matheran [signboard available]. You will reach Charphata Karjat [9 kms] where you need to turn left towards Neral. 11 km After turning left, you will reach the bottom of the Matheran Hill ghat road. Now Turn left here and climb 7 km to the Matheran Dasturi Car park location.
Here is quick timetable for you to enjoy the Mini-Train ride .. I will definitely park my car at Neral and do this trip next time !
Neral To Matheran Mini Train Timetable

| | | | | |
| --- | --- | --- | --- | --- |
| Train Number | Neral | Aman Lodge | Matheran | Details |
| 52111 | 6.40 am | 8.24 am | 8.40 am | Regular |
| 52101 | 7.30 am | 9.12 am | 9.29 am | Regular |
| 52103 | 9.00 am | 10.46 am | 11.00 am | Regular |
| 52105 | 10.30 am | 12.11 pm | 12.25 pm | Regular |
| 52107 | 12 noon | 1.46 pm | 2.00 pm | Only on Saturdays and Sundays |
| 52109 | 5.05 pm | 6.46 pm | 7.00 pm | Regular |
Matheran To Neral  Mini Train Timetable

| | | | | |
| --- | --- | --- | --- | --- |
| Train number | Matheran | Aman Lodge | Neral | Details |
| 52102 | 7.oo am | 7.10 am | 8.35 am | Regular |
| 52104 | 9.45 am | 9.55 am | 11.35 am | Regular |
| 52106 | 12.50 pm | 1.00 pm | 2.30 pm | Regular |
| 52110 | 2.05 pm | 2.15 pm | 3.45 pm | Only on Saturdays and Sundays |
| 52108 | 3.15 pm | 3.25 pm | 4.50 pm | Regular |
| 52110 | 4.45 pm | 4.56 pm | 6.30 pm | Regular |
Train ticket will cost you Rs. 50 for ordinary class (max 265 for first class)
Car Parking 
If you are going for overnight stay, Park your car in main official government parking, it will take some time to reach there due to the local taxi wala crowding at the entry gate, however your car will be safe (Official parking is after the main gate of Matheran, cross the arch showing Matheran)
If you are not planning to have a night stay and do not waaste your time to goto the main parking, do park your car at least two turns down the ghat section, there is plenty of space and people do not park their car since they do not want to climb, but this location will give you benefit that during evening when there is traffic jam due to local taxi wala and other cars, you will easily exit .. This trick I used based on tip given by my friend Udai.
Tips for Matheran trip
Shoes are must to walk during monsoon
A poncho will help you keep dry still enjoying mist
I recommend to park your car at Neral, go up using train, book hotel near train station so as to avoid long walk with your luggage
  Contact numbers for hotel agent whom I met and had chat with are 9763023483 Arvind, (Please contact him at your own risk, I have not validated credentials !)
Hotels that were recommended by locals

Kokan katta for Sea food (Fish)
Royal restaurant – Non-Veg food
High Street (In front of Masjid in market)
Locator boards showing points & Distance …
Summary
Reviewer
Review Date
Reviewed Item
Author Rating