Continuing from my first cut plan to Tadoba Andhari Tiger Jungle Safari .. I am narrating here my complete experience starting from Travel towards Tadoba from Wardha …
We had called SUV's for travel to Tadoba from Wardha railway station,
Distance from Wardha to Tadoba is @125 kms …. 80% of the road is 4 lane… very good condition … with no traffic at all … Drivers were pretty cool not speeding up over 80 kmph !! A/C is a must during travel (since we were there in May) …
Our first stop was at Hotel Ashoka, which is pretty descent hotel with standard as well as typical Nagpur breakfast options like Idali, Dosa, Poha, Upma, Shira, typical Nagpur misal etc.
We tries Nagpur type Misal which was quite hot !! but I liked it 🙂
Hotel is spacious and one can take food comfortable .. some souvenir shops are also there where people started buying things !!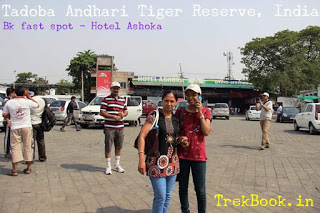 Breakfast break – Hotel Ashoka, Tadoba road
Within no time we reached to the Tadoba Andhari Entry gate point, here you have to stop to make vehicle and number of persons entry, this will be done by your driver so need not worry … no checking of ID cards etc will take place here… looks like its just a point where they records number of people going in.
Tadoba Andhari Tiger Reserve, India – Entry gate
A board at Padmapur check post shows that entry will be closed from Evening 7 pm to morning 6 am, so one has to take care of entry timing towards the tiger reserve.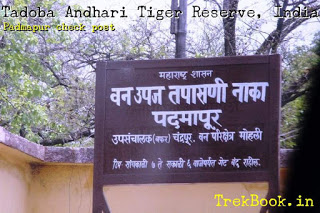 Padmapur Check Post – Tadoba
You will have to wait for ~10 minutes at this check post, don't worry keep the SUV running with A/C on then you will have no problem waiting for driver !!
Tadoba Andhari Tiger Reserve, India – Waiting for the driver
Road after the PAdmapur entry gate is very narrow, however road condition is good. We just missed brushing on vehicle coming from front since both drivers were not ready to get down the road !! You can see motorcycles of local villagers also passing by .. remember as I heard later you have got equal chances ot Tiger sighting on this road too !!! since few tigers roam around in this buffer zone … so pray for luck … and keep an eye on roadsides …
Jungle in this buffer zone is not as dense as the core zone .. but you start getting a feel of it …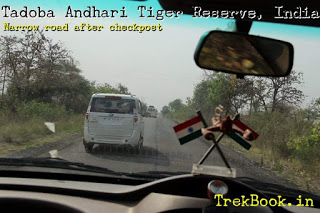 Narrow road after Padmapur entry gate
Route map Wardha Railway Station to Tadoba National Park
Distance ~127 kilometers