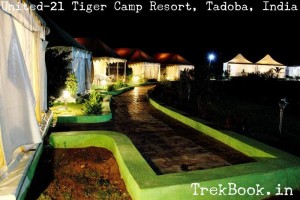 United-21 Tiger Camp Resort is one of the select value for money resort in Tadoba Andhari tiger reserve.
Here children will enjoy night camping in the air conditioned tents …
I remember one of my friend even went for tiger safari during Honeymoon !!!
By the way United-21 resort is situated near to Tadoba Forest border .. with having 15 Tents (7 double bedded and 8 twin bedded) they are able to accommodate big groups …
Good thing is that the tents are air conditioned with attached bath, TV, wardrobe & a dressing table.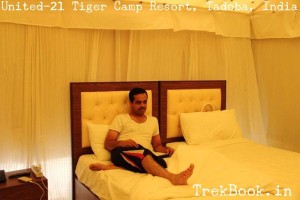 Adjusted bed so as to be in front of window A/C
Restaurant is also big tent having vertical air conditioners just to keep you to normal temperature during mid-noon in summer, it can accommodate 20~30 people with bit on inconvenience since the table in the mid is bit large and one has to pass through to get a table.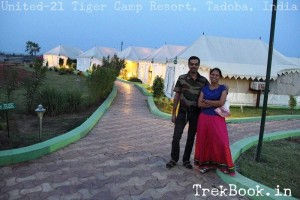 Good morning at Tadoba Jungle Camp resort
Now about the room tents :
Window A/C will take long time to cool in Summer noon's, one has to sit exactly in front of it to get comfort, we adjusted our bed to suit A/C (since A/C was fixed !!)
Tents in the front row are with open sitting area with chairs .. but it was so hot in evenings also that we preferred to sit over lawn …
Mostly you will get weak mobile network, but if you roam around the camp, you do get some strong signal to work with your calls and internet.(I had airtel/idea which worked and vodafone did not work !)
Criteria
* / 10
Remarks
Tent quality
5*
Most
of the zippers are not working, no maintenance
Outside
10*
Excellent
maintenance of lawn and surroundings
Room
cleanliness
8*
Rooms were clean
Bathroom
cleanliness
2*
Very
poorly maintained bathrooms, they were always flooded !! Most of the tents
had this problem
Food Quality
8*
Food is tasty &
less oily
Food Serving
4*
They
are not able to handle 20 people at a time, we had to wait for servingd, or
even we could not get fruits, leamon, salad !!
Staff service
5*
They
provided bathroom cleaning on request, but expectation is it should have been
done before our check-in
Also food servings were done after repeat followup
Needs improvement in customer service
Value for
money
7*
Based on price to service ratio, recommnded to stay
TrekBook India Suggestions for United-21 Tadoba
Swimming pool – In such a hot environment it is a must for tourists to enjoy the evenings …
Repair of tent zippers is a must
Locker facility has to be there since tents do not provide any security with small lock to zipper
United-21 Tiger Camp Resort, Tadoba, India
Resort Website –http://www.united21tigercamptadoba.com/
Resort Address :
Pancard Clubs Ltd. Tadoba, Plot bearing s.no.12/2 & 12/3,
At village Bhamdeli-re, Taluka-Bhadravati,
District – Chandrapur