Here is my plan for Tadoba Jungle Safari with key information,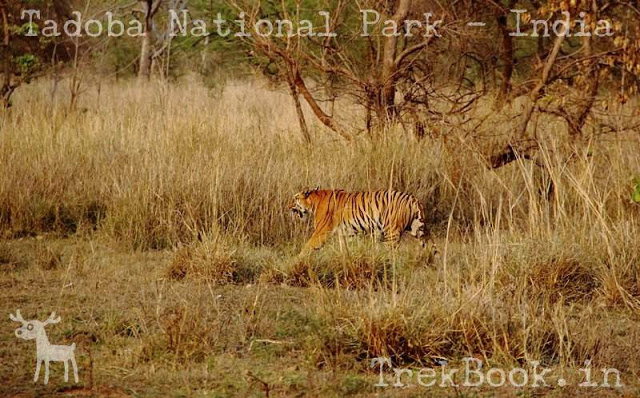 Key Highlights
Total area of the Tadoba Reserve is 1727 km²
☻Wildlife Safaris in gypsy
☻Bird watching
☻Wildlife Movies
Things to watch:
Bengal tiger, Indian leopards, Sloth bears, Gaur, Nilgai, Dhole, Striped hyena, Small Indian civet, Jungle cats, Sambar, Spotted deer, Barking deer, Chital, Chausingha.
Reptiles : Indian python, Common Indian monitor. Indian cobra and Russel's viper
Lake Tadoba :
The lake is an ornithologist's paradise with a wide diversity of water birds, and raptors.
195 species of birds have been recorded, including three endangered species. The grey-headed fish eagle, the crested serpent eagle, and the changeable hawk-eagle are some of the raptors.
Tadoba Jungle Safari Itinerary :
08 May 2015 : 12850/PA BILASPUR EXP at 5:00 pm from Pune Railway Station.
09 May 2015 : 9:30am , Reach Vardha & Proceed Tadoba by road 11:00 am.
Jungle Safari in the Evening. Stay at Tadoba.
10 May 2015: Morning & Evening Jungle Safaris . Stay at Tadoba.
11 May 2015 : Morning Jungle Safari i. After Lunch proceed to Vardha.
Catch 12136/NAGPUR PUNE EXP.
12 May 2015 : Reach Pune Railway Station by 10:00am
Tadoba Jungle Safari Package cost from Pune to Pune by Train
15,000 INR (Approx 230 USD)
Inclusions :
Stay in Air Conditioned Tents . (04 sharing )
Transport Pune to Pune by 3 Tier AC Train
Vardha – Tadoba– Vardha travel by Car.
All food charges at Tadoba. (02 breakfast, 03 lunch & 02 dinner).
All game rides within Tadoba by Gypsy.
All entry fees of the Tiger Reserve.
Guide Charges
Exclusions :
Mineral water / cold drinks during journey or at the campsite.
Camera charges & Food charges during Train journey.
Personal expenditure of any kind.
TrekBook Tip :
Tadoba forest is closed for Safari on every Tuesday.
Support information on getting at Tadoba National Park:
The nearest airport is Nagpur (140 km via Umrer, Bhisi and Chimur).
The nearest railway station is Chandrapur (on the Delhi-Madras main line) 45 kms away. Nearest main bus stand is Chandrapur and Chimur (32 km).
For Online Bookings of Wildlife sanctuaries in Maharashtra visit