Gomteshawara darshan – dhodda betta ( means big hills),
Stairs carved on stoned hill,
Footwares to be removed at base only,
Side rail for support available for older age people.
It is easy to climb (20/25 min climbing)
More than 800 inscriptions have been found at Shravanabelagola, dating to various times from 600 to 1830. A large number of these are found in the Chandragiri and the rest can be seen in the Indragiri and the town. Most of the inscriptions at the Chandragiri dated back before the 10th century. These inscriptions include texts in the Kannada, Sanskrit, Marathi,Konkani, Tamil, Marwari and Mahajani languages
Vindhyagiri aka Big Hill .. Read more on Wiki ..
Shravanabelagola akak Gomateshwara aka Bahubali.. Read more on Wiki …
Gommateshwara statue at Shravanabelagola is the largest monolithic statue in the world.
Vindhyagiri – 3,288 Feet from Mean sea Level
Beginning the climb to Bahubali at 7 am morning, pleasant surroundings …
Climb to Vindhyagiri you get such beautiful arches on the steps
Almost reaching summit of Shravanabelagola – Big hill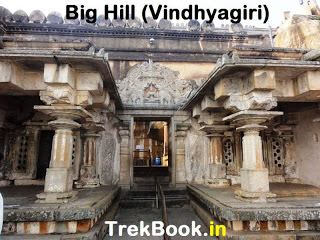 Entrance at top of hill big hill Vindhyagiri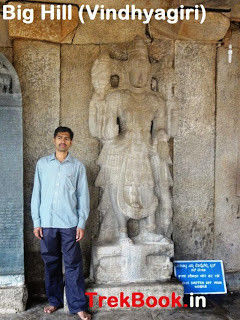 Dwarapals at the entrance on the top of big hills
Jain pilgrims performing abhishek on Gometshwara charan
Prayers by Jain pilgrimages on foot of lord Gomateshwars