Mahabalipuram


Timeslot 4:30 am to 10:00 am – Reached Chennai
Reached Channai at 4:30 CBMT
Hotel Pentagona inn – walkable distance from bus stand (~1 km) – not good hotel
Tiffin at A2B Adyar near bus stand – good test
10:30 am bus to Mahabalipuram cross ( Pondicherry bus) , continuous buses available , 60 km , because of traffic 1.5 TO 2 hrs required
Direct bus also available but do not wait for this , catch frequent Pondicherry buses and which stops at Mahabalipuram cross on bypass, AC buses are also available
2 km travel from by pass to Mahabalipuram village , auto rikshaws available
TrekBook Tip : Hotel Pentagon inn – not recommended, Toilet- bath not maintained cleanly,
Timeslot 12:30 pm to 1:00 pm – Lunch
Lunch at Mahabalipurs – veg-non veg hotels available.
Timeslot 1:00 pm to 7:00 pm – Mahabalipuram
Monuments in Mahabalipuram ( morning 6 am to evening 6 pm)
Rs 10 ticket for five rathas and same ticket to be shown to shore temple.
No ticket for still photography, for movie camera Rs 25
Five Rathas
Shore temple ( entry closed after 5:30 pm ) ( pay and use toilets available near shore temple at ticket show counter)
Arjunas Penance
Mahishamardini cave
Varaha cave
Dharmaraja Mandapa
Panchapandava mandapa
Koneri Mandapa
krishnas ball
Trimurthi cave
Pidari ratha
valai kuttai ratha
tiger cave
The monuments at Mahabalipuram are of different types like the rock-cut cave temples, monolithic temples, bas-relief sculptures and structural temples besides excavated remains of temples. The Pallava dynasty, which ruled this area between 6th-9th centuries A.D., patronized the creation of these wonderful edifices. Among them, Mahendravarman (AD 580-630), his son Narasimhavarman I Mamalla (AD 630-668), Paramesvaravarman (A.D. 672-700) and Narasimhavarman II Rajasimha (A.D. 700-728) contributed the most in developing Mahabalipuram as a centre of art and architecture. Many monuments remain unfinished.
Minimum one full day required in Mahabalipuram.
TTDC and many hotels available in Mahabalipuram.
it will be wastage of time in travelling from Chennai. hence stay can be done here and utilize full day and cover all monuments. Also Visit institute for carving and sculpture making (Sunday closed)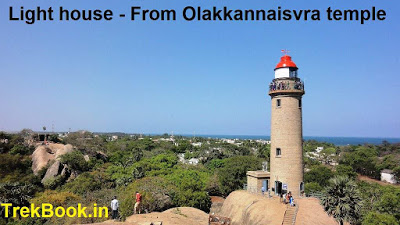 Light house – view from Olakkannaisvra temple
Mahabalipuram – Shore temple
Mahabalipuram – Arjuna's penance and krishna mandap
Timeslot 7:30 pm to 9:30 pm – back to Chennai
Return to Chennai by direct bus

TrekBook Tip : pay and use toilets available at bus stand but not so clean.