Our journey from Pune started on 24th March and we reached Belur on 4.30 am 25th March.
Here the plan was to look at
Halebidu (Karnataka) – proposed word heritage site
** All the detailed photographs with description will be added after completion of complete iternary, since each temple will have to be given justice with sufficient photographs and descriptions, please bear with me till then


Time slot 5 am to 7.30 am – To Halebid
We took some rest and went out for break fast near bus stand at Vishnu refreshment,
Belur to Halebid distance = ~35 kms (Time for travel is @ an hour)
We took 8 am bus and reached Belur at around 9 am (Roads are okay)
Tip 1 : Take your break fast at Belur only, since no good hotels available at Halebidu
Tip 2 : Every half an hour you can get a bus to Halebidu
Time slot 9:00 to 12:00 pm – Halebid
Hoysaleswara Temple : View more photographs …here ..








Located at walking distance from the bus stand.
Superb carvings and amazing sculptures, turned pillars in the temple.
Jain temple and Kedareshwara temple :
~1 km from Hoysaleswara Temple (Do not miss this beautiful temple, most of the people are not aware of presence of this temple nearby Hosaleshware temple).
We just walked down there however if you wish Auto rickshaw are also available.
Temple is dedicated to Lord Shiva. It was built in during the rule of King Vishnuvardhana of the Hoysala Empire in the 12th century. The construction was started around 1120 CE and completed in 1150 C
Tip 3 : Paid toilets available at Hoysaleswara Temple campus corner.
Time slot 12 Noon to 12:30 pm – Halebidu
Lunch at a small hotel, honestly there are not good food options available at Halebidu. We took Pullav & curd rice only.
KSTDC hotel was at a walkable distance from bus stand, you may check it for food. We could not check this option because of time constraints.
Tip 4 : Variety of fruits and coconut water available.
Time slot 12.30 pm to 1:30 pm – Halebidu
Hallikere – Old water cistern :
About 3 kms from Hoysaleswara Temple – Although there is no water inside this cistern but worth to visit this place.
Pushpgiri – Bhaireshara temple :
Lord Shiva temple ( Hoyasala period) and math which is located on hill – okay to visit
Auto Rikshwa hired from bus stand for Rs 200 (Total travel 10 km) for above both places and returned to bus stand, time required to cover both places 1 Hour
We could not see Belvadi veer narayana and Marale temples because of time constraints. Separate vehicle needed to cover nearby places. Refer tour map for other near by places.
Tip 5 : Taxi can be hired from Belur only.
Time slot 1.30 pm to 3:30 pm – To Belur


Traveled from Halebidi to Belur by bus.(every half an hour bus available)
Time for rest in hotel and ready to visit the Belur temple
Time slot 3.30 pm to 6:30 pm – Belur


Belur – proposed word heritage site & Hoyasala dynasty temples ( 12-13 century temples)
Chenna Keshava temple :
Walkable distance from hotel. Chenna keshava means handsome Vishnu. Superb carvings and amazing sculptures- particularly Darpan sundaris (Beautiful lady looking in mirror), Madanikas, Rangnayikas, Dwarapals, Hoyasala Emblem.
Temple was built on the banks of the Yagachi River in Belur, by the Hoysala Empire King Vishnuvardhana in 1117 AD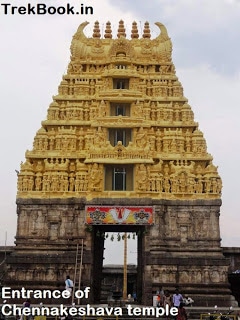 Time slot 7.00 pm to 10:00 pm – To Sharavanbelogola
We decided to leave Belur in the evening only and halt at Sharavanbelogola so that it is possible climb hill early morning. ( there are two hills)
Catched Bangalore bus at 7:15 pm and reached C R Pattana by 9 pm (~77 km)
Catched Shravanabelogola bus at 9:30 pm (last bus) from C R Pattana and reached Sharavanbelogola by 10 pm (~17 km ) .
( No direct bus from Belur to Sharavanbelogola available during this time slot, as Shravanbelgola is off the Bangalore highway by ~17 km , we have to make cut journey)
Small place, small hotels available, Jain Dharamshala available.
Hotel Raghu – walkable distance from bus stand and near to hill base.
Hotel Raghu (08176) 257238 , Non AC deluxe Rs 400, Clean – bath & toilets
Just OK to stay – advantage – one can climb hill early morning , no time wastage in travelling from Hassan.
Otherwise good hotels are available at Hassan (~50 km away), you may like to stay there.
Stay at Sharavanbelogola ….
Next to day 2 ….



6 days monument visit to Karnataka & Tamilnadu




Authored by Suhas Joshi