Even during our Sandhan valley summer trek, nature was near to green, temperatues were down .. Things were pleasent …
During your visit to Bhandardara, do not miss to visit the most beautiful Amruteshwar temple.
Situated on the bank of holy river Pravara one must visit this 1000 year old temple of Lord Shiva,
built during the Yadav-Shilahar era around the eleventh century AD,
The Amruteshwar temple is built in the ancient Bhumij style of architecture. You will be amazed to see the intricate carvings done in black stone.
This is one of the temples remained undamaged from attacks and natural calamities.
During the trek to Ratangad you can do camping in the temple premises, water as well as food is available. Also I saw a toilet built near temple [update year 2018]
Amruteshwar Temple, Bhandardara, Ahmednagar [Best for Camping]
It is one of the 12 temples built in 900AD by King Jhang.
Intricate carvings sculptural temple
Presence of two sabha mandapas,
Shivalinga is half submerged in water (mostly in the rainly season).
Nandi at the rear entrance of temple (looks from recent times) which is currently used as the main entrance.
Visit to Bhandardara & lake Arthur during in monsoons is feast to your eyes …Just feel the lush green surroundings, Misty & Cloudy atmosphere, Waterfalls & Reverse waterfalls,Forget about everything and get lost in the beauty of nature …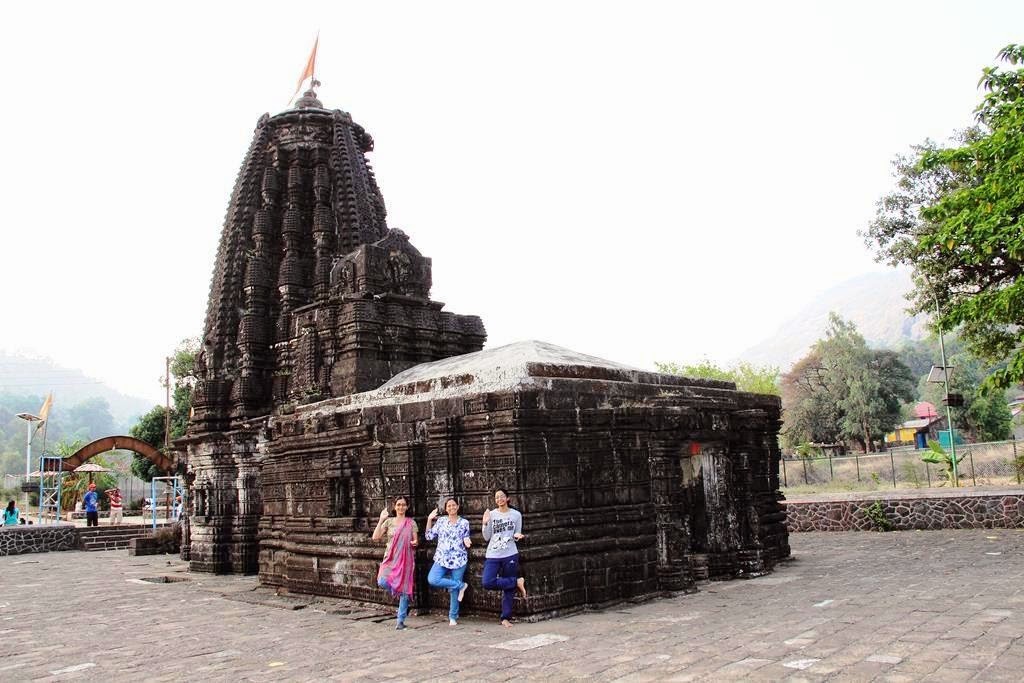 TrekBook Observations :
Look at the front side photogrph carefully, there are two round pillars which are original one.
over the time one side of front dome has got damaged (crack propogation can be seen on right hand side while you stand in front of temple) and some repairs has been carried out by supporint the cracked structure using a square pillar. It is not known what has caused this damaged and in what time duration these repairs has been carried. May be someone from ASI will be able to throw some light on this aspect.
How to reach Amruteshwar temple : Google co-ordinates 19.517643, 73.723393
Pune/Mumbai toIgatpuri – By train/bus reach
Igatpuri to Village Shendi/Bhandardara (~35 km) (1st bus at about 5.15 am)
Shendi to village Murshet (Walking)
Cross the lake by launch (enquire to local people for the timings), land on the other side of the lake and reach village Ratanwadi.
By Car/own vehicle – Drive down to Ratanwadi directly
Amruteshwar temple Video
Original entrance of temple considered as back side
Nandi situated in later phase of this temple
Roof carvings – colours are also seen on carvings
Roof carvings
Roof carvings
Roof carvings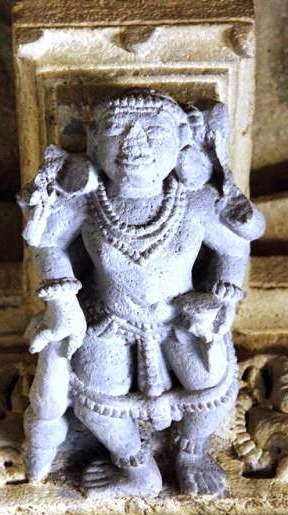 Roof carvings

Pillar carvings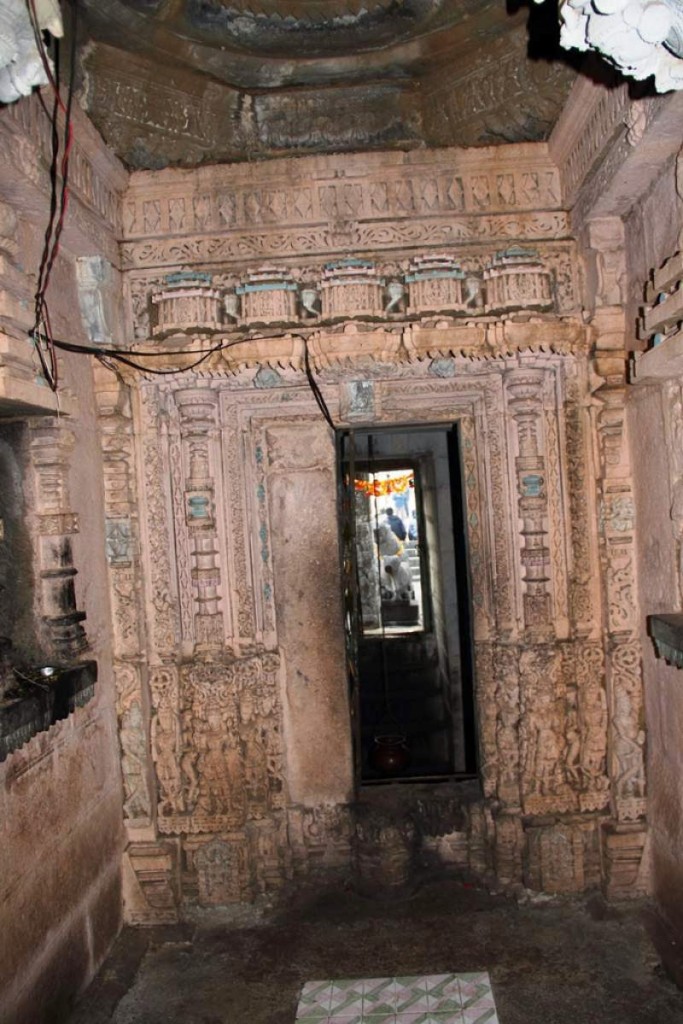 Pillar carvings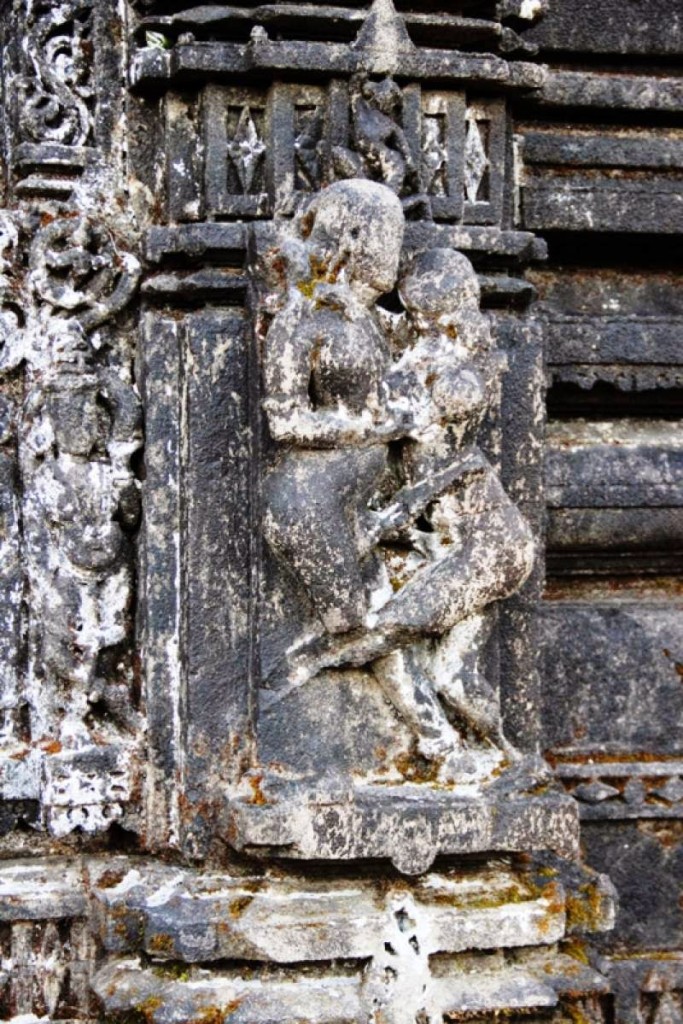 Exterior carvings
Exterior carvings
Exterior carvings
Exterior carvings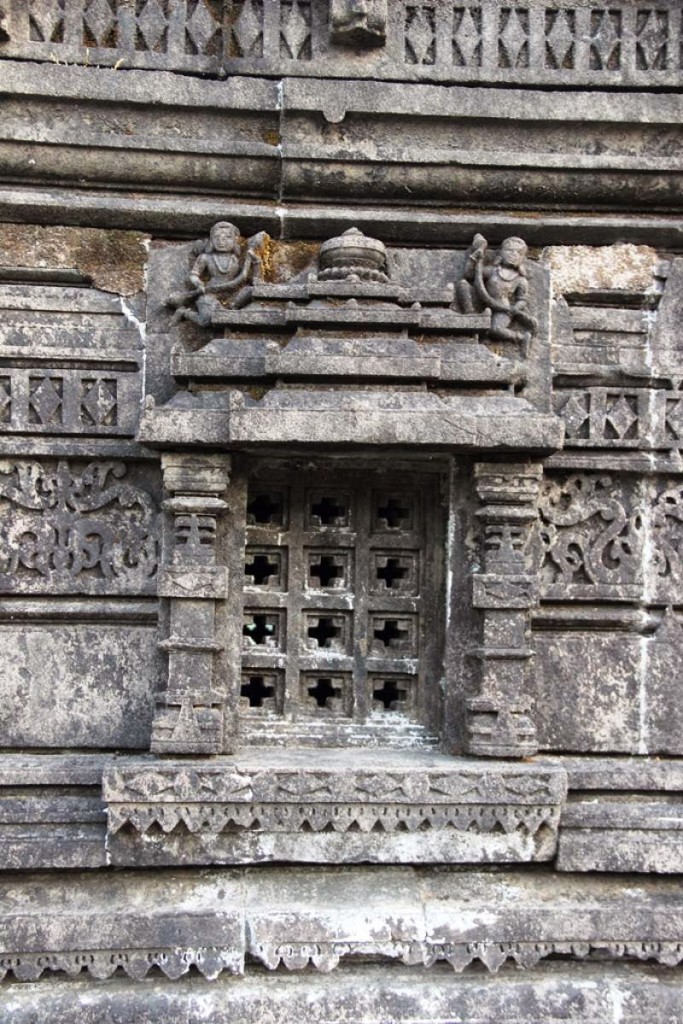 Amruteshwar Temple, exterior window carvings
Garbha graha – Mandar doing pooja of Lord Shiva
Cistern in village with beautiful carvings on sides
Remains lying in village Ratanwadi near the cistern
Archaeological Survey of India :
National  Protected Monument & Ancient Sites of Archaeological Survey of india,
falls under Ahmednagar Sub-Circle, Dist-Ahmednagar.-414001
http://ahmednagar.nic.in/monument/monument.htm
Nice video showing exterior and interior of Amruteshwar temple – must see
References for this blog post –
13th Pune International Film Festival, Manmade Heritage PIFF 2015
http://en.wikipedia.org/wiki/Hemadpanti_architecture
http://en.wikipedia.org/wiki/Shilahara
http://en.wikipedia.org/wiki/Ratangad
Places to see nearby… 
Summary
Reviewer
Review Date
Reviewed Item
Author Rating