Torna trek is  an fastest way to reach 4600 feets height with minimum efforts and time …
Height of Fort Torna is almost equivalent to
Harishchandragad
, of-course one can not compare the magnificent views of Kokan kada .. but never mind at least you get feel of height …
Another benefit is that Torna is very near to Pune .. since it is reachable in couple of hours by car u can get there as early in morning .. enjoy the trek and back before evening … option of ST bus also available at comfort .. So suggest this to beginners who has already done 5~6 treks …
 Torna trek attraction is magnificent views of Zunjar Machi  ..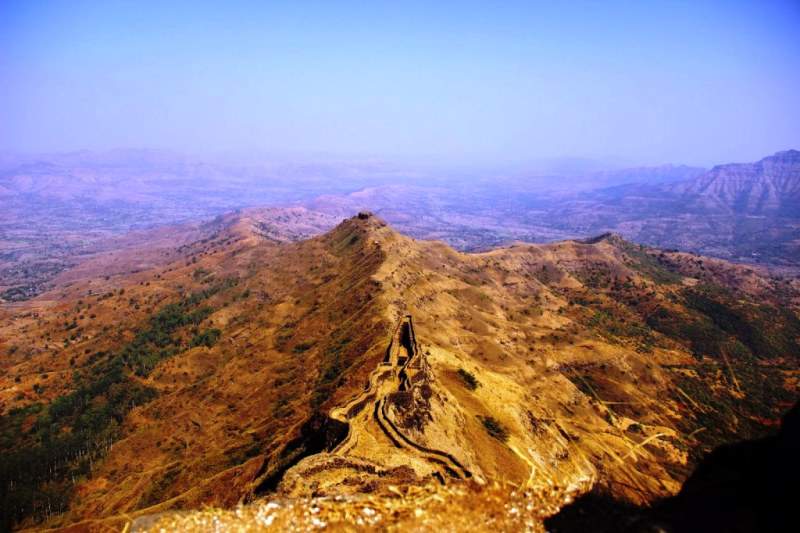 One of the most photographed view of forts in Maharashtra
Difficulty level of Torna Trek
Medium
height is 4603 feet (highest hill-fort in Pune District)
Time to climb ~3 hours from base village Velha
Ideal time to visit
Winter season (this will serve you misty bed of wild flowers)
What to see !  Torna trek aka Prachandagad
Kothi darwaja
Bini darwaja
Hanuman bastion
Zunjar machi (machi is the toughest location to fight for .. on a fort)
Budhla machi
Place to stay/take food & water
Water – Clean water not available at this fort top, hence one has to carry at least 2.5 Lit per person.
Village women sell butter milk and Nimbu Pani on the way …
Food and stay – You can stay at Mengai temple on fort top, you have to carry your own food.
Phone numbers at Torna fort for food :
Hotel Torna Vihar 9021813512 / 9403581022 / 2130221242
Location (Velha, Pune)
Google coordinates 18.276072, 73.622717
How to reach the Base village for Torna fort trek : Velhe 
1) By Car :
Pune to Nasrapur phata by NH 4 ~35 kms from Pune Station.
Take right at the Nasrapur Phata from the highway ~30 kms to reach the Velhe.
At Velhe you can park your vehicles and start trekking.
2) by Bus : ST from Swargate 6.30 am (reaches Velhe by 8.20 am)
Other tradition is to go for a 2 day trek to fort Torna via Rajgad fort.
Rajgad to Torna along the ridges of Sahyadri Mountains : Estimated time 6~7 hours.
Trek route begins at "Alu Darwaaja" of Rajgad, near the left side of "Sanjeevani Machi" & reaches to  "Budhla Machi" of fort Torna.
Precautions
– Use proper trekking gears for this trek
– Carry sufficient amount of water, I recommend at least 2.5 liter per person,
– During rainy season this trek becomes difficult on patches ..
Starting the trek from Village Velhe .. first view of fort Torna aka Prachandagad
Team FONA under guidance of Mandar … first snap near the Lake valley ..
Awesome view of Gunjawani dam from the fort top
View of Fort Rajgad from Torna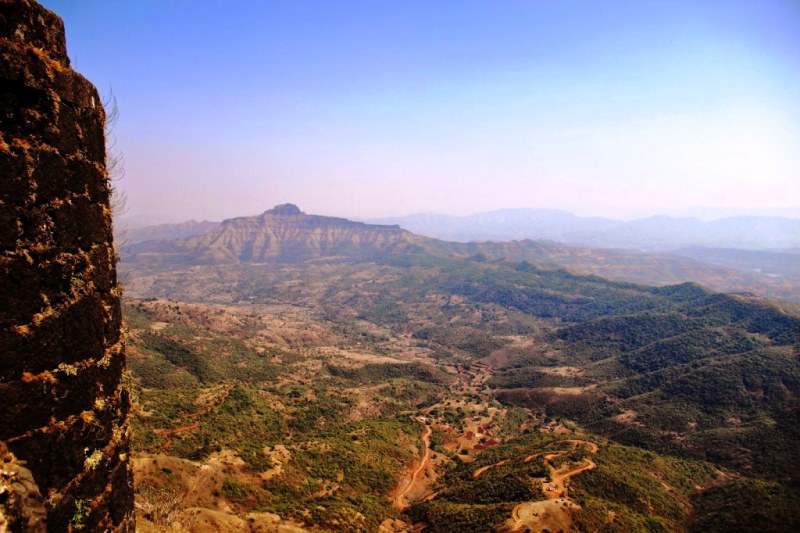 Enjoying the trek with Suparna on fort Torna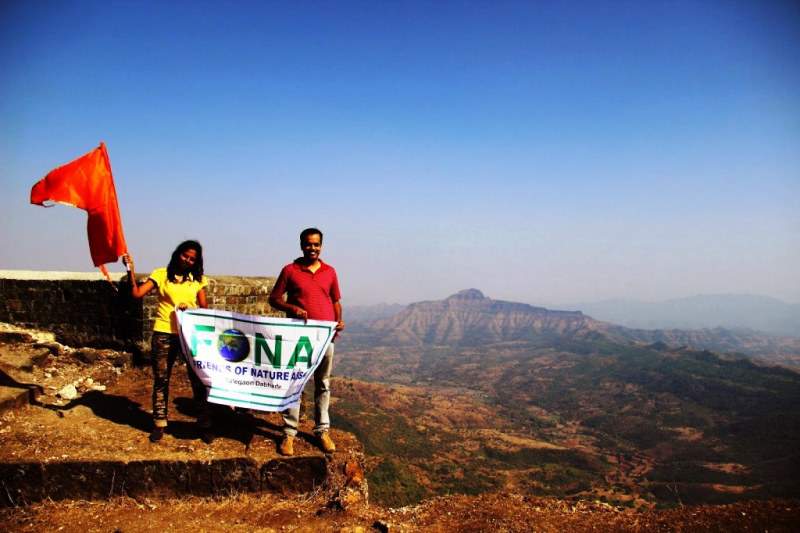 To my surprise reconditioning of fort Torna is in progress by the government !!
I never expected that my tax money will be really utilized in the best way I ever thought of
I was really happy to see that workers were reconditioning the fallen parts of fort
they told that 10 crore rupees budget is passed for this fort ! WOW …
In the background you can see temple of Mengai devi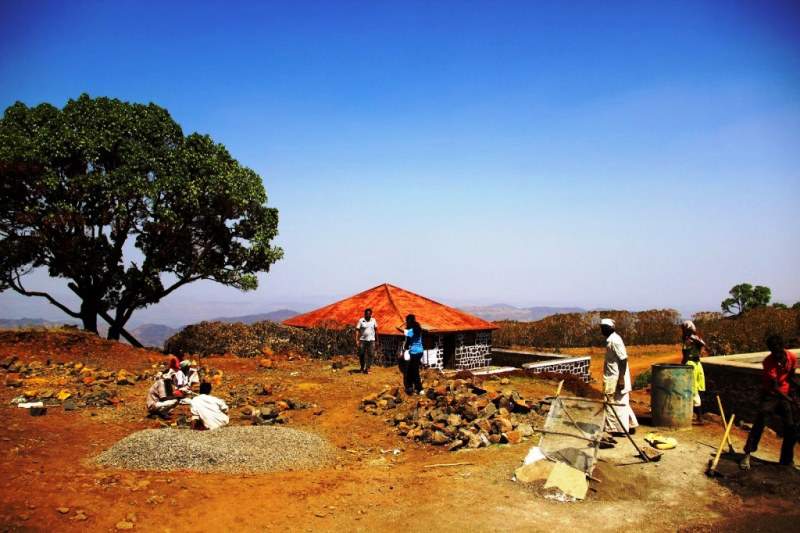 Down the hill just snapped this to show that rock here is made out of layers which are fragile .. and hence deterioration happens fast .. path becomes slipper due to granules formation ..
Flowers even in month of Feb 2015 .. season has already ended.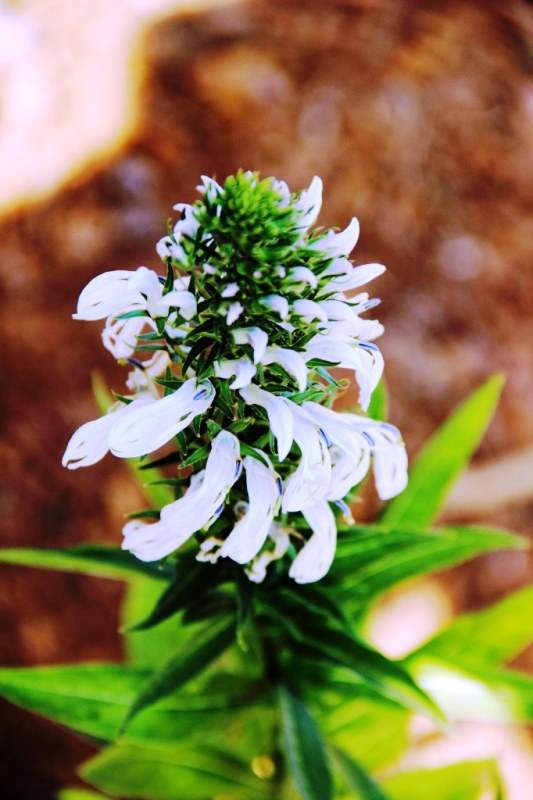 सिंहगड सिंहाची गुहा असेल तर तोरणा गरुडाचे घरटे आहे
जेम्स डग्लस
If Sinhgad is a cave then Torna is an eagle's nest
James Douglas