Years back when Bhigwan was not so famous for Flamingo bird watching I visited this place along with FONA team, I still remember our night stay at the temple, information given by FONA team leader about the birds … recorded voices of birds and the identification …. getting early morning to see the
flamingos… wow nice memories …

Now a days it is also called as "Bharatpur of Maharashtra"
---
Update 06 September 2020 from Kranti Flamingo Point Pune – 2020 Kumbhargaon Bird Sanctuary Bhigwan
Kranti Flamingo Point boating ride and forest will start from 07 Sept 2020 Monday you may get in touch with Datta Nagare 8087767691 for visiting the Kumbhargaon bird sanctuary at Bhigwan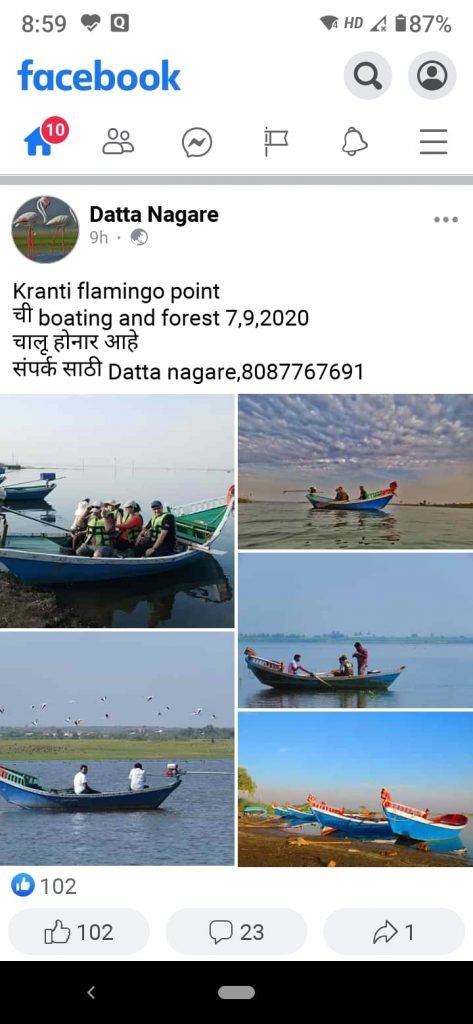 Where the Birding Spot located in Bhigwan? [Pink greater flamingos]
Birding spot is located at the end of the huge Yashwant Sagar reservoir, formed within the backwaters of the Ujani dam. Main villages are Diksal and Kumbhargaon.
Major attraction at Bhigwan is large number of Pink Greater Flamingos
Bhigwan Birding Season 2019:
Months : Early January till March, you will find pink greater flamingos.
Good time to reach for Bird watching :  Early morning 6-7 am or evening 4 pm [Please don't forget to carry warm cloths since it will be slightly windy and cold during morning time, the backwaters are huge and produce cool breeze)
How to reach Diskal – Bigwan from Pune ?
Drive on Pune – Solapur road towards Bhigwan (~90 kms)
Reach Bhigwan
Take a Left turn towards Diksal, drive till 6 kms to the waterfront.
Ask for the "Old Bridge "जुना पूल "
You have reached the famous spot from where you can rent a boat to go into the waterways.
How to reach Kumbhargaon – Bhigwan from Pune ?
Drive on Pune – Solapur road towards Bhigwan (~90 kms)
Drive ahead of Bhigwan for around 2 kms
Keep looking on Left side of road for  "Kumbhargaon" or "Flamingo point" sign boards.
Take left turn drive till ~6 kms to reach waterfront
Take boat ride for bird watching
Roads are damn good in year 2019 and you can reach in just 1.5 hours from Pune to Bhigwan
So this time I decided to go with my friends get updates on approach road to Kumbhargaon, stay facility, food and the most important point flamingos, so as to get there FONA group.Started early morning from Talegaon to Bhigwan via Chinchwad (to pick me up) I could make at Bhigwan in around 2.5 hours … early morning departure allows one to reach there in time … may be if u start at 5 am .. u can be there at 7.30 am of before that …Road to Kumbhargaon from the main highway is pretty good now (compared to situation years back) .. so no worry to get in there by car … just drive ~2 kilometers from Bhigwan, keep rolling on the service road till u see the Flamingo sign board put in by Sanddep with nice photograph of flamingo … road is very good & u can reach the main point in 15 minutes (for road guidance there are sign boards at every turning point) ..I suggest you to simply call Sandeep Nagare 9960610615, a day ahead so that u can get all kind of help, he has built three rooms where u can stay overnight … get homely food (do taste fresh fish from the backwaters) .. and he will also arrange for boat. He has trained about 16 boys from the village who give all the information to you about bird names and assist u to get right photographs.
I must say that Sandeep has done very good job to create employment for the local boys as well as conservation of nature through education

. 

Here you start from the main attraction Flamingos … the red colour becomes dark as they get quality food … my group was pretty close to them but we wanted to preserve their privacy and so kept a distance … we watched them for about 45 minutes .. and then turned further to watch more birds ..
You may like to get good DSLR camera for bird photography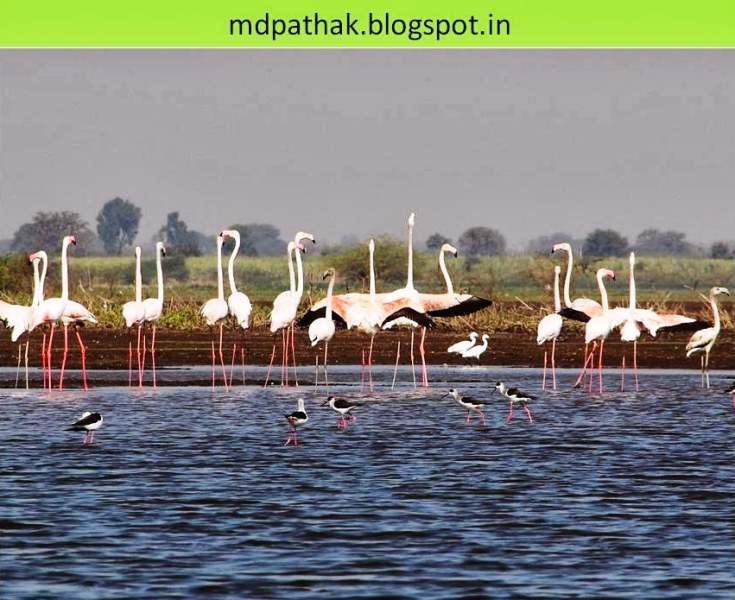 Summary 
Location
Kumbhargaon near Bhigwan
How to reach
Drive by private car or goto Bhigwan by ST bus
Distance
Pune to Bhigwan around 100 kms
Stay and food
Available on order (Stay will cost around 800 Rs per family per room, food will cost @150 Rs per thali)
Boating charges
Rs. 800/- for a ride of around 1.5hrs [updated Feb 2019] (feeding for birds is organized by Sandeep so that u can get some good snaps)
Contact person
Sandeep Nagare – mobile number 9960610615
Period of bird watching
January to March (varies year to year, so please call Sandeep before you go)
Things to carry
DSLR Camera, Binocular, Water
Birds located at Bhigwan

varieties of Storks (painted, open billed),
Ibis (black head, red-naped, glossy),
Spoon bill, Waders (snipe, sand pipers, redshank, Godwit, Ruff),
Tern (whisker, river),
Gull (Brown headed, Pallas),
egrets (great, intermediate, Little),
Herons (knight, purple, grey),
Raptors (eagle, harrier, kites),
bar headed geese,
northern pintail,
Rudy shellacked,
Northern Shoveled Indian spotted bill duck ,
lapwings,
still,
wagtails,
doves
Green bee eater,
Pond heron,
Grey heron,
White breasted Kingfisher or Common Kingfisher,
Marsh Sandpiper,
Sea gull,
Black Drongo or King Crow,
Blue throated Bee eater
Painted Stork
The main attraction of Bhigwan bird watching is Flamingos … This year Dec 2015 you can find less flamingos (@50~80) due to last year heal stones
I could get a snap of flying flamingos .. but since my canon lens is 18-135 mm it is not that great shot 🙁
And backwaters of Ujani dam are extremely good to get bird captures at serene waterfronts …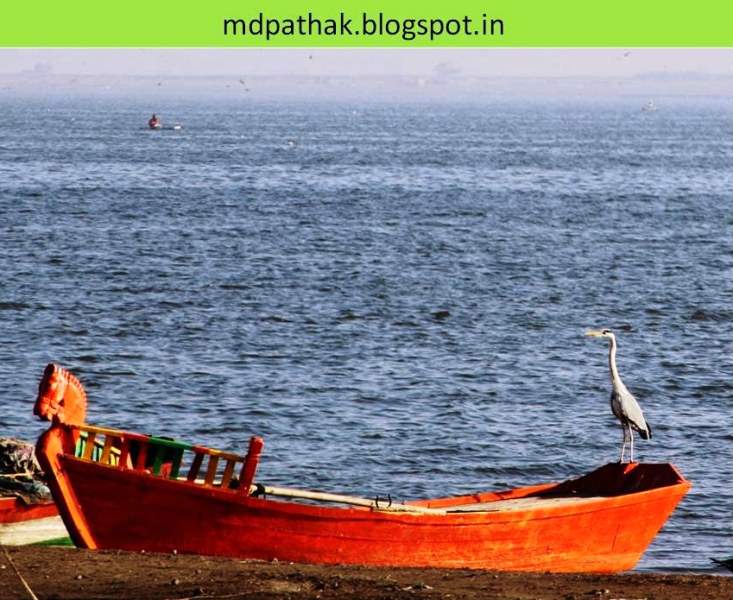 And you can get other birs too look at the Purple Moor Heron closeup I got with my 135 mm canon lens
 this snap is put just 2 give u an idea of numbers u can watch along the back water …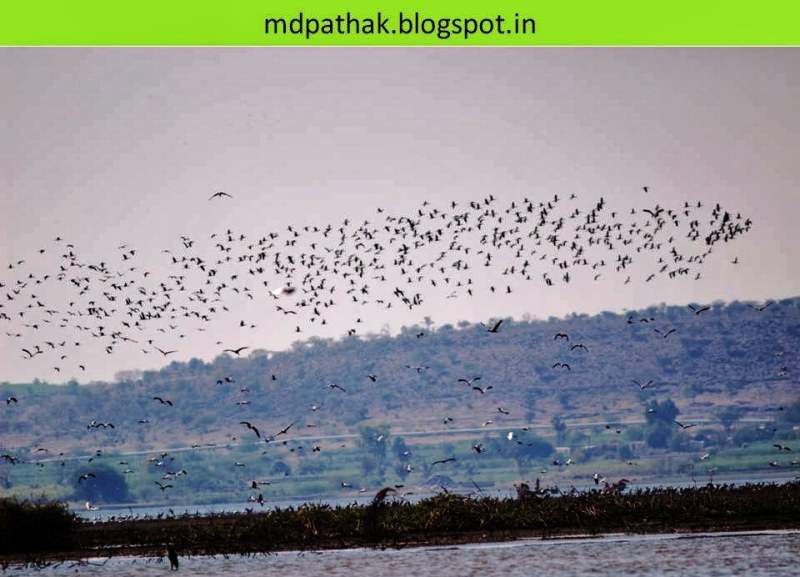 I also found Brahmani Ducks during my Bhigwan visit .. these ducks fly ~6000 kms to this place which is amazing !!
And make sure you note down the variety of birds you watch during Bhigwan bird watching and this you can do year over years … Note down the approximate numbers too
And as a bonus there us permanant Chitra Balak Colony situated near Bhigwan which you can visit any time in the year …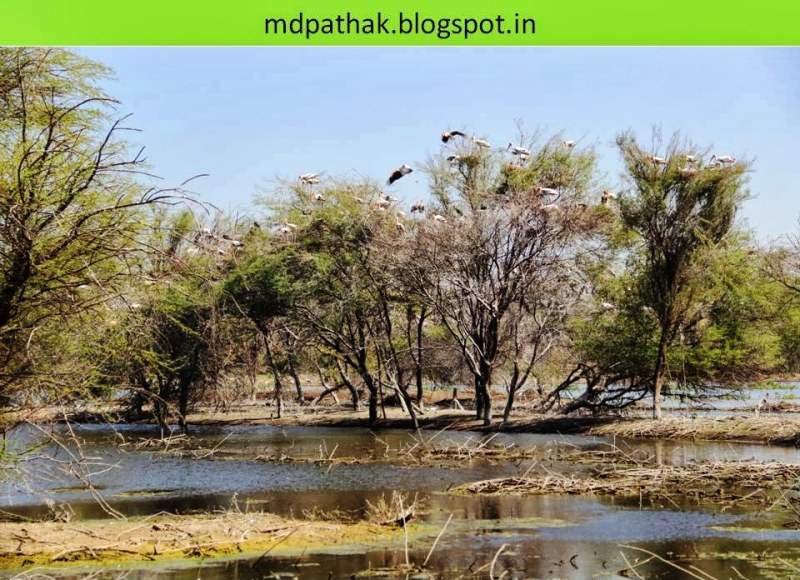 One snap of Chitra Balak nesting and feeding …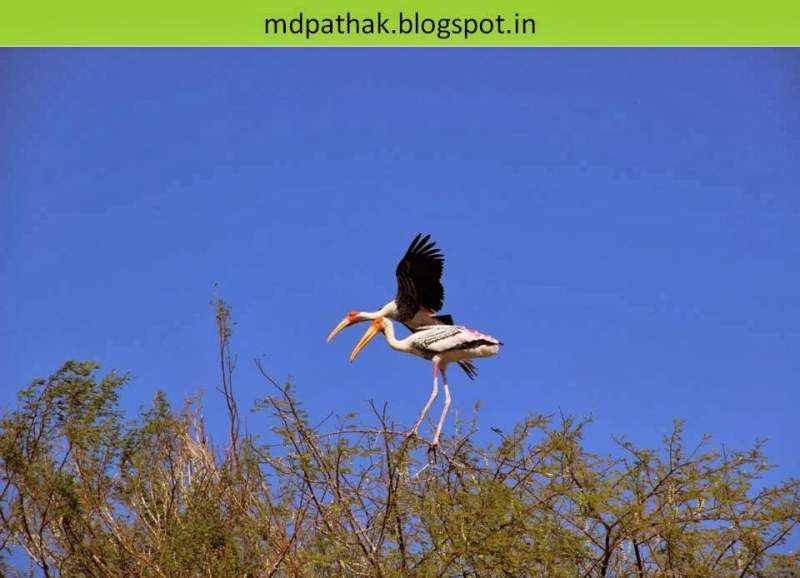 Finally man behing managing smooth experience to each one who visits Bhigwan …. Sandeep Nagare – Who is Founder of  Agnipankh Bird Group, Kumbhargaon, Bhigwan
Feel free to call Sandeep Nagare on his mobile  9960610615 before you plan your visit . for food and birds position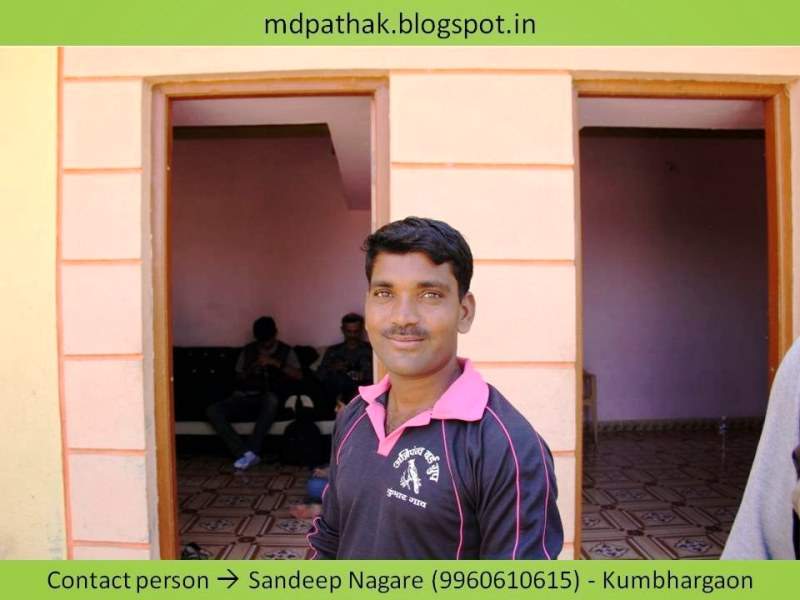 At the back waters of Ujani dam you get fresh tilapia fish .. I suggest you to taste them during Bhigwan visit .. Just inform Sandeep Nagare in advance so that he can arrange to get fresh ones for you 🙂
I know having so many photos on a single blog post is a crime !!! but can't help putting this last snap which I took during my morning drive to Bhigwan