Gone those days when Sir.Jim Corbett wrote about Man-Eaters of Kumaon …. now that we are in 21st century where I am writing  about Money-Eaters of Vasota !!! Yes, tigers are not man-eaters now but the forest officers in Vasota are money-eaters !!!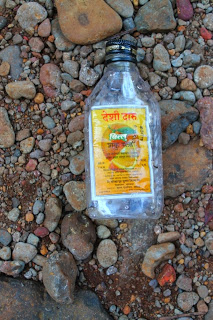 Desi daru (liquor) bottle found on fort Vasota
and by the way the most important point if I compare it with my last month visit to Kanha in M.P.
I would rate Kanha forest officers 100 out of 100 marks for respecting the timelines, discipline, cleanliness and the experience to Kanha was memorable due to that. Here this was my first entry to Tiger reserve in Maharashtra and sadly the experience from the forest office was extremely bad. Maharashtra forest office staff was not punctual, they were not at all interested in some nature lover to visit the forest, it was clearly seen that if you pay money to them they will allow you to booze in the forest, but if you don't then ur life is miserable !!! so
they score 5 out of 100 (5 are given because at least they appear on the duty and work somehow !!!)
Early morning our group of 47 members reached Bamnoli village, the energy levels were high, everyone was eager for trek to the dense forest of Vasota.
We were aware that Forest office permission will be needed before we enter Vasota.
8.00 am – official time for the forest office to open (please note that at Kanha M.P. this time is 6 am and the forest office opens precisely at 6 am, and the permissions are given in matter of few minutes, also one can complete all the necessary bookings through internet)
8.00 am – FONA members awaiting for the forest officer to be on duty
8.00 am – a lady assistant was present at the office, but unfortunately she did not had office keys !!
8.10 am – She called officer explaining that a group is awaiting for him to get permission.
8.45 am – So finally Mr. Pawar appeared on duty, fun was that he said he has to wait for another person who will provide us receipts !!!
~9 am – later Mr. Shinde gave his special appearance  who was to give us receipt. (mere waste of time)
in the mean time they told us that it is mandatory that one boat shall have one guide !! we told them that we do not need guides, or we can hire only one guide for a group. But they said it is must and we have to pay 300 rs per guide. (now here if you compare Kanha, there also you pay 300 Rs to guide, however that guide is fully aware of the jungle, tree names, bird names, tracing the tiger, where as here guide provided by them was mere local persons who knows only road to fort !!, it is like from JM road you get guide to reach Balgandharva !! do you really need guide for this straight road ? and our guides were not aware of anything about history of fort, temples, birds or animals !! they were fake
Also since the boat club at bamnoli is not working we had to call boatman from Tapola (which we did in parallel to save time)
So we did not had any choice but to say OK to the guide business, fees were 300 Rs per guide, hence we paid 900 Rs, out of which the forest officer took 300 Rs and gave remaining amount to the local guides in front of us !! This may be official commission by the forest office (ha ! ha !! joke !!! at least he shall be careful to take the money afterwards, but they are fearless & shameless officers of forest !! the money-eater species)
Then they said that there will be charges per camera … (there are no charges in Kanha for camera, even there you have lot of animal/bird sight seeing compared to Vasota) .. after lot of bargaining finally we paid 50 rs per camera !!! and after insisting (since we are NGO) he reluctantly wrote in the corner of our receipt amount paid for the camera) it is obvious that there is no record of this money at his end receipt !! this is how the money-eater trick works !!
then they said that we have to physically call the boatman to their office to get their signatures …(at Kanha they have registered vehicles and guides so time is not wasted in such things, complete formalities are done in matter of few minutes since they know that time to reach the jungle is most important thing)
Again this was time wastage for us to take the boatman to the office and complete the formalities.
Then Shinde and the lady officer came to the group where Mandar was explaining the group about Vasota fort and things to take care etc. they kept on listening that and when we started going to boat, then they said that they need to check each and every sack for liquor bottles !! it was making mere time pass, if they really wanted to check the sacks, then they could have started while mandar was doing his information session,
imagine if you wish to check 47 bags carefully, you take 5 minutes per bag (manual work) and you waste 2 hours, we were waiting outside the office since 8 am and at 10 am they are saying we will check your bags, that too for liquor bottles (incidentally since FONA is NGO and works with forest office, Mandar managed to give phone call to another forest officer who explained over phone to Bamnoli office about the NGO and their work, ignoring that they were expecting liquor bottles !!) no issues they were doing their duties !!
now don't ask what the hell Shinde and the lady officer doing since 2 hours ! yes they were standing for two hours.
it is normal trick in India where you such officers do such time pass showing that they are doing their duties, but clear purpose is to waste your time so that you finally say "take some money but leave me". here since we all are nature lovers we were not ready to give up money so easily ! so again they did drama of checking all bags. obviously to their surprise no liquor bottles found !!!
by that time it was almost 10.30 am. so from 8 am in the morning to 10.30 am is just to complete formalities and start boat travel. (till this time money eaters has got 300 Rs + camera permission amount)
Boat travel took almost 1.30 hours, so we were at the foot of Vasota by 11.45am ~ 12 noon.
Now another money eater was sitting there. His name was Aglave. he said he will check all the sacks for plastic bags and plastic bottles and then record how many we are carrying !! then we have to pay deposition of around 1000 Rs. now imagine if he want to check 47 persons bags again how much time we will have wasted ! the purpose was clear, either he will start doing this activity or we pay him money. so either we have to wait till 1 pm there and then we do not have enough time to reach to the fort at all.
so again we made a mistake here .. to save time we said that there are two bottles per person so he wrote there 96 bottles and 47 plastic bags. after bargaining (how can one bargain for official charges for forest department) so the deposit of 1000 Rs came down to 300 Rs (no where this rule was written – its obvious)
So finally we paid 300 Rs as deposit and started our actual trek ! hushhhh ….
Since all our first half day was over by now we could not complete the trek 🙁 we could merely goto the top of fort and skipped Nageshwar temple (since the forest officer told us to return to the base maximum by 4 pm)
Now when we reached by 4 pm to the base, the first group showed to Mr.Aglave that they have collected garbage of the fort/forest which has been done by another groups as well if he would like to check the bags for plastic bottles etc. he did not acknowledge or checked the bags, rather he opted for sitting on his chair in comfort, so the group awaited for about half an our, by that time the boat driver requested them to proceed to bamnoli since he had eyesight problem in evening. so they informed Mr. Aglave and proceeded to Bamnoli.
When remaining team reached to foothill. We asked Mr. Aglave to return they deposit amount.  Now here drama started. Mr. Aglave said that he need to check all the sacks for return of plastic bags and bottles ! he will count it to 96 and only if we are able to show him 96 bottles then he will refund the deposit amount. he was completely aware that he has written the bottle number without counting !
We showed his the liquor bottles which we have found in the forest as well as plastic bottles collected. however he was firm on counting 96 bottles.
Presence of liquor bottles on the fort and forest clearly proves that they are permitting this if you pay an extra special fees !! special inquiry shall be set to check this fraud they are doing.
by this time we lost our patience to bear with Mr. Aglave, we explained him work done by FONA, it is NGO and have central government grant for project Mahasir etc. other work done by us and our passion to nature. We reminded him that in front of him instructions were given by Mandar to complete group to collect any additional garbage done by other tourists/trekkers. so how a group collecting additional bottles etc can throw bottles, but in-vain, he said he will not refund the deposit unless we show him 96 bottles.
See 300 Rs is very very tiny amount for us since all are earning in lacs per month, but when in comes to challenge our integrity towards nature we will not tolerate.
So looking at all another person (do not know, but looking like a local) came forward and talked to Aglave and then he returned the deposit.
Later we came to know from the boatman and that local person that this is regular trick to earn money and they charge @1000 Rs as deposit and do not return or return partial amount since each group allows him to write approximate quantity (obviously due to time constraint) and later he asks for exact quantity matching. so it is way to earn money.
So it was extremely disappointment to have this Vasota trek, the mother nature is at its best and the forest officers are at their worst at Vasota.
I hope forest department will take cognizance of this blog post to initial inquiry about what is happening at Bamnoli forest office and do the justice to mother nature.
To show the mentality I am adding photos of Bamnoli forest office, looking at which you will understand the office represent the mentality of forest officers of Maharashtra.
You can see from the above photographs that no-where it is mentioned that camera is not allowed ! no where it is written that there is deposit to be paid !! it is clear that money-eaters of Vasota has their own laws enforced using their powers.
so if you wish to goto Vasota please be aware from these money-eaters.
Thanks to the Kolhapur forest department to give me this memorable experience.
However the Vasota Fort itself is a experience to remember .. Natural beauty .. magnificent views that you will see nowhere in Sahyadri mountain ranges …Read the complete story with photographs for Vasota Fort Trek