Hotel Sonne – Interlaken (located on bus route, having stop name as hotel sonne, the stop is in front of the hotel hence very useful)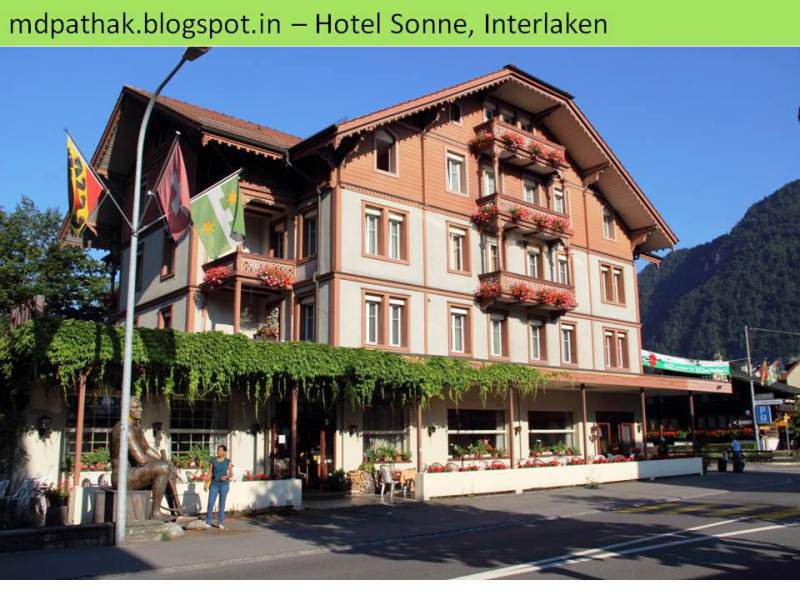 Experience at Sonne, Interlaken was very good, the owner of this hotel welcomed us in Hindi ! he had enlisted many basic questions in Hindi and was interesting personality. He was really very helpful. He guided us for the Jungfreu tour by which we were able to get best out of the trip. Also the hotel information brochure was detailed one with information on nearby places, night clubs, church, paragliding etc.
The room size was large enough, however the bathroom was very tight in size. Just a person can fit in to take a bath. However it was neat and clean. There was also a small balcony giving nice view of mountains and houses. you can have your wine in the evening looking at the para gliders jumping from mountains 🙂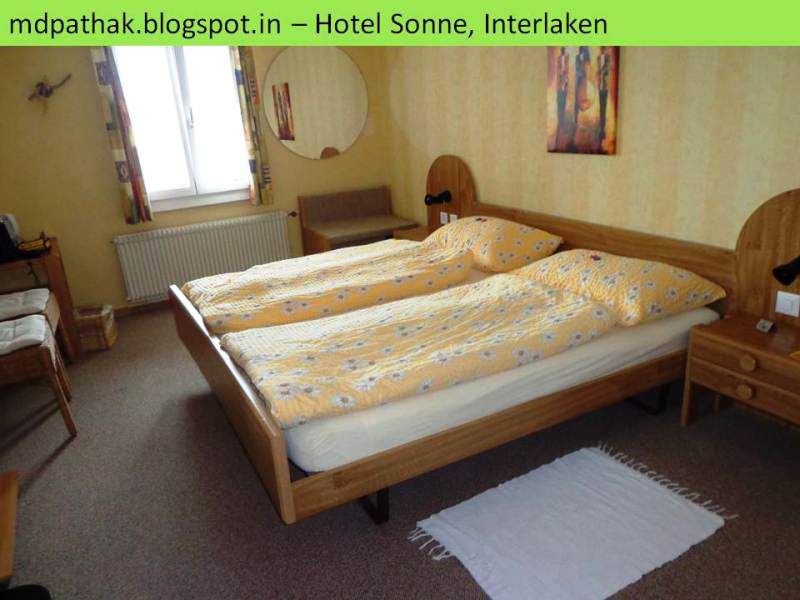 Hotel adonis is about 15 mins walk from the railway station (or you can call hotel taxi for 5 CHF per person, there is a phone booth at railway station from which you can call any hotel in Zermatt for free of charge and ask them for taxi or hotel directions).
The hotel owner was interesting lady and I discussed with her a lot about things at Switzerland. She asked us for the plan in the afternoon and guided us to spend time at Zermatt. She suggested to goto gornergrat to have view of matternhorn, and also gave a tip to sit on right hand side in the train to get good scenic views 🙂
One interesting point was that in their breakfast they had separate kettle kept with "Drinking Water" which I liked the most, since most of the Asians like to have water with breakfast 🙂
Hotel Adonis Zermatt Switzerland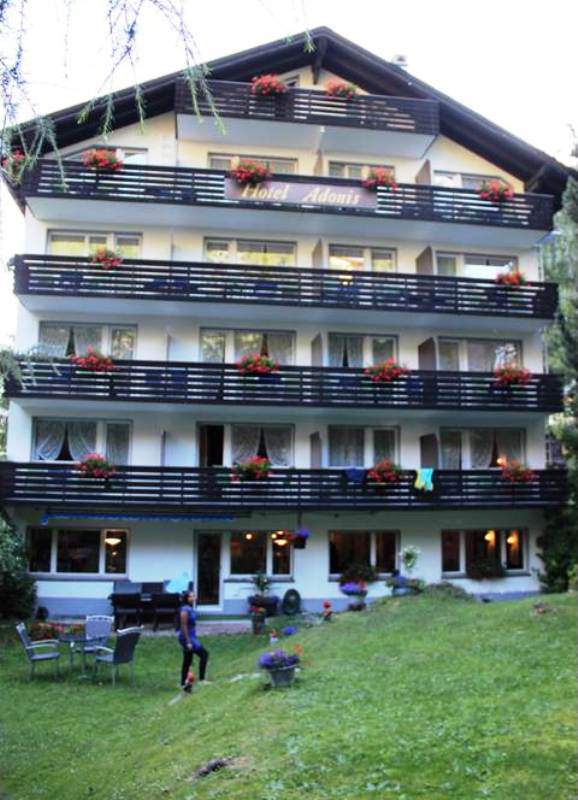 The room at Hotel Adonis was of good size and decorated carefully. the hotel itself was very interesting with wooden furniture all over. room had balcony of good size, but due to cold outside here we could not enjoy wine 🙂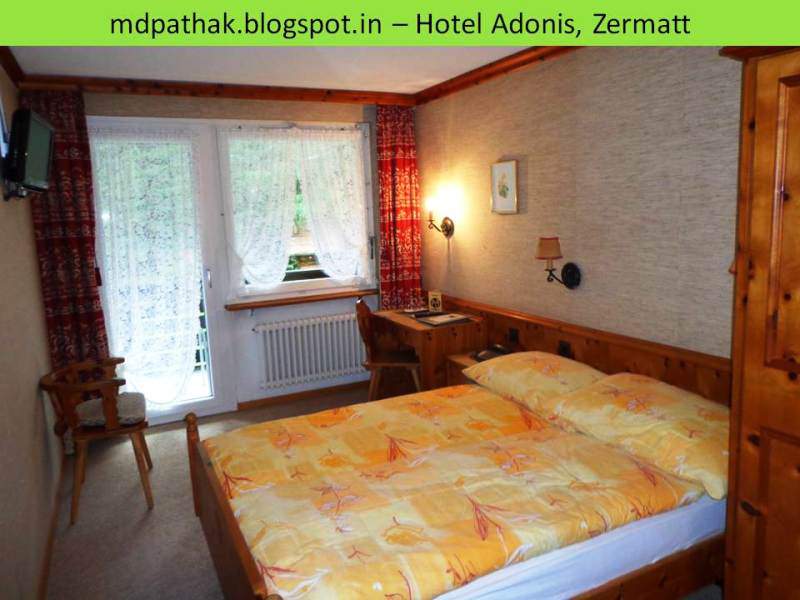 Hotel holiday inn express, is located on the express way and hence distance from the nearest railway station is about 4 kms and 1.5 kms from the nearest bus station. hence although this hotel is good one i will not recommend for those who are traveling on their own with swiss pass. I used to walk through farms to the bus station and had very good photographs with cows and mountains in the background. also I was able to see the farmer homes, family due to daily walk (so this is advantage of not being in the city)
Hotel itself is very good with helping staff. the cafeteria is very huge, having breakfast of good quality.
here is photographs of entrance from highway side to the Hotel Holiday Inn Express, Lucerne
Hotel Holiday Inn Express – Reception
Hotel holiday inn express Lucern Room was big enough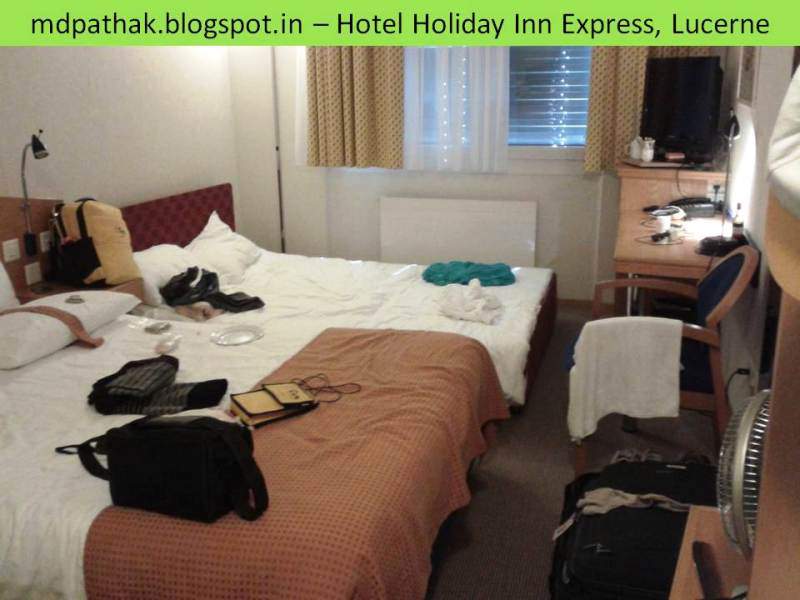 However overall in Switzerland, hotel bathrooms are smaller (tiny) than Indian hotels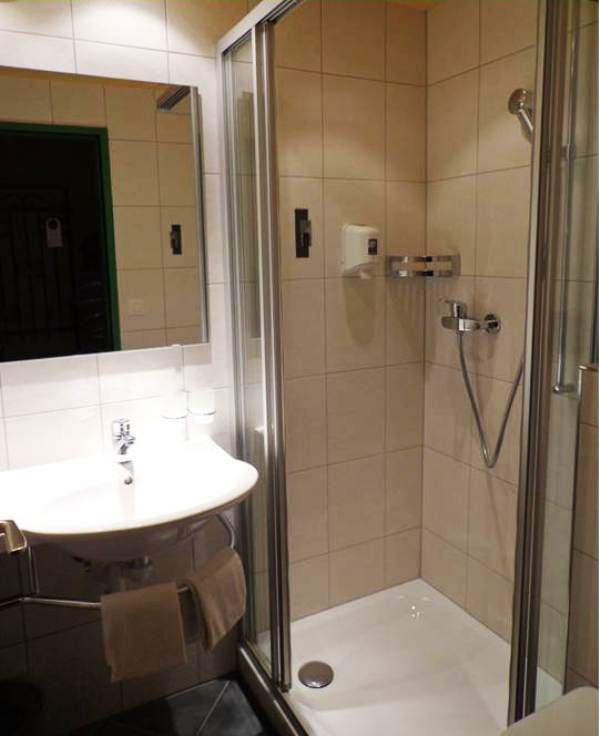 Hotel Express By Holiday Inn Lucerne    47.11366,8.232755
Lucerne Railway Station
Walk to Luzern, Bahnhof – About 1 min (100 m)
Luzern, Bahnhof – NFB (Bus towards Menziken, Bahnhof)
11:05am – 11:24am (19 mins, 10 stops)-Penultimate stop: Rothenburg, Wegscheiden
Rothenburg, Süesstannen
Walk to Holiday Inn Express Luzern – Neuenkirch
About 18 mins (1.1 km)
—————————————————————————
Hotel Sonne at Interlaken           46.68018,7.86422
Interlaken Ost, Bahnhof
Bus towards Unterseen, Stadtfeld
11:18am – 11:20am (2 mins, 3 stops)-Penultimate stop: Interlaken, Gymnasium
Matten b. I., Kesslergasse
Walk to Hotel-Restaurant Sonne Matten
About 2 mins (200 m)
—————————————————————————
Hotel Holiday Inn Express           47.45168,8.537212
Zürich HB
S5 – Commuter train towards Rafz
11:07am – 11:19am (12 mins, 4 stops)
Rümlang
Walk to Hotel Holiday Inn Express
About 7 mins (550 m)
—————————————————————————
Hotel Adonis at Zermatt               46.016881,7.747067
just walk 15 mins
—————————————————————————
Hotel

Google Co ordinates

Hotel Express By Holiday Inn
Lucerne

47.11366,8.232755

Hotel Sonne at Interlaken

46.68018,7.86422

Hotel Adonis at Zermatt

46.016881,7.747067

Hotel Holiday Inn Express

47.45168,8.537212
and if u wish to refer to the index page where u get links to all posts for my Switzerland trip then do visit ..
https://trekbook.in/2013/07/planning-trip-to-switzerland-from-india.html/