We got down at Zermatt railway station and saw line of Blue battery operated taxis all around … I wanted to check hotel direction and distance, also see if public bus service is available, i was surprised to know that in Zermatt they do not have any public transport and hence the only way was to hire a taxi or walk …
while searching for the tourist information center, I saw a big board with all hotel names displayed on it with telephones around. I got Hotel Adonis number and dialed (this is free phone service) .. the reception told me that hotel is 15 minutes walk away or they can send taxi with 5 CHF charges per person.
Since I had all hotel GPS locations fed into my mobile, I simply checked hotel distance and decided to walk there …
Taxi's in front of zermatt railway station
beautiful view of railway station … flowers all around ..
As we started walking to the hotel .. We could listen to the music .. sounding like traditional swiss music ..
and saw tow musical performers playing traditional swiss instruments .. it was mesmerizing and we could not resist to stand by to listen to the music.. ..
Here is live video that now i have added to youtube 🙂 if you like it let me know so as to put more such videos for all places 🙂
they were playing mesmerizing music and then selling DVD's of the instrumental music … I have video-graphed this and may be put onto you tube in a short while after completion of this blog series on switzerland …
as we went ahead to the hotel through the market .. having shops and hotels around … and the bratuy of flowers (it is part of swiss life ! i suppose)
the lamp post .. the flowers .. the shop sign .. ( my observation is shop signs are not very big as they are here in India .. they are always small not disturbing to the beauty of shop, road and city .. i liked this very much)
As we moved forward we came across a beautiful church ….from where we had to turn towards hotel adonis ..we though of looking the church from inside after the hotel checkin ..
view of the clock tower … on the clear blue sky with white clouds in it … so attracting … so clean .. so nice ..
the second day morning we went inside the church to have a look around …
by the way .. one thing i liked most at zermatt is the fountains .. its not only that u can top up ur water bottles .. but its beautiful too ..
and one more at the corner of the church .. fountain .. clean water .. one thing u can note that all over Switzerland at such fountains u can refill and drink water 🙂 when we were at Licerne it was slight hesitation to drink water from fountains .. but by the time we reached Zermatt … we were so used to to do it ..
after the church .. u will see grave yard .. u can see the respect paid to the dear ones .. what else than flowers would do that ? simply great .. i salute to the people who did this ..
The most photographed mountain with least photographed person in world 😛
Matterhorn
in few minutes from the church we reached hotel adonis … the destination through a beautiful path …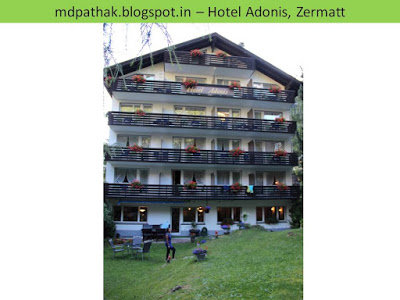 now be quick .. we have to goto Gornergrat ..to have a view of Matterhorn..
……if u wish to refer to the index page where u get links to all posts for my Switzerland trip then do visit ..
https://trekbook.in/2013/07/planning-trip-to-switzerland-from-india.html/