For a ride to mount Titlis we started from Lucerne railway station in a train to Engelberg, during the 50 minutes ride one can see beautiful houses around …
once u get down to the railway station, u can directly proceed to the cable car (if u hv already bought tickets from India for mount Titlis then u need not wait to buy tickets at railway station).Out from the railway station u need to cross a bridge, where on ur right side u pass by the beautiful water channel ..
Mount Titlis, Lucerne [from Engelberg]
Look around to see horse carriages … and hv one joy ride if u wish to ..
and just before the cable car station, u get what u want .. Indian food… get here Vada Pav, Idali, Dosa .. its small hotel on wheels ..but at least u get to see and taste these things … in my complete trip other than this place i did not get Idali or Vada Pav !! so grab this one time opportunity ..although it will cost u 7~8 CHF for Idli ! ohh mann ,,, u get it for 15 Rs in India !!! but …forget it .. enjoy …
 if u hv already bought tickets from India for mount titlis then at the cable car station u need to show the tickets and they will issue the actual tickets against the ones u hv,… swap it and enter to the cable car (remember these tickets are needed till u come back .. at every stage u need them so do not throw them away)
The most liking part of mount titlis trip is listening to the cow bells .. u will never forget it … so while in cable car … do listen them and enjoy … the echo sound of cow bells in the valley having so many of them moving around is a thing to experience and remembered 🙂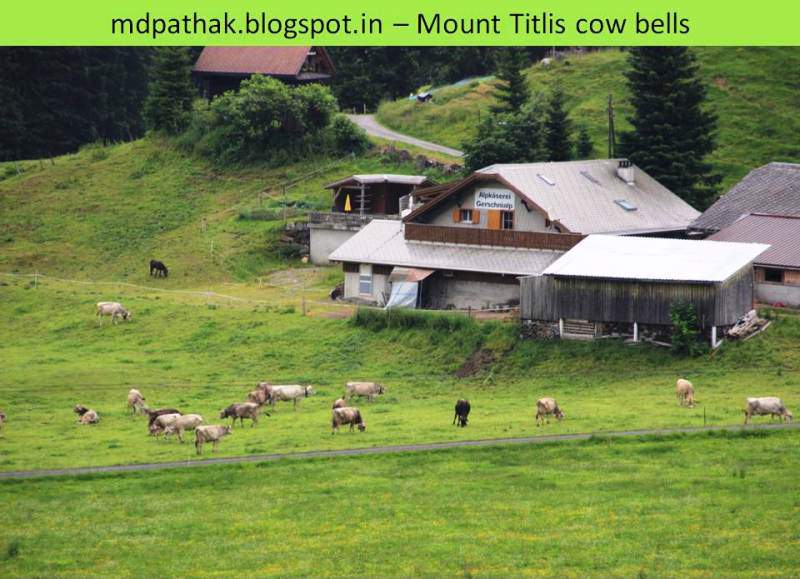 After the cable car .. u hv to get on to the gondola .. the special thing is that it has got rotating floor .. so every person gets a chance to have a 360 degree view while moving up to the mountain ,,, the cable car accomodates only 4 persons .. as against that gondola ride covers .. almost 30~40 people at a time …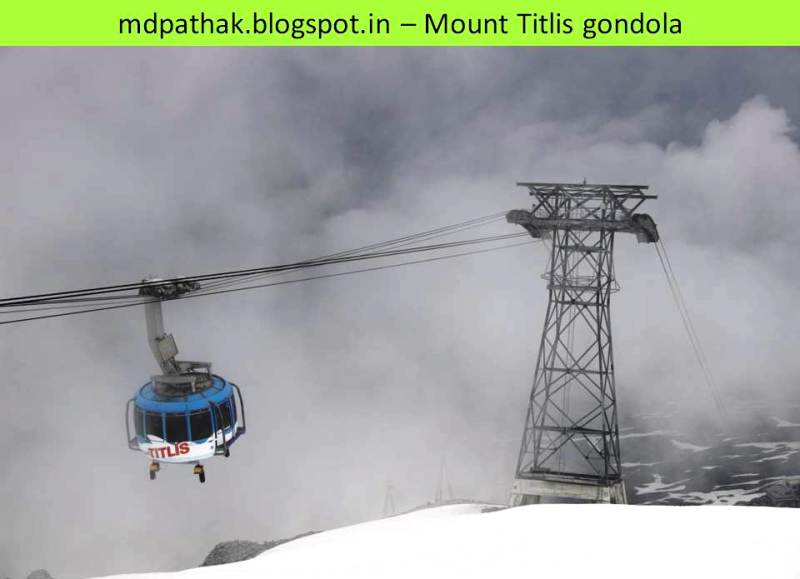 At the top of the mount titlis .. u will be surprised to see the Bollywood 🙂 .. hv a photo session with shahrukh khan & kajol … (this is not the only mountain .,. at mount Jungfreu also there is a big restaurant names Bollywood !)
here u can get magnificent mountain views .. move all around to enjoy .. u hv plenty of space here to sit around … hv ur packed lunch if u wish 2 hv .. enjoy wine ..
the ticket i bought from India had ice flyer included in it .. so i could enjoy the ride … which is really nice and thrilling one …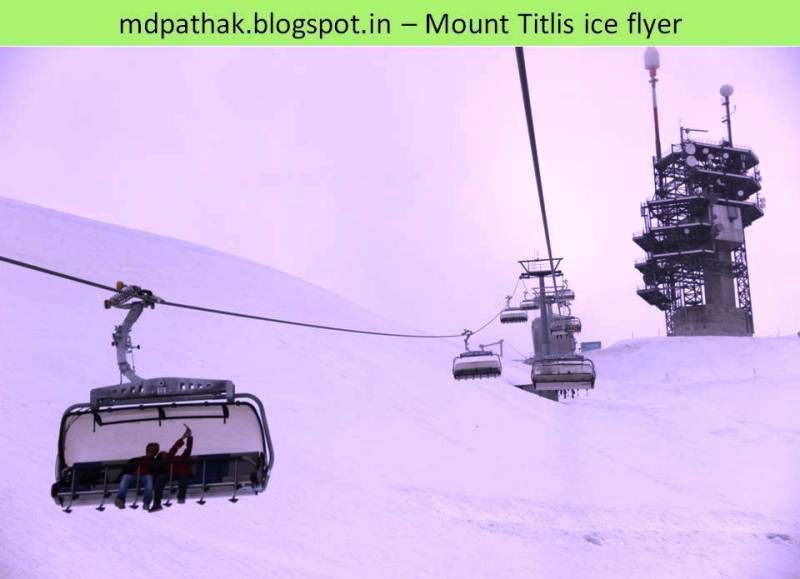 you can get down at the end of ice flyer .. and before going back ,,, enjoy the free rides of the snowtubing … on the way back u hv moving belt .. so no worry of walking back all around …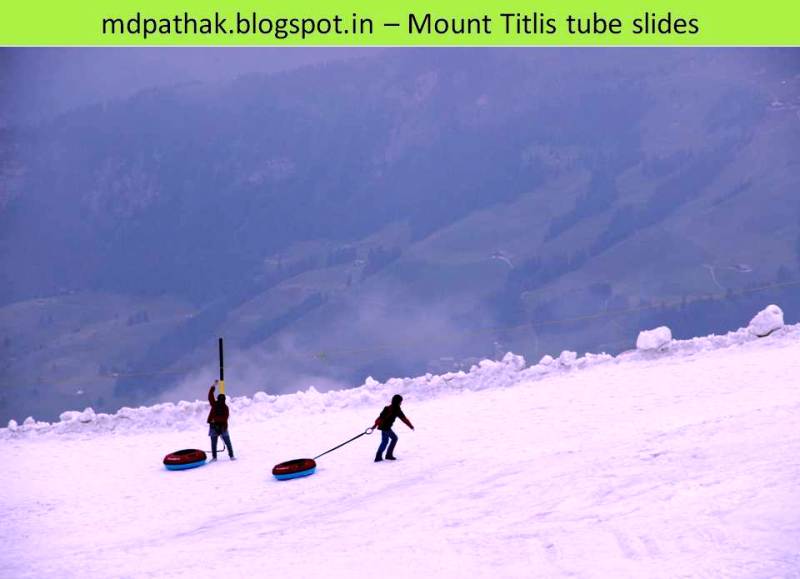 when u r back from the snowtubing and ice flyer ride … there itself u can hv a thrilling experience over the cliff walk .. its a bridge constructed over edge of cliff …get magnificent views from here ..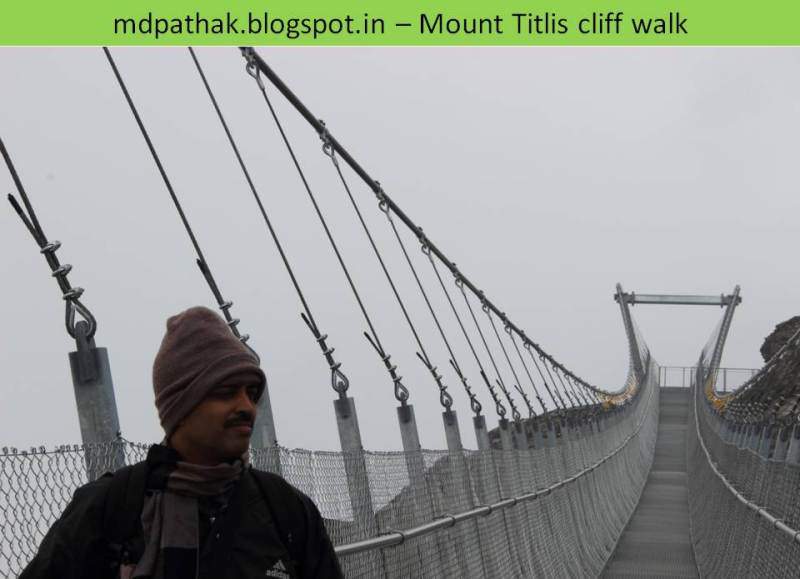 back to the main station now .. if u r done with playing with ice ..throwing at each other … still want to get to the ice caves … do have a look at ..(but when u r at Jungfreu .. u will get bigger caves with ice carvings better than mount titlis, but here u get flavor of )
After enjoying of all these things do not forget to have yourself photographed in traditional swiss wear.
it will cost you somewhere around 60 CHF for mid sized photo, but it is worth. and remember that i did not locate this photo facility in my complete trip… so spend some money and hv urself dressed in traditional swiss wear 🙂
also in case u are feeling very much cold there is a separate warm room where u can sit and relax for a while.
after all the enjoyment is over on the way back on the foot of mount Titlis there are shops if u wish to buy a souvenir for ur dear ones …
 back to the engelberg railway station .. to lucerne ..
So what I liked and did not get all over the trip at mount titlis is .. the sound of cow bells and photographing in traditional swiss wear …
cheers !!
btw one tip from my side for mount titlis trip .. specifically at Titlis railway station the toilet is not free (paid) ..but when u reach to the change point to gondola .. u hv free toilet there, also when u reach at the top of mountain u get free toilet … and as usual toilets in trains are for u ..