Monsoon is season of treks and for people of Mumbai and Pune, Visapur fort trek is one of the best destination. Its reachable from Malavali railway station, trekker do enjoy long walk, in face I have done it thrice walking from the railway station. Otherwise now a days a brand new tar road is available by which you will be able to drive down till Visapur fort base village ! Anyway go through my trek guide to know more details, few photos and do's and don'ts.
Panoramic view of Fort Lohagad Visahpur

Read Basic information on Fort Visapur on Wiki if you like.
Visapur fort is Located near to Lonavala hill station and as said easily accessible by car or train.
The height of the fort Visapur = 3,556 ft from the sea level
Fort Visapur compared to Lohagad
Between the twin forts Lohagad and Visapur, first preference is Lohagad, however now a days since people want more thrill, they prefer going to Visapur rather than Lohagad !
Fort Visapur is larger and higher in elevation than fort Lohagad, Due to which, the British troops in 1818 AD set up their canons on Visapur and bombarded Lohagarh, forcing the Marathas to leave the fort Lohagad.
Visapur fort trek Difficulty Level
Medium difficulty, however
WARNING
is that without proper local guide or experience trekker in group do not attempt climbing this fort, every year at least 3~4 cases of trekkers being lost in forest are reported.
Time to climb – about 1~1.5 hours depending upon the route you choose
Time to descend – about half an hour to 45 minutes (from the way shown in below photographs)
How Not To Get Lost at Visapur trek? My own story !
This fort is famous for trekkers getting lost on the return path, every year you will read at least one such news in local papers ! And I used to think that it can never happen on at least Visapur fort ?
However couple of years back I went on this fort with our trekking team of FONA during July month, we reached the fort top without any issues from the Malavali side climb.
By the time we had our lunch there was no issue, things were clear, we were aware from where to descend on the Lohagad side. However just after the lunch, it started raining heavily, it was so bad that we were not able to see beyond distance of 3-5 feet ! in such situation we decided to hold down till the rain settles down, but even after an hour situation remained same. and that point of time we took a wrong decision to descend ! I think this was the biggest mistake I did in my 30 years of trekking carrier in Sahyadris !
We started moving down and few lost the track because of poor visibility, while all reached at the descend point, which is slightly tricky to locate at this fort, we found that 2 people are missing in our group. So myself and Abhishek went back in search of these two members .. the mobile signal was not working ! and after an hour of search we could locate them ! However on the way back we lost our way back and kept on roaming around in the same path ! literally this was the first time in my life I got confused !! Somehow after an hour of roaming we located the point to descent and got down without issues.
It was really funny experience for me ! but I realized that if for experience trekker like me this can happen, then its easy that new trekkers could get their way lost easily.. this fort is quite unique in that sense, that you get feelinf of loss of direction in case of fog and rain.. which is present frequently during monsoon season.
Considering this experience I would suggest to get there with experience trekker only.
What to see on Visapur Fort?
 Hanuman carving at the entrance
The ruins of a large stone-built house are known as the Peshwa's palace
Cisterns of water
Caves carved in single stone
Well build by Peshvas
Near the north wall there was an iron gun ten feet long and of four-inch bore
Remains of an old Mahadev shrine (near the iron gun)
Bastions – Tatbandi protecting fort from attacks (most of them are really in good shape)
Magnificent view of fort Lohagad and its Vinchukata
Place to stay / take food at Visapur trek
There is not closed space available for night stay on this fort nor to take your lunch during the rainy season
Hanuman carvings at the main entrance of fort Visapur
After the Hanuman carvings remaining steps to the fort
FONA team on the trek
Fort Visapur – Panoramic view on the table top, remains can be seen all over for the old buildings
The ruins of a large stone-built house are known as the Peshwa's palace.
When you reach to the point from where you descend on other side towards fort Lohagad, you can see rooms (I could not go in to see since it was raining and too dark to judge what is inside)
Descending down on Lohagad side (descend from the back side and not directly from the front where u see fort lohagad)
Tree plantation drive by FONA – year over year continued .. on the way to Fort Visapur
alongwith my wife 🙂 (as always)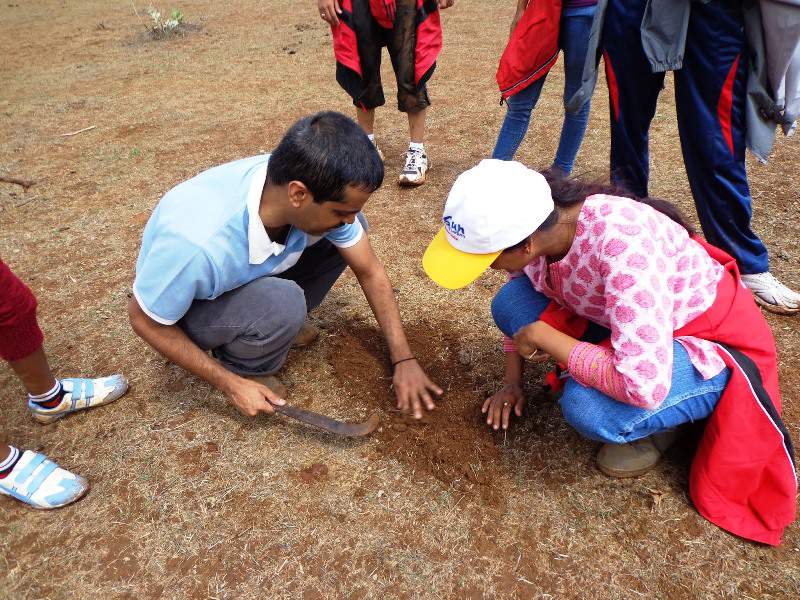 Velvet insects इन्द्रगोपः मृगाचे किडे (लाल रंगाचे) (we used to called it Rani Mungi during childhood) I could not find similar images on internet so do not know the scientific name for the same, but I have uploaded this full resolution image so that someone can zoom in see the details (tell me in case you know the name please)
इन्द्रगोपः- मृगाचे किडे (लाल रंगाचे)
बालेन्द्रगोपान्तरचित्रितेन विभाति भूमिर्नवशाद्वलेन।
गात्रानुपृक्तेन शुकप्रभेण नारीव लाक्षोक्षितकम्बलेन।।
—वाल्मिकिरामायण।
भावार्थ :- पावसामुळे नुकत्याच उगवलेल्या हिरव्यागार कोवळ्या गवतावर "मृगाचे किडे" शोभून दिसत आहेत. जसे हिरव्या (पोपटी) रंगाचे वस्त्र धारण केलेल्या स्त्रीने लाखेच्या रंगाचे (लाल) कांबळे (शाल) पांघरली आहे.
Wild flowers on the way .. common to find on any of you trek in Maharashtra, again i am not aware of the name of the beautiful flower 🙁
Crab with only one cheliped broken still had successful frog catch ….
Over the years wherein I have been to Lohagad number of times (since Lohagad is simple to reach and climb we choose this for guests or entry level trekkers) I did not climb Fort Visaur which is one of the twin fort of lohagad-visapur. But this time specially we targeted this fort and was really happy to visit the same.
and do not forget to check for the list of things to carry for trek
cheers !!