Which route to Murud beach from Pune is fastest, good (without potholes), no tolls and less traffic ?
I started my journey to Murud  beach via Pali-Roha route and the travel was fantastic 🙂 road is very good and there was no traffic at all, I could reach there from Chinchwad in about 3.5 hours at max speed of 80 kmph ! (tried to respect highway limits for speed !) On the way back I selected route via Alibaug just to know the difference, in terms of kilometers covered it is equal from Roha or alibaug, but in terms of traffic and road width, Roha -Pali route is the best I say. Alibaug road is too narrow hence when u hv bus or truck in front of u .. it takes miles to overtake the same and  u keep dragging at slow speed and bus stops !! also once u take right turn from alibaug towards the highway then Hey Prabho !! there is hell of traffic (indiscipline) so u can go at around speed of 20~30 kmph … so it took me more time via this alternate route.
Other drawback of Alibaug route is that while going to Murud via roha-pali I did not pay a single toll except the express highway 99 Rs. however while coming back via alibaug i had to pay toll two places ! 15 rs at alibaug and 25 rs again, at express way the return toll was 125 rs to pune ! so i would say Roha-Pali route was the best choice 🙂
Parachute sport on murud beach
Water sports at beach side – they charge Rs. 300 per round !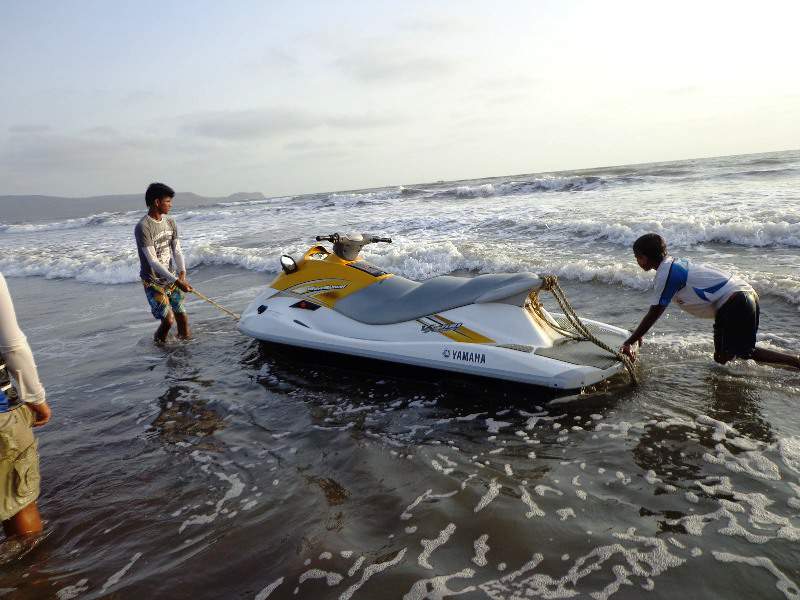 Moto sports at beach side …
Women selling dried fish at road side …
Swami Khanawal – this is small beach side khanawal (hotel) providing home made konkani food

Konkani food dish – Subji made from Banana flowers, it was real taste 🙂
Fried fish at Swami Khanawal
Prawns masala at Swami khanawal
We had our lunch at the most famous Patil Khanawal – Murud beach – it was highly crowded place, food taste in terms of its originality which i had tasted years back is lost ! may be they are not able to handle big crowd in so short time span, that is the reason I hunted for another option Swami Khanawal.
This time I walked around the village as timepass.. it took me about 2 hours but was worth to see the old houses, people, living style.. the market …. since normally i spend all time on the beach and come back .. so i decided to explore more on my own which was really a nice experience indeed 🙂
Also you will love to read my visit to Revdanda sea beach which is calm and serene
cheers !!
Collection of my experiences on Konkan sea beaches with my recommendation only for you