Last time when I had been to Kolhapur….  my Mama mentioned about the temple on the ship which looks beautiful during the evening, so I planned to directly going to this temple before I goto Kolhapur, so that I can save some distance.
On the way from Pune to Kolhapur I headed towards
Kumbhoj
which is a Tirtha kshetra for Jain people, since I started from Pune around 3 pm so could reach Kumbhoj by  ~6.30 pm evening.
As soon as I reached there I inquired about food availability (since from internet I got information that late evening I will not get any food there), people there in the guest house told me that I shall take my
dinner before 7 pm since the

food counter closes at 7 pm
. so I rushed to get food and had it !! due to the fear that I will not get food if I decide to stay there at night. However when I finished and started towards Jahaj Mandir (temple on a ship) I saw that
there is a hotel providing food at late evening too !
as well as stalls for
fast food like bhel, pani-puri
etc.  so even though you are late there you can get some food, if not in the
4~5 km range big hotels are seen on road to Kolhapur.
anyway .. we thought of staying there at night as an experience, and booked one room, but when we came back from visit to the Jahaj Mandir, we found that we were alone in the complete complex, it sound so wearied that we decided to head down to Kolhapur ! although there was a security !! but you know how can we stay in such quite place alone ! so we left to Kolhapur. if you are a group of people you can stay there.
History of Kumbhoj Bahubali Maharashtra India
Mythology :
About 250 years ago an ascetic Saint Shri Bahubali Maharaj lived here.
People believe that due to his spiritual presence no wild animals attack the pilgrims visiting the temple.
After the death of the saint Bahubali, many great spiritual Jain Munis have touched their feet here to bless the devout followers of Jainism.
Now it has became one of the most famous Jain pilgrimage place. Jain people believe it to be an Atishaya Kshetra – a place of miracles
Kumbhoj an ancient city located 8 kms away from Hatkanangale town in Kolhapur.
Just 2 kms from Kumbhoj a 28 – feet tall monolith statue of Bahubali in standing posture is installed in 1963 on a top of the hill which can be seen kilometers away from the hill.
Once you reach on the hill, you will seen many Digambar Jain Temples around.
Lord Bahubali
Lord Shantinath
Lord Chandaprabhu
Lord Adinath Digambar
And a Column of Dignity.
As you descend the hill, you will be able to see Fourteen models of Siddha Khetras and Tirthankar Nirwaan locations.
Whereas on the back side of this idol you will be able to see the models of Gajpantha, Taranga, Mangitungi,Sonagiri and Pavagiri sidha kshetra.
On the right hand side, look at the big Kailash Parvat model with Seventy two temple models [Made from cement and stone]. In the front side, see the Girnarji depicting Prince Neminath 'Viaragya' event.
On the left hand side, you can see Sammeed Shikharji with all the 'tonks', and eight more smaller models depicting the other Siddha Khetra's.
Once you reach foothills, on the right hand side you can visit Mahaveer Digmabar Jain 'Jal Mandir' temple. And on the left hand side, you can visit 'Ratnatrya' Digambar Jain temple.
While you move further down, there are many more Digambar Jain Temples such as Samavshran Temple, Bahubali Temple, Sahastrakut Temple, Manastambha, Acharya Shantisagar and Acharya Samatbhadra Memorials.
Swadhyay Bhavan:
Many camps and classes are held all the year round at Swadhyay Bhavan. It is located at the foothills of Kumbhoj. The Dharamsala also serves simple but delicious and nutritious food to the pilgrims.
[Please note that evening closing time for dinner is 7 PM]
Temple Timings :
6 AM to 9 PM
[Tip : Do not go to the hill temple in the mid day time, summer season the steps become too HOT to tolerate, so go early morning or late evening]
Annual Gatherings
Fair on Kartika Poornima (Annual Function),
Starting day celebrations of the Organization on Asharh Shukla Dwitiya (2nd)
How to reach:
Located on Kolhapur to Sangli highway.
Take a left turn from Hatkalagne ST Stand, from where Kumbhoj is about 6 kms
by ST :
Hathkanangale ST Stand – 6 kms Kolhapur ST Stand – 30 kms
Go upto Hathkanangale town by ST bus or jeep

How to reach from Mumbai & Pune

Mumbai – Pune – Satara – Karad – Vathar – Pethvadgaon – Bahubali

Nearest Railway Station
Hathkanangale – 6 kms Kolhapur – 30 kms miraz – 35 kms
Nearby Tirths
Jatwara Jaingiri – 25 kms
Kachner – 65 kms
Kunthalgiri – 240 kms
Paithan – 80 kms
Stay / Hotels / Dharmashala 
Dharmashala – Samantbhadra Nilay, [Reservation Phone No. 0230-2584422]
10 Rooms with attached toilet & bath
3 Rooms Guest House
Bhojanshala facility available.
Items like Utensils, Bed etc are available.
Other 17 Jain Hotels are available in vicinity.
Address
Kumbhoj Bahubali
Shri Bahubal Brahmacharyashram and Bahubali Vidhyapeeth Atishay Kshetra Bahubali(Kumbhoj)
Post – Bahubali Tehsil – Hathkanangale
District – Kolhapur (Maharashtra)
Pincode – 416110
Phone: 0230-2584422
Night view of Temple on a ship (Jahaj)
 Enlightened garden view as seen from the top of Ship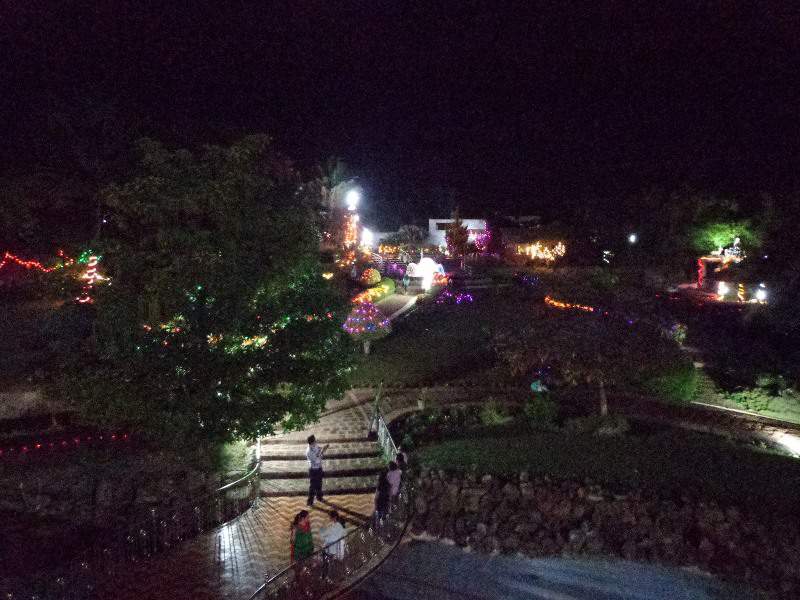 Swamiji statue at the garden corner
View of Jahaj mandir, you can see it situated above the ship
google co-ordinates location for Jain temple Jahaj mandir, Kumbhoj, Kolhapur
16.80677, 74.422577 Google QR code,
Just scan the QR code below from your smart phone to get geo location for this place
Summary
Reviewer
Review Date
Reviewed Item
Kumbhoj Bahubali Jain Temple
Author Rating