News 7 July 2014 (7-2-2014)
http://www.mid-day.com/articles/two-injured-in-accident-at-adlabs-imagica-theme-park-near-mumbai/15072037
Adabs Imagica Accident :
With reference to below snap shot of readers letter written by anonymous in famous newspaper Sakal dated 7-2-2014 indicating negligence by Imagica staff in maintaining the rides.
Read views of the person who was present at the time of accident in that theme park and also what he experienced there about the maintenance of rides.
We think that it is foolishness to risk our life for mistake on human errors .. instead it can be better to avoid wasting money and risking life …..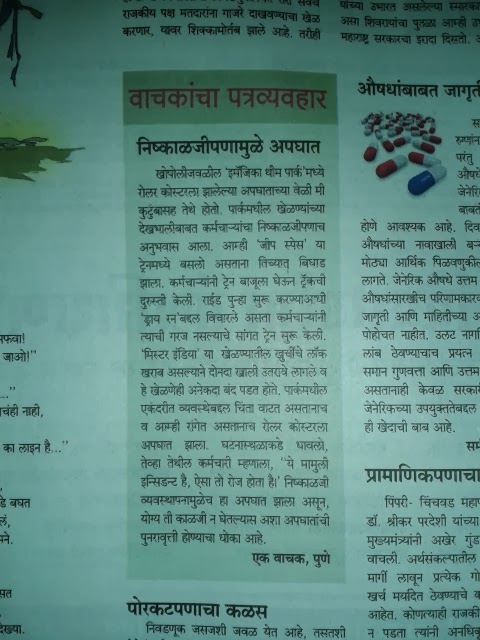 Hushh .. finally we will get first theme part and that too close to Pune and Mumbai …the first phase will have about 21 international standard rides
including the country's largest roller coaster and 4D stimulation rides… that's great news for me (n u all too) …
map to adlabs imagica from mumbai (~80kms only)
map from pune to adlabs imagica (~90 kms only)
Adlabs Imagica Review
As said occupying over 300 acres of area, providing interactive games options for the thrilling rides such as Mr. India, soaring over India, Wrath of god, Salimgarth, Alibaba etc. sure you feel the heat and fear … fear factor shall rally really work .. be sure to listen hard screaming !!  ……
obviously you need to spend a day or two + may be around 1500 rupees of tickets …. spend time in  hotel inside or enjoy the food over 5~6 theme based restaurants …
got few descriptive information over net for those rides ,,, i imagine more what i will get through here through the small description …
Mr India ride
— fight with Mogambo to save the world. this must be an interactive game wherein you participate in the war to save the world ! may be you get fake guns to do with !! who knows !!!
Soaring over India
— A flying experience with Special effects, giving an aerial view of the country..
Wrath of god
— Fire, air & water together will provide screaming experience. 160 people experience free fall as the platform gives way. Buildings fall around you ! you have to imagine what fear factor will work on you with technology pushing to the limits !
a 4D interaction experience you will get at Salimgarh
— I imagine it will be a cart ride inside a fort having poping Characters out of walls making it a thrilling ride.
Alibaba aur 40 chor: this again shall be a cart ride in which you will travel through ancient Middle East on a cart shooting at thieves. and in this case the cart will be moving at high speeds as a challenge to you 🙂
* update as on 18 April 2013 –> now that adlabs imagica theme park is open for 2013 summer holidays, u can enjoy all rides there.
The Park is open from 10am to 8pm.
All Rides and Attractions will operate till 7.30pm only.
the ticket prices are 1400 rs/person on weekdays and 1900/person on weekends
more details on — http://park.adlabsimagica.com/pricing-information
Adlabs imagica photographs which i captured while on the way to murud on 19th may …my odometer was showing 71 kms from chinchwad to this place and i could reach there in mere 1 hours time … since i had not planned to visit adlabs imagica i did not stop there .. but wanted to capture some photo snaps for my blog readers to give an idea about development phase as in May 2013
ample parking space is seen outside adlabs imagica theme park …
some joy rides are under construction at the theme park near khopolit
this joy ride really attracted me … given that i could see that it is in operation .. i could have dropped my plans for murud visit … 🙁
cheers !!!
read about Adlabs Imagica (and about the mastermind behind this idea Mr. Manmohan Shetty) –
http://www.adlabsimagica.com/about-us
http://www.punemirror.in/article/19/20121204201212040900129273f81cf83/Help-Mr-India-tackle-Mogambo-for-Rs-1500.html
http://articles.economictimes.indiatimes.com/2012-11-27/news/35385915_1_theme-park-manmohan-shetty-water-park
good read –>
http://www.bbc.com/travel/blog/20120627-travelwise-the-thrill-of-death-defying-coasters