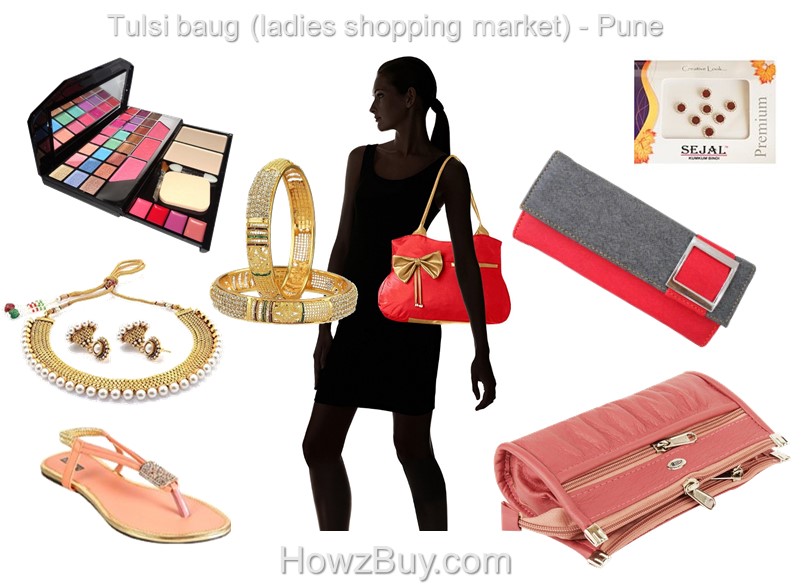 If you have been to the famous Crowford Market in Mumbai or the Chowringhee Lane in Kolkata or the Chandni Chowk in Delhi… then you also must visit Tulsi Baug in Pune. TulsiBaug is one of the largest and most famous ladies street shopping market in Pune.
Tulsi Baug in other words can be described as a shopaholic heaven and one must not miss visiting it for any reason during Pune visit.
(Tulsi baug pune – wikipedia information)
If you are having at least an hour or two do not forget to spend time here, you can get plenty of latest ladies items here and mainly this is know for bargain, the more you bargain you are sure to get best deal 🙂 I thought of putting down more photos here rater than writing what is available since you will get fair idea what you will get here and decide to go here, you know one photo is worth 1000 words !
And mind it street shopping enjoyment you will not get anywhere in the world but only in Tulsi Baug of Pune
If you are getting bored and have plenty of time, simply head down to Tulsi Baug to have hours of good time.
There are different lanes inside which are dedicated to particular type of laides item or house decor items or watches etc, so while you roam around you can get everything from A to Z for girls and women.
You can get vegetable stalls, fresh fruits corner, fashionable accessories, household items, flowers for the temple use, jewelry, handbags, clothes, footwear and so much more.
You get enchanting colours on both sides of lanes, once you enter the Tulsi baug, Stores provides a wide range of household furniture, some shops like Sakhi & Anurag are the perfect places for women to shop in.
The collection is plainly exquisite may it be in any field, whether chappals or bags, clothes or footwear, sarees or punjabis, kajal or nail polish, scarves or earrings.
Ask for anything and find something way better than expectations. Choosy people also tend to give up looking at so many choices around them that even they end up buying it all. And best part of shopping is BARGAINING., ladies will not leave any shop without bargaining.
I think bargaining and variety of things are signature of Tulsi Baug.
Click To Tweet
Tulsi Baug means trends, contemporary things at affordable prices, fashions and trends flow from Tulsi baug. A perfect place for college students as well as housewives.
The music from different shops calls you to visit them and the shop keepers are always ready to hypnotize you with their attractive sales and great communication skills. They will sell you the twice the goods what you asked for without even making you realize it!
If you have good bargaining skills, you can take as much as you can at bottom rock prices. This needs years of skills and only locals can do it skillfully.
Just shop shop shop, and you will not get tired of it, & When you walk, stand and stare at clothes, accessories, household items and what not, you can keep shopping for hours of time continuously without being bored, then simply understand that you are at Tulsi Baug.
Tulsi Baug is one of the oldest markets of Pune and it is remained the same, over years .. nothing has changed .. the crowd and population remains as constant as it was 20 years ago, the variety keeps increasing every day, the shop owners have spent all their life selling in these lanes, the lane of amazing eye catching colors that greet you when you enter.
As some say it, Tulsi Baug looks like a Mela (farewell) on Sundays, there is no place to stand near the shops sometime. But even after such inconveniences people stop shopping.
It is the clamor of shop keepers for different prices that makes you never want to leave the market. That is how Tulsi Baug is. You should never miss a place like Tulsi Baug coming to Pune.
The most striking part is the Spire Temple. It is considered as the historic icon of Tulsi Baug. Many tourists come to visit the temple and appreciate its architecture and beauty.
How to reach Tulsi Baug Pune, Maharashtra, India
Located right in the heart of the city, ~3 km away from the Swargate Bus Station. The market is in front of the Vishrambaug Wada. (Budhwar peth, Pune, Maharashtra 411002, India)
This market can be accessed via three entrances – from Laxmi Road, Bajirao Road and the road connecting Shanipur to the Chhatrapati Shivaji Road.
Google GPS co-ordinates 18.514167, 73.855295
Tulsi Baug is open and available to shop at all days in the week from 9:00 am to 11:00 pm.
The rush hours are basically from 12:00 pm to 5:00 pm.
---
Do not forget to visit the world famous

 

Dagdusheth Halwai Ganpati

when you visit Tulsibaug.
---
What to buy at Tulsi baug Pune
The most variety you get at तुलसी बाग पुणे
cosmetics,

Linens

Handbags, Purses, Wallets

Iron stands

Crockery

Gift articles

Hosiery products

Traditional Maharashtrian wares

Cookery items

Metal ware

Household items

Gift items
There are unlimited products especially for girls and women, you can see latest fashion trends, variety of design options, thousand colours and so on …
It's not a thing to be described but one must experience the thrill [of paying] ha ! ha !!
Tulsi baug (ladies shopping market) – Pune
Why the market is so famous among young girls and women ? Reason is the variety and cost of things. You can get things at as low as Rupees 10.
So if you want to buy something that is in your budget still trendy, then simply head down to Tulsibaug!
Spend less to get latest shoes and clothes. Not only that on his old street, you can also get bargains for wonderful and unique home decor pieces and accessories.
Ladies like to spend hours for shopping here and still feel that time left is less! and if you are hungry due to shopping there are hotels to serve you up or got Chitale bandhu mithai shop at the corner of Visrambaug wada.
INR 10: Miniature Antiques
Head down to KJL Gurukripa Handicrafts at Tulsibaug. Here you can get the quirkiest antique miniature pieces.
You can buy an elegant Buddha statue of around an inch tall for as low as Rs 10, a perfect cute gift for someone who love you.
You can find perfect gift options of teeny tiny vintage cars to kettles and keys. You can get a 4-cm miniature clothe iron in brass and white gold for as low as Rs 200.
INR 50: Jewel Saree Pins
Goto Laxmi Jewellery shop and nearby to get huge pins with bold designs, embellished with gems and glitter for as low as Rs 50 only. Surely these are better looking than the standard Saree pins with tiny stones on it, which you can get from local market too. But these ones are quite different with Tulsi Baug sinature pins you can say.
INR 50 : Ittar
Just move on opposite Mumbai Tea Company and you get an array of beautiful chemical-free ittars, derived from botanical sources. My favorite is Rose Ittar, which you can get for Rs 50 only, I am sure you will love the summer freshness.
INR 100 : Quirky & ulta soft cushions
INR 150: Eiffel Tower Wind Chime
When it comes to gorgeous wind chimes with colourful birds, bells Tulsibaug is a treasure trove .
Both sides of the street is full of things to buy from, you can get a cool wind chime with minitaure Eiffel Towers on it, for just Rs 150!
INR 200: Acupressure Paduka Sandals
At Rameshwar Chowk you can get wooden paduka sandals with the insoles have multiple massage beads that help in blood circulation and relaxation for as low as Rs 200! You can get Osho sandals and flip-flops too.
INR 350 Handmade Crocheted Mirror
Just at the entry of Tulsibaug, you can loate the mirror shop on right hand side.
You get all home decor things that are handmade, beautiful and still affordable.
You can also get your hands on round crocheted wall mirrors in red, hot pink, blue, purple and many more colours.
INR 400: per Kilo Durrie
You can buy colourful durries (a heavy cotton rug of Indian origin.) on per Kilo (kg) basis near Kaka Halwai at Tulsibaug. You can get durries of various sizes, payment to be done on per kg basis!
INR 500: Disco Ball Fairy Lights
You can simply go for wall decoration articles like the disco ball fairy lights from Flower and Pot, mostly priced around Rs 500, you get a packet comprising six balls in shaded of pink, red, blue, yellow, green and silver.
Much more at lower prices: You can also shop for watering cans, bird cages and earthen flower pots… and much more.
Tip : If you can't speak Marathi, then best way is to take local guide for bargaining, once they know that you are not local person, the bargaining becomes difficult.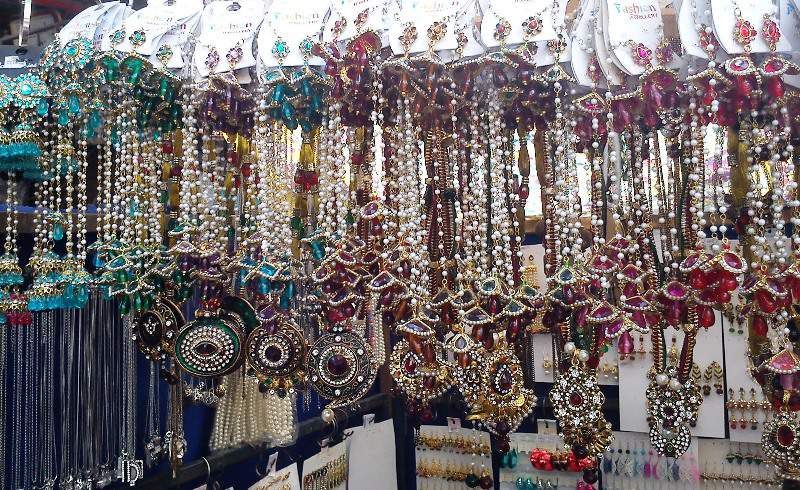 Wow … So much variety for ladies jewelry that you simply get confused what to buy and that too at pretty good bargain prices !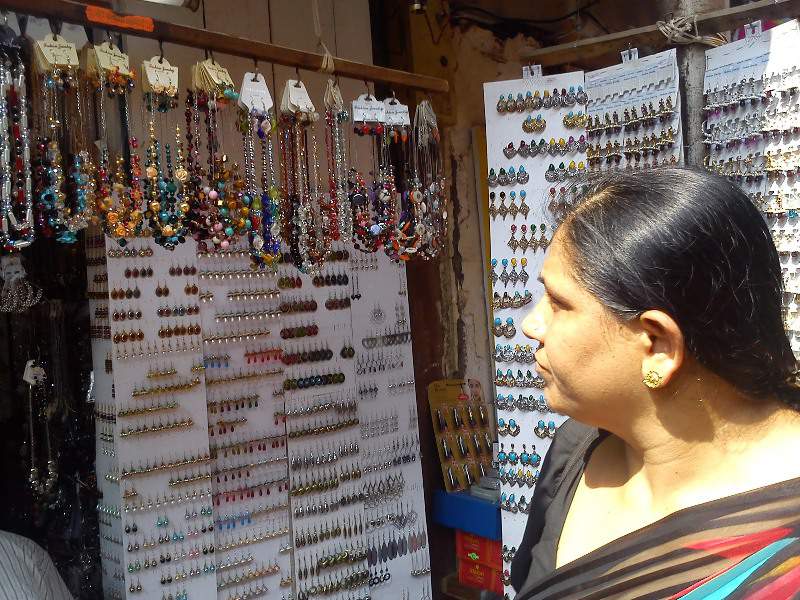 Ear rings for girls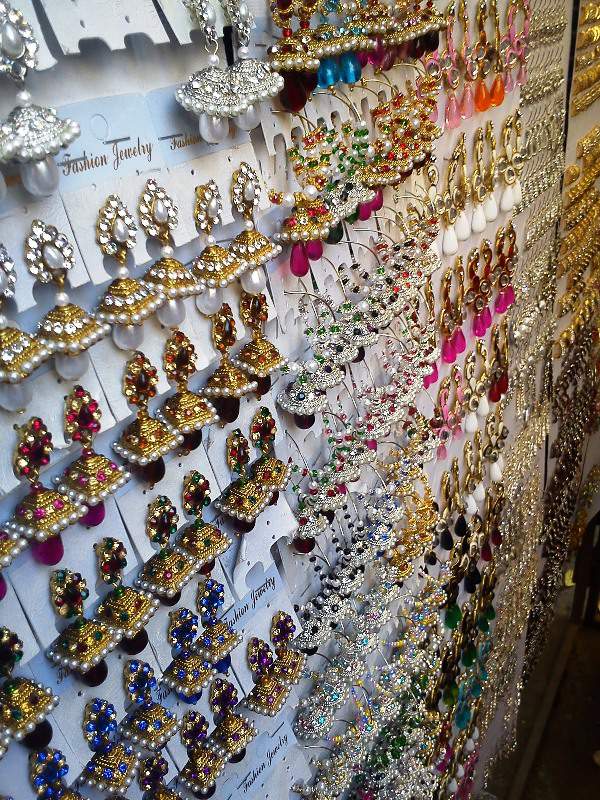 Bangles are must after you buy the ear rings !
The second thing that you get is hand bags, wallets, purses …
Ladies footware (chapples) is a must for …. and here is variety of latest trendy footwear designs too 🙂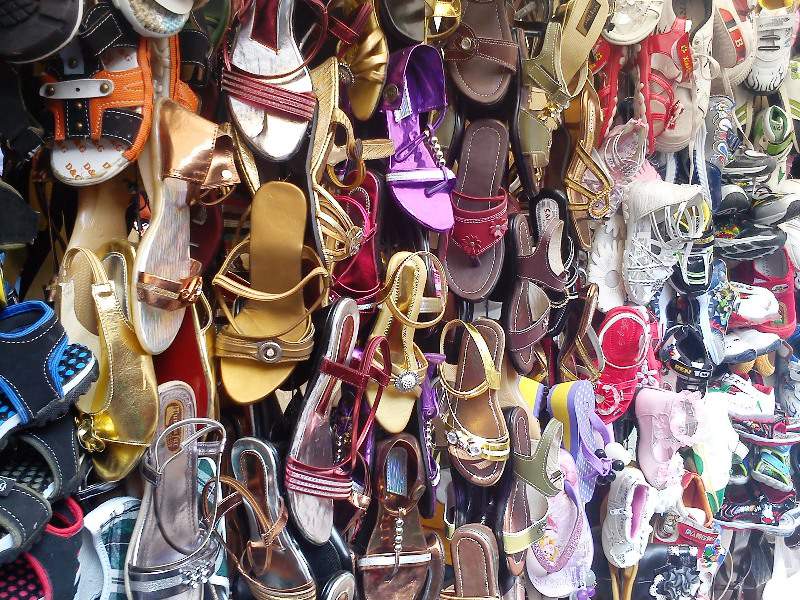 Go on .. don't think too much they are pretty cheap, in fact you can buy two of them 🙂
Now the time is to buy chudidar, salwar kamiz with beautiful dupattas  …
Trendy cloths for girls and women is specialty of tulsi bag
And do not fortet to buy cloths for children too …
The Ladies belts … colours and designs …
Nail paints … 1000 shades you can choose from !
A hundred rupee wrist watch !! you want to buy ?? 🙂
the hair bands and hair clips ..it is a must again ..
Now that all is set … you must change your hair style …
finally when u r done with your personal decor .. u must hv to do it for home too ..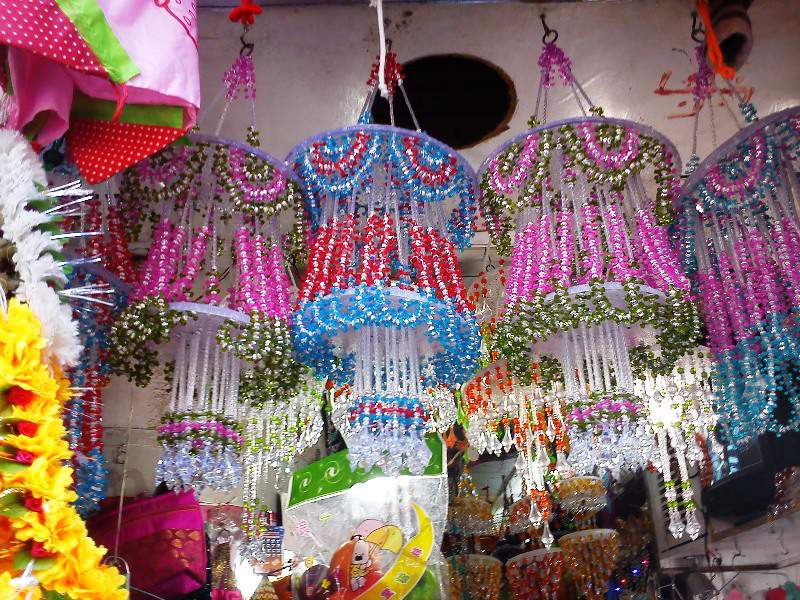 sellers on the road in tulsi baug … get cheap bargains …
Brass work … different types of presentation items as well as home use items
Something that is needed for every festival in India …
Yummy and tasty to eat at Tulsi Baug !
The food served here is mostly Maharashtrian.
You will not forget the mesmerizing tasty samosa, kanda bhajiya, vada pav, spicy misal pav and desi ice cream.
Food corners like Kawre Ie Cream parlor (very famous since my childhood), Hotel Agatya and Krishna Bhuwan (for its spicy misal.) are very well known for their taste and quality that they provide.
A common fact of Pune is also that it is almost impossible to spot a vada pav or pani puri stall without college students being surrounded by it.
so hope these photos gave you pretty good idea of what you  can get in tulsibaug at pune shopping . I remember going to this place from years .. and the place remains same .. as crowdy it was 20 years  before .. it has not changed … so in my view if you are at Pune for some reason do not forget to visit this place for shop ….
And the latest good news in 2018 is that Tulsi baug will become WiFi in a short while, so while your girlfriend or wife is doing shopping you can spend time on Wifi chatting with friends 😛
Lastly do not forget to visit the most famous Ganesh temple of Dagdusheth Halwai