I have been to many places, but when it comes to India, we are the best, even though the heights are more than Raigad you don't get that scary punch !
Here since the ropeway heads down to cliff, you get real feeling of climbing !! so my recommendation .. go get it once in your lifetime … Even I did not feel the punch in ropeways of mount Titlis of Switzerland
Dive in the deep mist ? … with beauty of nature … misty .. watery … chilled … just goto Raigad fort … and you can use the ropeway to be there in 5 mins … at the top of ecstasy  ….
Raigad ropeway is founded by Late, Shri V M Jog, located in Mahad near to Mumbai (Raigad District, Maharashtra, India).
After its construction in the year 1996, it became one of the most visited one day picnic spot near Mumbai and one of the major tourist attractions all over Maharashtra.
Ropeway Technical Details
| | |
| --- | --- |
| Length of Ropeway | : 760 meters |
| Vertical Height | : 420 meters |
| Cabin weight | : 100 Kg |
You will have to book your ticket at the base location called 'Lower Station', then wait for your turn, once the trolly reaches, you can board in the trolley for your small adventure journey to the top of Raigad fort at location called 'Mena Darwaja' (Queens Entrance).
'Mena Darwaja' (Queens Entrance) information :
In old days only queens were allowed from this door with approach towards 'Queens chamber' as called as 'Rani vasa'.
Tourist Attractions at Ropeway
How Safe is Raigad Ropeway?
Well the ropeway is designed to be safe. In case of any technical issues, you can get back using Alternate ropeway arrangement.
Further to this Generator backup is available in case of electricity failure, as well as you can drive it with diesel engine and / or manually in case of emergency.
Who owns Ropeway?
'Millennium Properties Pvt Ltd' holds operations of this attraction since the year 2004.
Ticket price: [Please note that actual Charges may have changed]
Ropeway tickets range from Rs. 300 – Adults, 200 for kids and senior citizens (Two way Return Journey Ticket)
Ticket cost also includes sightseeing plus Raigad Museum visit, unique history visual of Raigad fort (A video), visiting the fort and getting complete details with a guide. Surely worth the cost for a day of picnic.
Get more details on ticket price here
Raigad Museum :
Demonstrates the lifestyle of Marathas under the divine rule of Shri Shivaji Raje. It showcases old weapons, photographs and other art work to be seen.
Visual Show : "Shiv Teerth Raigad"
The Raigad ropeway package includes screening of 22 minutes audio visual historic film about Raigad fort.
You will get knowledge about "how and why was this fort made"
Ropeway Ride : The real adventure begins here
Well simply hold your breath … and you are about to dive into the Deep Mist of Fort Raigad.
Enjoy the fascinating rope-trolley ride moving through the clouds with breeze and scenic mountains around.
If you wish to walk the same distance you can simply climb over 1450 steps for 3 hours or select ropeway ride of 4 minutes !
Food availability
Once you reach the fort top, you can enjoy hot Tandul Bhakari (rice bread) with Pithale at mere 35 Rs ! really don't miss …This was unforgettable experience ..
I still remember my visit to the fort~25 years back and now different experience due to the facility of ropeway .. by nominal charges you can enjoy this facility … also since food is available at fort .. you need not carry your own food …
MTDC Resort at top of fort Bookings
for MTDC bookings contact 9422787776, 9422788424  or visit http://mtdcresort.com/
Also Veg, non-veg restaurant is available on fort so you need not worry about the food ..
NOTE : Before you plan your visit, you must check if the RopeWay is working, 
Check here to check if the Raigad ropeway is working
Lodging
Lodging Rates 2017-18 : Effective from 15th January 2017, is priced as under:
We have AC & Non AC rooms as well as Non-AC dormitory accommodation.
Check in / out time is 12 noon. The tariff is as under :-
| | | | |
| --- | --- | --- | --- |
| | AC Rooms (Two bedded) | Rs. 2000/- per room | (Rs. 500/- for extra person) |
| | Non-AC Room (A & B) | Rs. 850/- per room | (Rs. 400/- for extra person) |
| | Non-AC Room (C, D & E) | Rs. 1000/- per room. | (Rs. 400/- for extra person) |
| | Non-AC Dormitory (10/14 Bedded) | Rs. 400/- per bed. | |

Note : Rates are subject to change without notice.
How to Reach From Mumbai
By Road : @ 2 hours travel by car
Mumbai to Raigad distance is about 100 to 120 kilometres via pune express and national highway 17
By Railway :
Take Dadar to Panvel local train, get down at Vir-Dasgaon Station,
From their take road ride (rental vehicle auto/taxi) or private cab to Mahad (Raigad).
By Sea :
Ride a ferry boat from Gateway of India to Alibaug (about 45 minutes)
From their you need to drive to Mahad (Raigad).
By Air :
Nearest airport being Mumbai and Pune airport
How to reach from Pune (Pune to Raigad is 150 Km)
Chandani Chowk – Paud Road – Mulshi Adarwadi – Nizampur – Mangaon – Mumbai-Goa Highway – Mahad – Raigad
hold your breath you are about to dive in the deep mist ..

Raigad Ropeway hang on to the disappearing ropes  … wooo …
The ropeway carriage
Ropeway view from bottom of fort … you can feel the excitement just by looking at this …
View from ropeway … close to the nature …. look at beauty of waterfalls and feel the touch of  the mist..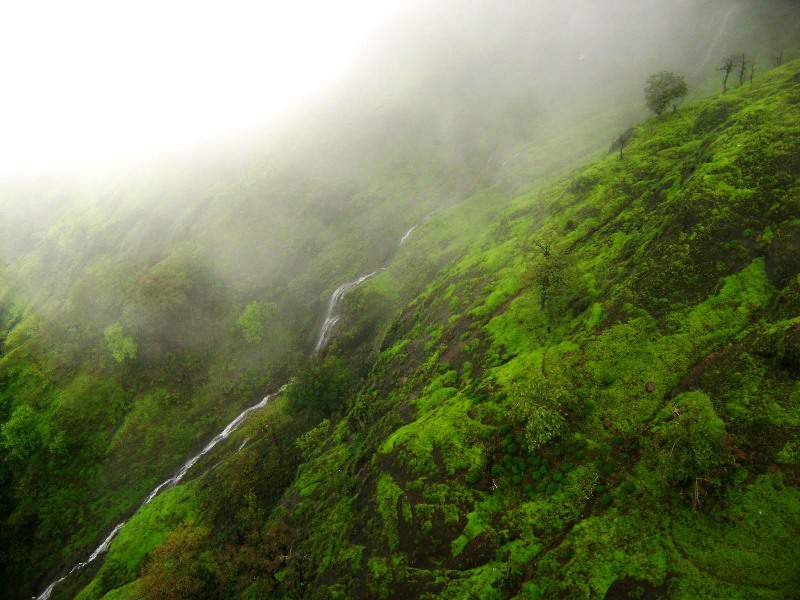 Lush green with mist on it …. water flows in between … awesome …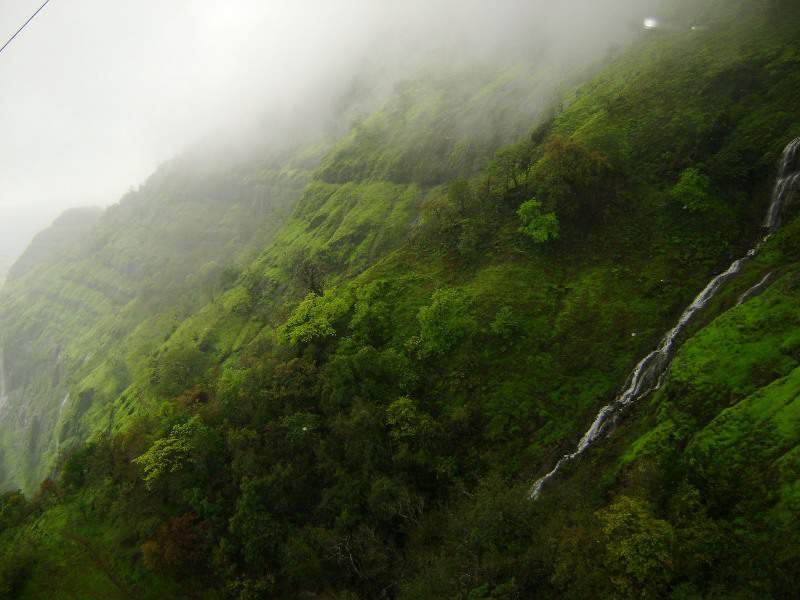 Benglows on Raigad … must stay some time … to experience the mist …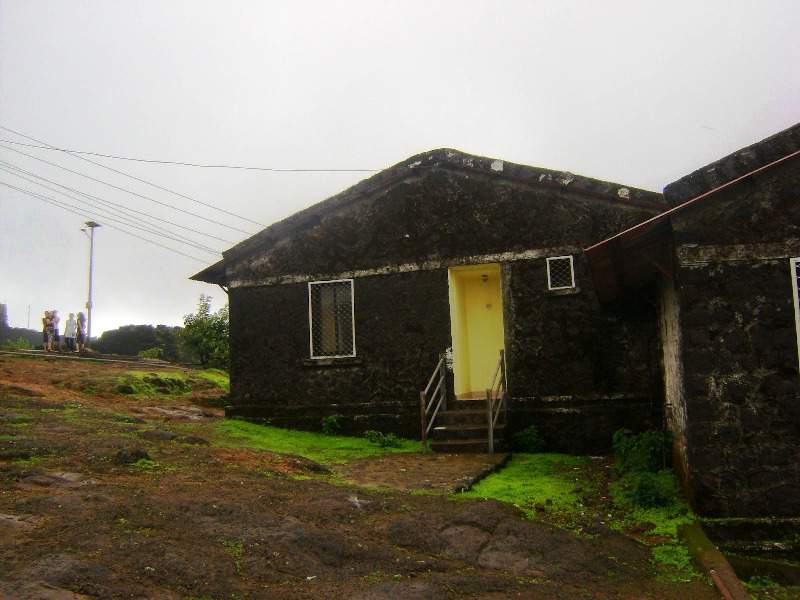 MTDC luxurious rooms on fort raigad
Summary
Reviewer
Review Date
Reviewed Item
Author Rating