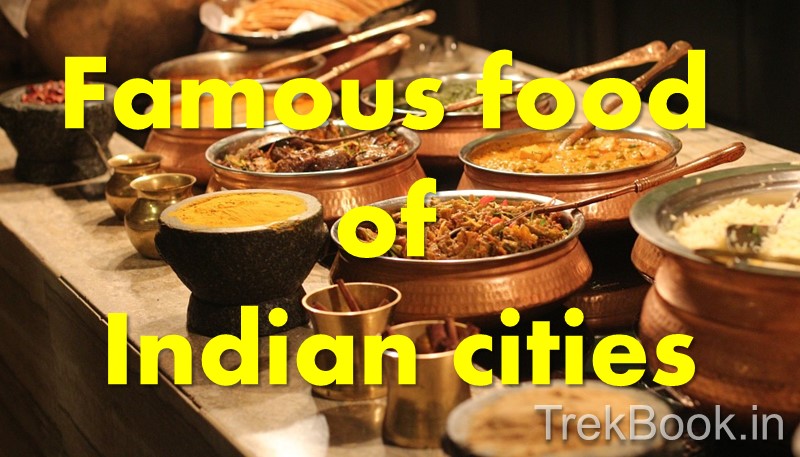 What is special famous food in this Indian city?
Whenever I travel to any city in India, obviously I begin my search with "Which is the most famous and tasty food item in that Indian City?"
Purpose is to locate best hotel, shop near my hotel so that I can taste the authentic Indian food in that city and if it is item which can be packed and carried home, I will surely buy it for my family and friends. (Yes its a customary in India that if you go for a trip get some most famous items for friends and relatives)
So here is the compiled list of food items to buy in particular city of travel in India.
Agara
आग्राचा पेठा
Petha
Belgavi

बेळगाव

 कुंदा
Kunda
[ Kunda is a sweet dish made of milk, sugar, Khova and Elaichi (Cardamom) which is most popular in Belgavi city of Karnataka State in India.]
Baroda
बडोद्याची भजी
Bhajj (pakora)
[ pakora is a generic term used for deep fried fritters made in india. mostly, gram flour is used for coating the veggies and then they are deep fried in oil. pakora gets it name from the vegetable which is used to make it like potato pakoras, onion pakodas, spinach pakoras etc.]
Devgad (Konkan)
देवगड
 आंबा
 Hapus Mango
[ The Alphonso mango is a foreign fruit that came to India through Goa along with Alfonso De Albuquerque, the Portuguese explorer and military strategist who led many Portuguese invasions in the 1600s. … The planted grafts survived and produced Alphonso mangoes that tasted very different from mangoes of Ratnagiri region.]
Dharwad
धारवाडचे पेढे
Peda
[ Pedas are like soft milk fudge. Pedas are grainy texture made with milk and sugar, flavored with cardamom ]
Gholvad (Thane)
घोलवड चे चिक्कू
Chikku
Jalgoan
Shevanchi Bhaji, wange che bharit (Brinjal), Thecha( Garlic+Green chilies), spicy mutton
Karjat (Mumbai)
कर्जतचा वडापाव
Batata Vada pav
[The Marathi word Batata Vada means potato fritter and Pav refers to fluffy soft and buttery bread bun. Batata Vada is made of boiled, mashed & spiced potatoes which are coated in a gram flour batter and deep fried. ]
Kolhapur
कोल्हापूरची मिसळ आणि मटणाचा रस्सा
Misal  ( Recipe ), Matnacha rassa (mutton curry)
Lasalgaon
लासलगाव
 कांदा
 Onion
Lucknow
Tunde Kabab
Tunde Ke Kabab, also known as Buffalo meat galouti kebab is a dish made out of minced meat which is popular in Lucknow, India.
Malvan
मालवण
बांगडा
Bangada – type of fish
[ The Indian mackerel (Rastrelliger kanagurta) fish is a general term for more than 30 species of fish, from the Scombridae family ]
Mumbai
मुंबई
बोंबील
Bombil – type of fish

[  Bombil is Marathi name for a salt water fish that British called Bombay Duck ]

Narsobachi Wadi (Kolhapur)
कवठ बर्फी, बासुंदी, कंदी पेढा
Kavath(Limonia) Barfi, Basundi & Kandi Pedha
Nasik
नाशिक
 द्राक्षे
Grapes
Nagpur
नागपूरची संत्री
Oranges
Pune
चितळेची बाकरवडी
Chitale's Bakarwadi – is a traditional sweet and spicy snack
Satara
कंदी पेढा, खिमा
Kandi Pedha, Khima
Sangli
सांगलीचे भडंग
Bhadang
'Bhadang' is a spicy chivda made from puffed rice and it is my all time favourite snack. … In east region of Maharashtra, they call it 'Murmure'.
Shegaon
कचोरी
Kachori – Kachori is usually filled with fine flour made with baked yellow moong dal or urad dal, besan (gram flour), black pepper and spices
Solapur
शेंगाचटणी
Shengachi poli (Groundnut bread), groundnut chutney (crushed groundnuts +red chili powder+salt), Khara Mutton
Surat
घारी
Ghari
Tasgaon (Sangli)
तासगावंची द्राक्षे
Grapes
Tuljapur

तुळजापूर

पुरणपोळी
Puran Poli

Puran Poli is a Maharashtrian recipe made with chana dal, flour and cardamom and sugar. This delicious side dish recipe is an extremely rich in flavours and is a great option to serve on festivals like Diwali, Janamashtami and Ganesh Chaturthi
Links are added, where possible to exactly describe the food / fruit as reference.
So do not forget to buy these famous sweets / fruits / or at least taste it when you visit any one of these places,
and do inform me to add more & more info to complete this master list !!
cheers !!
What are Special & Famous Food item in Indian cities?
Agara Petha, Belgaon Kunda, Baroda pakora, Devgad Hapus Mango, Dharwad Pedha, Gholvad Chikku, Jalgoaon Shevanchi Bhaji, wange, Karjat Batata Vada pav, Kolhapur Misal, Matnacha rassa, Lasalgaon Onion, Lucknow Tunday Kababi, Malvan Bangada, Mumbai Bombil, Wadi (Kolhapur) Barfi, Basundi & Kandi Pedha, Nasik Grapes, Nagpur Oranges, Pune Chitale's Bakarwadi, Satara Kandi Pedha, Khima, Sangli Bhadang, Shegaon Kachori, Solapur groundnut chutney, Khara Mutton, Surat Ghari, Tasgaon (Sangli) Grapes, Tuljapur Puran Poli