Latest Pune Lonavala  Local & Lonavala Pune local train time table 2018
With tourist destinations
This time I have composed it in printable format for convenience of my blog readers 🙂
Up Side Local Trains (Pune To Lonavala)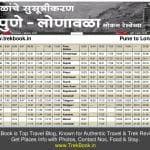 Down Side Local Trains (Lonavala To Pune)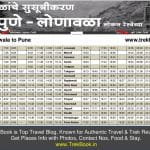 Places around railway stations on Pune Lonavala Local train route –
Lonavala (Bhushi dam, Rajmachi, Valvan dam, Duke's nose, Tiger's leap, Kataldhar waterfalls)
Kamshet (Paragliding)
Kanhe (Wadeshwar waterfalls)
Wadgaon (PWD bungalow)
Talegaon (Muhammad Ali Rd, CRPF)
Ghorawadi
Begdewadi (Ghorawadeshwar temple, Subrato Roy Stadium trek, Birla Ganesh Temple)
Dehu Rd (Army Base repair Depots)
Akurdi (Force Motors Plant, Bajaj  Auto – Worlds largest 3 wheeler manufacturer)
Chinchwad (Tata motors)
Pimpri (Camp market, Shoppers stop)
Kasarwadi (Air Vents & Glass Factory)
Dapodi (CME Museum)
Khadki (Ammunition Factory)
Shivaji Nagar (MRSTC, Shivaji Nagar Bus Stand, Autos, PMC)
Pune City (MRSTC, City Bus Stand, Autos, Taxis, PMC, Ladies shopping market – Tulsi Baug )
 Want to enjoy places near Lonavala …
easily reachable from Pune and Mumbai by train
Want to know more about – Pune To Lonavala Trains ?
If you are travelling from Pune to Lonavala then you have option of choosing from Express trains which stops by Main junctions, However if you wish to get down before Lonavala to enjoy trek or picnic like Kamshet, Malavali etc. then you ought to choose Local trains running hourly basis.
Express trains that run on this route are Mumbai Exp, Fast Passenger, Mumbai Express, Cstm Fast Pass, Lokamanya Tt Ex, Ahimsa Express, Ncj Mumbai Exp, Ajmer Express, Pune Jaipur Spl, Bjp Bb Fast Pas and etc.
You can choose any of the trains that run on daily basis like Mumbai Mail, Siddheswar Exp, Cape Mumbai Exp, Mumbai Express, Pune Bsl Exp, Chennai Exp, Pragati Express, Mahalaxmi Exp, Cstm Fast Pass, Deccan Queen or some weekly trains like Vivek Exp, Cct Bvc Express, Ncj Mumbai Exp, Sharavati Exp, Ypr Jp Exp, Gandhidham Exp, Ypr Adi Express, Pune Indore Exp, Pune Veraval Ex, Lokamanya Tt Ex and etc.
Make sure to get your tickets before you board on Local or Express trains 😛
Latest Pune Lonavala local train time table
Up Side Local Trains (Pune To Lonavala) & Down Side Local Trains (Lonavala To Pune)
Enjoy improved time to travel from Pune to Lonavala –
Old time at  80 kmph = 1 hour 27 min
New time at 100 kmph = 1 hour 12 min
The good news is that Pune-Lonavala local train speed is increased from 80kmph to 100 kmph, so we will save 12 minutes of travel time …
For Railway Enquiry Call: 139
Summary
Reviewer
Review Date
Reviewed Item
pune lonavala local timetable
Author Rating