Little India – Road lighting for Deepawali festival
Hotel lobby – very nice ambiance
A view from my hotel room in Singapore
View of side building from hotel room in Singapore
the same side building , see how neatly the cloths are dried in the non-visible area of the building, this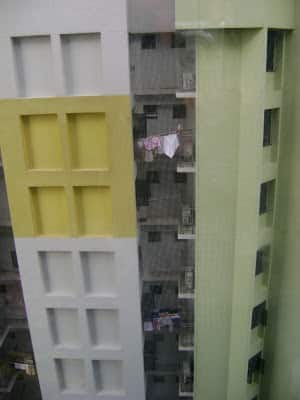 I wuld not go into detailed photos of things which I visited in Singapore since they are available in web in thousands, but briefly write my comments on the standard things where all tours & traveler company's visit.
Mustafa Shopping Mall
Honestly malls in Chinchwad (as example star bazzar / big bazzar – Chinchwad) are clean & better than this one ! prices of all items are better in India for all items like clothing, ornaments, watches etc. EXCEPT you can get electronics like handy cam at very very good prices like I checked for the Sony handycam at half the price than in India 🙂
Night Safari Tour
Great experience, really appreciable effort to maintain the natural environment of rain forest & the animals, they also allow u to walk around in night time, which one must experience. I could not do it sine it was heavily raining that day 🙁 but if u r planning to visit this plz plan for more time even though ur tour manager has planned for the nice dinner, u can skip it to experience the night walk to see animals from close.
Indian National Army (INA) Monument
Please visit this & proud to be Indian. It is established in 1995 by the National Heritage Board of Singapore.
Marina Bay
Again a standard photo stop by all the tour operators, nice view overall, u will enjoy it, hv a photo with Merlion. also u can view durian shaped Esplanade Theater with capacity of 2000 people
City Hall
Was a Municipal Building built in 1929, good to see as old quality construction
Parliament House – Needs fresh painting ! that's it.
China Town – I had no time to visit this place !
Mariamman Temple – I had no time to visit this place !
National Orchid Garden
Nice place to visit, really awesome orchids, my wife was really happy to buy gold plated orchid brooch. u get pretty decent designs & at affordable prices, so if u r thinking to gift something for ur beloved ones then do keep some money reserved for this, @2000~3000 INR will do or u can get a good bargain if u buy pack of 3 at ~5000 INR. since it is different than what we get in India, worth spending some money for the memory of Singapore visit 🙂
Santosa Island Tour
Worth to visit the Wax museum, Surrender Chamber, Dolphin Lagoon, Under Water World, Dolphin & Sea Lion show
Song of the Sea show
If I compare this laser show with the one I saw at Lumbini park – Hydrabad, then I liked that show much more than this show, somehow the quality of the story they presented or the theme of show is not flawless, it appeared to be as patch work to me. Instead the show at Lumbini park at Hydrabad is done like a story board & take u from one point to the other, u don't feel like u hv lost. Once more point is although it is at the sea shore they have not taken any special advantage of this fact, in my opinion there is hell lot of scope to improve this show taking advantage of sea shore. In fact I was hardly able to see the sea behind ! rest of the things are just technology of laser, which u can experience at H'bad also. Anyway 10$ for the show is not a bad deal at all 🙂
as I hv mentioned in my first blogpost, I was only surprised by the things scattered outside international airport (ofcource in India we have taken due care that once u r out from international airport u can be sure that u r back to India looking at the garbage outside), however I was not expecting a single piece of paper ouside Singapore international air port ! but rest of the city is comparatively pretty clean, expect unfortunately again the little India area 🙁
I hv specifically avoided repeating information on the above places which are available in thousands of web pages all around & tried to be specific as per my personal experience, so feel free to comment on if u agree with things or add more information about what to buy, what to see etc.
& the most important thing in our life : drinking WATER
This is scarce commodity in Singapore & hence they have to buy it from other countries ! (India has this in TMC's which is wasted !) so they have to recycle even toilet water !!! so the water what u will be drinking there is recycled water from the last tourist batch ! don't worry it is very safe & clean, you can drink tap water without any issues. For me it was not an issue, since I drink tap water even in India 🙂 so immune to all kind of ….
cheers ! enjoy ur holidays at Singapore !!