colobo city traffic is comparable to traffic in Pune in terms of density of vehicles, however they are highly disciplined than us. No horn, No road race on the traffic signal, no signal crossing & to my notice 100% two wheeler drivers & passengers wear helmet, in Colombo as well as in Kandy.
Also on our way back from Kandy to Colombo, out mini-bus met with small accident with auto rikshaw having no driver in it ! after this accident immediately driver & cleaner marked the boundaries using stones of both vehicles & took them off the road so that there is no Traffic jam !! then they discussed for the damages & settled the same in ~10 minutes. The fault was of the rikshaw driver & hence he agreed to pay the damages, I was so impressed with the way the situation was handled & just could imagine how this situation will be handled here in India ! no need to tell or ?
these are typical vehicles I saw used to carry loads
Few snaps of traffic in Colombo – dense but disciplined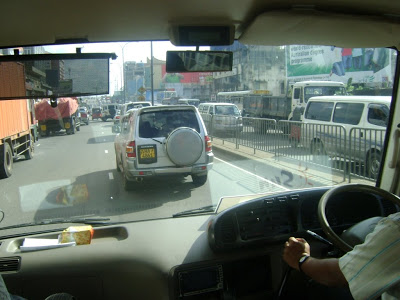 I really don;t understand why here in India we can not follow simple traffic rules & what is the gain we get by doing rush & damages due to that !! but I think even God can not answer when we will understand this ! Many times if I am waiting at the traffic signal exact on the Zebra line, people from behind will horn like anything & will pass by looking at me like I have broken the Indian rules ! can't help out of this !! sorry !!!!