You have seen the natural beauty of Kandy …
and here is another thing you can experience at Kandy … the Srilankan cultural show …
Its available at two or three different places in the evening time at Kandy & you can attend any one of them .. also they are Free of cost & u can contribute to tips as per your wish 🙂
The show is really nice experience indeed & u can see that the artists are really doing the things from the bottom of the heart. They really do their best to deliver the performance, which I really appreciate. In general I liked the simplicity & presentation from them.
The show started with folk dance with interesting characters as shown below ! & they also laugh in really funny way with singing of some folk song too …
subsequent dance … showing furious mudra & dance too
Very difficult act demonstration with all discs rotating at the same time !!

Followed by the task of walking on fire, rubbing fire torch on the body & eating it too ?
See some snaps from my Video shooting for this show.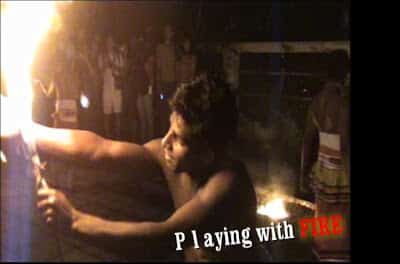 It may not be new to Indians to see such act, however for Europeans fire show seems to be very interesting.