As I entered in Srilanka I was happy to see presence of Bajaj everywhere 🙂
You can see Red & Green colour Bajaj Auto rickshaw all the places in Colombo & Kandy ..
most of them are decorated with aerial tube lights, radio antenna, aerial horns in the top center, decals over wind screen, sunshades (like found on Indian rickshaws too), decorative bordering tapes all over the front, colored wheel rims & much more
Auto rickshaw stand outside the botanical garden in Kandy
On the way back from Kandy to Colombo, our bus stopped here since one auto rickshaw without driver !!! suddenly headed in mid of the road ! … our driver stopped the mini-bus but the auto kept on moving (without driver) & hit the mini-bus breaking its side indicators. Somehow the driver left is road side without applying hand brake. So our bus stopped & immediately the driver marked the outer boundaries of rickshaw & bus. Then he called up the rickshaw owner & both the vehicles were taken to road side to avoid traffic jam. They discussed the issue & decided not to call police, since the auto rickshaw owner agreed to pay for the damages. Surprisingly the matter was settled in 10~15 minutes without any quarrel or fighting ! I was so impressed by the way they addressed the issue, that I appreciated this to our tour guide. You can imagine how the same incident will be handled here in India 🙁
So I got rickshaw on the other side of road … see the rickshaw & the greenery behind it … you will find every where in Srilanka.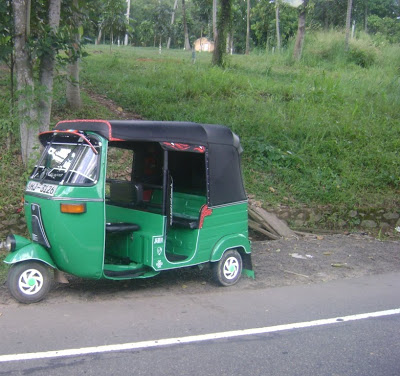 Even though I did not find time to ride in Hamara Bajaj in Srilanka .. you don't forget to do it.