Back from pleasure tour from Srilanka, Singapore, Malaysia, Thailand tour alongwith my family …
and for few weeks I will be writing the story of the places I visited..
my experience with people …
my experiences with the countries .. the tour operators .. the shop keepers ..
and the amusement parks they have created to generate money for their countries … mind well they do not want to entertain you bur mere generate money for their countries ! & this is the fact ….
When ever you enter in Singapore, Malaysia or Thailand, the tour guide will first thank you to be in their country & get money to their economy !!! They talk about their economy for the first 10 minutes & then will start with the tour plan !! instead I was expecting warm welcome (at least through words)
Out of Order at Santosa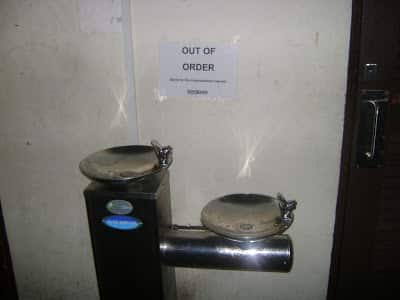 A bitter experience at Santosa Island Singapore > picture above is self explanatory, also a bitter experience was there with the workers at Santosa > there was a small hotel inside which was closed & having once hotel worker sitting outside on chair & having other chairs empty, since we were waiting for tickets I wanted my mother to sit on one of the chairs, but the worker plainly refused to use the chairs saying that the hotel is closed. I requested him to use only one chair for my mother, however he refused saying that the hotel is closed & he can not allow to sit on the chair. where as he was sitting leisurely on two chairs with feet up on one of the chairs !!! I don't think this will ever happen in India, because at least we respect age old persons. So that was the reason I am saying that we are just ATM machines for them.
Also "The Merlion" at Santosa –> they charged S$8 & when we went up, because of crowd I was able to stand on the observation point for ~10 seconds !! I was so surprised on myself to waste my money for 10 seconds, where no one can see anything as a observation !!!
Anyway I will be writing complete experience at Santosa, but just wanted to give a glimpse of it to all.
Anyway I will start with Srilanka where in my experience was the BEST 🙂 of all these 4 countries I visited, in terms of untamed nature, food quality, courtesy of people & travel operator experience.