Wai Mahaganpati aka Dholya ganapati temple was built by Ganapatrao Bhikaji Raste in Krishna river and to protect temple from river floods the temple walls are constructed in triangular boat shape !
Lorg Ganesha idol established in 1691, famous as Wai Maha ganpati due to its huge shape carved into single black rock. ढोल्या गणपती स्थापना वैशाख शु. १३ शके १६९१.
Wai is located at about 35 kms from Satara, and you can visit it on the way from Pune to the famous hill stations of Panchgani and Mahabaleshwar.
It is also known as 'Town of Temples' due to presence of large number of temples on the bank of river Krishna.
It is also called as 'Dakshin Kasi' because of Seven Ghats along Krishna River in Wai.
It is also called Viraatnagari as it is believed that the Pandavas resided with King Viraat of Wai when they were on exile
Wai Maha Ganpati & Kashi Vishweshwar
The Ganesh idol in this temple is very large [10 feet tall and 8 feet in width]  and brightly painted, looks cheerful and happy. As per tradition, one has to take the darshan do take a walk around the idol (parikrama)
Do not forget to take a look at this temple from a distance, it is specially designed in fish shaped to reduce the pressure of the flowing waters protecting the temple during monsoon floods.
Just touching to the Ganpati temple is the Kashi Vishweshwar temple which is dedicated to Lord Shiva. See there a beautifully carved Nandi bull and a nicely decorated Shivlinga.
This temple is a must visit for the spiritually inclined visitors of Mahabaleshwar and Panchgani.
Note :
Photography inside temple is not allowed.
Best time to visit
Throughout the year visit is possible to Wai.
However Best time to visit : Auguest to January
Monsoon season : You can feel the heavy rain and mist.
Temple timings
5:00 AM – 9:30 PM [All days of the week]
How to reach:
By Bus:

The temple is located just near the Wai ST Bus Stand. Many ST buses ply from Pune Station and Swargate to Wai

By Road (Car) From Mumbai and Pune

Distance from Pune to Wai is 89 kms
Distance from Mumbai to Wai is 231 kms
Take the Mumbai-Pune Express till Pune and then take the NH 4 till Surur. From here take the right turn to the road between Wai and Mahabaleshwar.
There is ample parking available near the temple.

By Air

Nearest airport is Lohgaon Pune [ 2 hours drive 88 kms ]

By Railway

Nearest railway station is Wathar
take Koyna Express from Mumbai to Satara then take cab from Satara to Wai.
take Pragati Express from Mumbai to Pune then take a taxi from Pune to Wai.
Temple Address
Dholia Ganapathy Mandir,
Ganpati Ali, Wai, Satara District,
Maharashtra, India, Pin code – 412803.
Places to visit near Wai
Nana Phadnavis Wada, Menavali :

Dhom dam

A truly scenic place where numerous film shooting happens
Situated on top of river Krishna and surrounded by mountains, making this a truly exceptional sight.
For all movie lovers read about which movies shot here … 12 Secret locations of Bollywood films near Wai 

Pandavgad Fort

A less known medieval-era fort located about 14 kms
Height 4100 feet above sea level
Dates back to the 11th century, this was major stronghold of the old Maharashtra rulers, Maratha kings and Peshwas.

Trekking At Kamalgad Fort

Cool place to visit near Dhom dam.
Must discover the scenic beauty of this place.
Kamalgad Fort is surrounded by the dam on three sides and thick forests on the remaining side.

Paragliding at Panchgani

Panchgani is known for its pristine and unadulterated beauty.
This hill station is a perfect paragliding destination.
You can get breathtaking views of the mountains from above.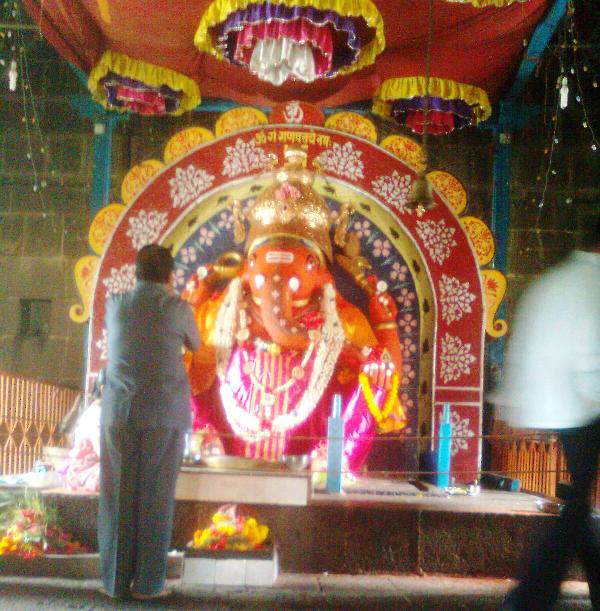 Wai Mahaganpati mandir view from outside
Most of the people visiting Mahabaleshwar hill station, route over Wai and obviously visit the MahaGanapati temple.
Unfortunately the MahaGanapati temple premises is not so clean 🙁 It can be clearly seen that no body is taking care of the garbage management there !! the Krishna river that u can see at the back of temple is also dirty .. this is unfortunate part that people after praying to Maha Ganpati do not care to keep the place clean … however if Devasthan takes care of the cleanliness using the earned money … Then devotees will also think twice before throwing plastic, garbage there !! but who cares ?
Kashi Vishweshwar temple, Wai
Kashi Vishweshwar Shiv Pindi
Nandi in front of Kashi Vishweshwar, Wai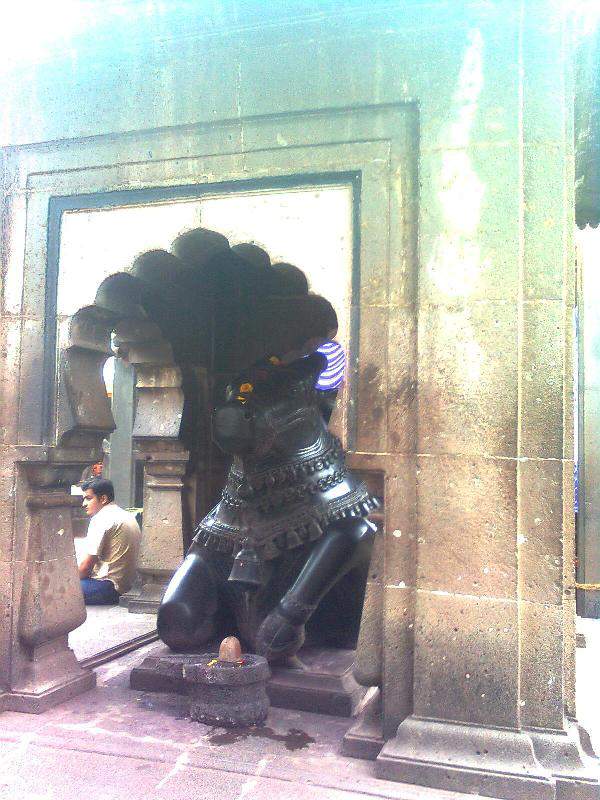 Flex depicting life of Sambhaji Maharaj, beautifully arranged inside the Kashi Vishweshwar temple, this temple is just 100 feet away from the Maha Ganesha temple & surprisingly this is maintained very clean from inside !!! must be the management is very strong and caring about the temple … why they are not maintaining the same outside also ? may be some issue !!! don;t know !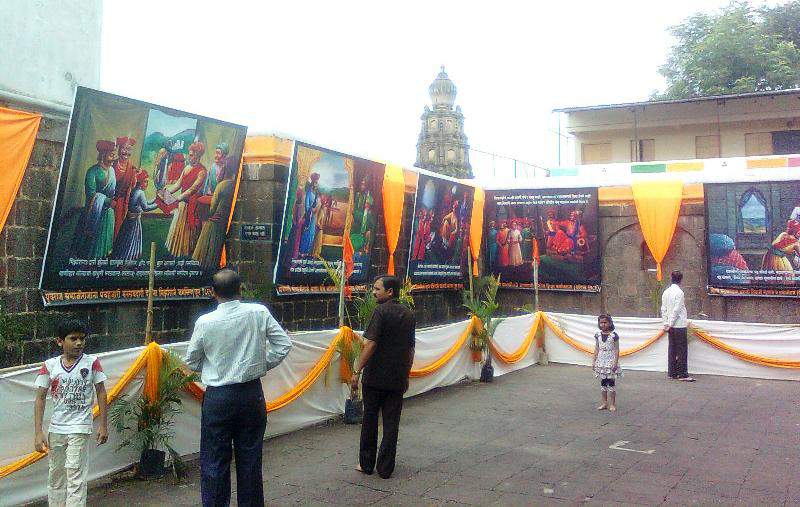 I have visited Wai many times on the way to Mahabaleshwar, but this was the first time I spent time only for Wai visit… to my disappointment the complete place is not so clean .. every where garbage is spilled around .. & I was very much disappointed by the way it was 🙁 so sad to see all ! but that's the way people likes it, they do not even notice such things ! why not all these Ganesh Mandals who are spending huge amount of money on placing pedals & processions take care of a single temple in their area ???
Google map location of Wai Mahaganpati & Kashi Vishweshwar
 Wai Mahaganpati  & Kashi Vishweshwar distance from Pune is 85 kms, see map below,