And preparation for the Ganesh procession begins … team work is nearly seen in all the Ganesh Mandals in Chinchwad … lot of efforts done day & night to complete the things in time … & mind well no one is giving them the dead lines to complete .. but the Lord Ganesha does it 🙂
Mostly the theme of procession is derived from the theme they present for the 10 days festival .. as e.g. the photograph below shows the Peacock theme & the same is then used by them for the procession ceremony (see photographs above) .. u know at every stage of product we think of theme, which is then carried out from exterior to interior … this goes in line …
from the below photograph u will get an idea of how big the Ganesh pendal is … & the theme is also carefully done …
& the small mandals hire the procession Rath having dolby music systems installed on it .. this will be common scene on every street in chinchwad or pune … although this creates a traffic jam ,, no body minds on this auspicious day 🙂
& the procession continues till late night .. & even till morning in Pune .. once started this procession lasts for ~18- 20 hours … or even more in some cases … people watch this procession through out night .. its Ganesh Festival fever .. they enjoy the traditional Dhol / Tasha music, which I also like the most … when say ~50 Dhol (Drums) are beaten in a syncro … then u can just imagine the BASS that is created … its awesome … u can never ever replicate it on am dolby music system ,,, one must experience it & say wow 🙂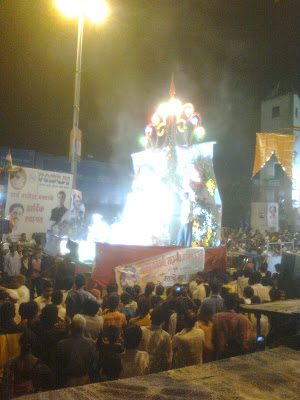 & now the city awaits for the Navaratri festical ahead …. & so do I 🙂
Thrilled ? .. passionate ? Wanna Dance .. Music and Masti ? get in to the festival of passion .. dance.. music .. colours ..drums .. morya … nothing will stop you from entering into the crowd to be part of them … feel the enthusiasm .. the youth power .. crowd .. following your favorite  Lord Ganesha .. adieu fest…
And which is  the best place to get all this ? the only one … Cultural capital of Maharashtra .. my Pune 🙂
This time the photographs in this post are sourced from my flickr account so that u can enjoy the high resolution images .. that can only justify the festival colours …
The 10 days festival ends with Visarjan (Immersion) ceremony on the last day having thousands of people raising voices "Morya Morya Ganapati Bappa Morya" .. its not the thing can be said in words .. its the thing to be felt by being at the place … so get up take a leave and rush to Pune … be there for the full night .. be thrilled…
Passionate boys and girls enjoying drums ….
The colours make me feel nostalgic … feel like time has gone back to my childhood ….
The crowd has only one voice :Ganapati Bappa Morya Pudhchya Varshi Lavakar Ya"
Its mesmerizing to listen to chorus ..
Procession of Lord Ganesha . driving on wheels …top view from fifth floor gives u an idea of idol size..
and another one follows …with beautiful flowers decorating lord ganesha with his wife ,,.
while the Ganesh processions goes on different performers show their skills …
Girls performing traditional dance ..called as Lazim ..
One can see increasing number of foreigners as a part of the crowd … they do stand out !!
Another aerial view i could get from the fifth floor … the light was pretty low due to rainy atmosphere .. i tried my best to get this shot !! not so used to the new canon 600d ,,,
and back to the pavilion ,… drums have given up but not the man … fight will continue … year over years ..they will come back again to perform their best… to pay homage to lord ganesha …
गणपती बाप्पा मोरया |
पुढच्या वर्षी लवकर या ||१||
गणपती गेले गावाला |
चैन पडेना आम्हाला ||२||
अर्धा लाडू चंद्रावर |
more reading for information on Ganesh Festival –>
http://en.wikipedia.org/wiki/Ganesh_Chaturthi

http://goindia.about.com/od/festivalsevents/p/ganeshfestival.htm