We started our trust to plant trees from fort Lohagad
(read "
Lohagad – tree-plantation-drive-by-FONA
")which we continued on the
Ghorawadeshwar hill near Begdewadi
…the same passion continued us to drive to the king of forts .. Rajgad this Sunday …you will find most of the information about the fort on internet so I will not spend much time in explaining the importance of this fort .. rather you can see the links at the end of post to read more about how to goto Fort Rajgad & its historic importance etc.
Look at Rajgad .. the king of forts … where Raje Shivaji stayed for ~26 years of life ..
FONA leader Mandar preparing the new fleet of FONA .. young chap is also interested in plantation of trees 🙂 no doubt these children will make future of India … & the credit goes to 🙂
Manoj & shirish are equally interested in keeping things Green …
& finally me 🙂 … yess … why not ?
& the team finally reached the topmost peak point … the bale killa … one can feel the mist .. clouds … rain … & the blowing wind here … no doubt Raje Shivaji selected this location … u can see most of the forts from this point … feel the power of nature …..


You should not miss the needle hole point near Suvela machi …. this is must visit point on fort Rajgad …
view from distance for the needle hole point
& now the close-up of needle hole point

& here we are inside the needle hole point …
u will get memorable experience after u feel the power of wind passing through the needle hole .. its amazing …. a must must ….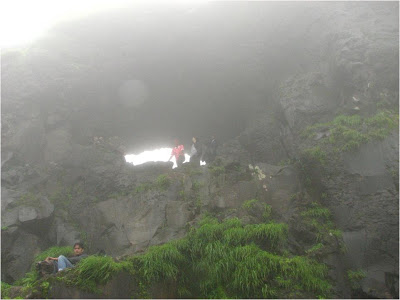 this is way to the needle hole point … mist .. mist … clouds … wind … what else u need .. don't ever miss it …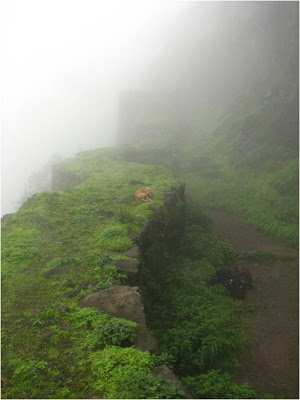 I am sure you may also like to join team FONA for tree plantation drive .. if yes … just keep me message … & u can get information / help from me or team for this noble cause …
Happy trekking … happy tree plantation ….
cheers !!!

references
http://www.maharashtra-tourism.com/mountains/forts/rajgad.htm
http://kuldeepdeokule.blogspot.com/2008/02/rajgad-fort.html
http://www.panoramio.com/photo/27516253 (distance Cheladi Phata to Raigad)
cheers !!