Ghoradeshwar temple is my most favorite place to visit, a beautiful temple called as "Ghoradeshwar " situated near Ghorawadi. This is a "Shivlinga" temple at the hill top with beautiful nature view. Pretty clam and quite place with breeze of gentle wind which you can feel while sitting at the table top land in between the climb to the temple.
The Ghoradeshwar temple look from outside, it is engraved in huge rock, the small dark orange colour small temple is Hanuman / Maruti temple & the other two arches are entrance to the main Shivalinga darshan.
There is also water available in engraved tanks near the temple, so that you can wash your feet before you enter the temple 🙂
Ghoradeshwar temple of Lord Shiva
Location
on the way to Talegaon on old Pune Mumbai road, just before the Toll Plaza
Base village
Gorawadi village
ghoradeshwar temple history
Not known to local people

On Wikipedia also less information is available,
Read more on Wiki

Height
about 790 meters
Suitable for
Half day family visit, small trek, Shiv Puja
Difficulty level
Easy, about 300 steps, half an hour walk till the hill top.

This is an easy trek for kids they will love it.

Food
No food available, you need to carry on your own
Water
Water available in cistern on top, however better to carry your own drinking water
Parking
Ample parking of car and two wheeler available at foothill
This snap of Shivlinga is one of the memorable moments, since it is showing evening (~6 pm) sunlight fallen on the Shivalinga. It looks amazing and u can also feel that the person who has though of this beauty, of course in many temples in India this is given due respect as one of the requirement. So if u want to see this u can reach there ~ sunset time (and at the beginning of Uttarayan)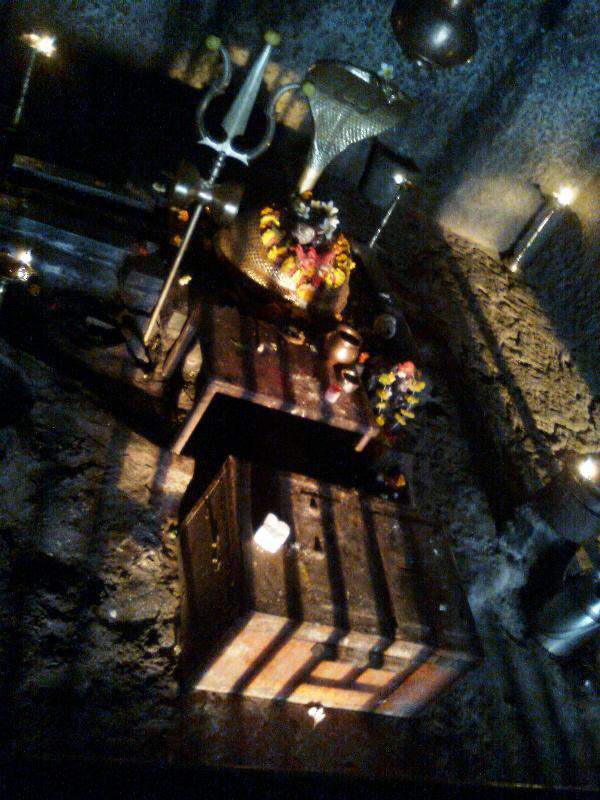 Not less than ~ 350 good steps to the temple 🙂 & if u can climb this in 20 minutes .. then be sure that u r at good health 🙂 so I visit there frequently to have this free health check… it is just 15 minutes distance from Akurdi / Chinchwad on Mumbai-Pune highway. or the alternate way is to travel by local train and get down at Ghoradeshwar railway station, from there u can walk to the hill in ~5-10 mins.
View from the Ghoradeshwar temple.
View of Ghoradeshwar temple caves from outside
Clean and ample amount of water is available in cistern at top of hill
I like this place a lot and hence recommend you to visit it, if u r staying at Chinchwad, it will not take than an hour to complete this visit. ( 15 mins to reach the Ghoradeshwar hill, 20 mins to climb upto the temple, 10 mins rest and Darshan of Shivlinga, 15 mins to step down the hill, 15 mins to return to Chinchwad)
Now a days we have started climbing this hill every week, which started from baseline of 20 minutes of climb with 2 stops in between, and by the forth week we are able to climb in 12 minutes + non-stop 🙂
informative reading :