On my trip to Revdanda I had an oppetunity to visit this beautiful temple nearby. So here are few snaps …
Paras Darshan – Jain temple – Chanera
This beautiful temple decorated with millions of glass pieces of different colours. Located very near to Revdanda sea beach.
See the closeup photogrpah of the main idols, look at the decorative borders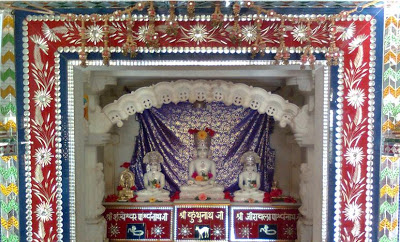 Left side of this image shows the roof top, due to image size constraints & my account space availability I could not put 5 mega pixel images here, but someone more interested can contact me for the full image sizes, they are really marvelous 🙂 and the right side of image shows the place for daily morning Puja of idols, after morning puja they are shifted back to the main temple room.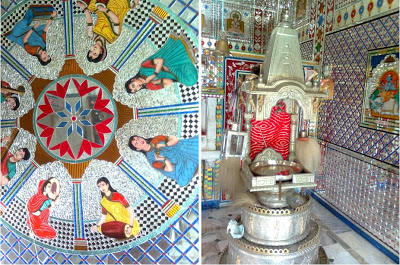 Shri Payapuri Tirtha
From left :
Shri Chakreshvari Devi,
Devdrusha Vastra Dan (Upsarg),
Govaliya Ka Upsarg,
Barshitap ka Parna

From Left :
Chandrakashik Sarp Ka Upsarg,
Shri Parsvnath Bhagvan Nageshwar,
Shri Shantinath Prabhu Bhopavar,
Shri Padmavati Devi,
Shri Nakoda Bhairavji

Pujyaniya Guru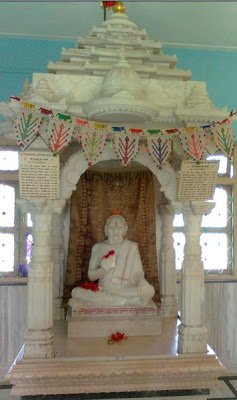 When ever you are passing by to the Phansad Wildlife sanctuary, do not forget to visit this beautiful temple "Paras Darshan" located at Chnera near Revdanda sea beach
for complete information on Revdanda & places nearby do read my post "Revdanda sea beach"