Shri BrahmaChaitanya Gondavalekar Maharaj
श्रीब्रह्मचैतन्य गोंदवलेकर महाराज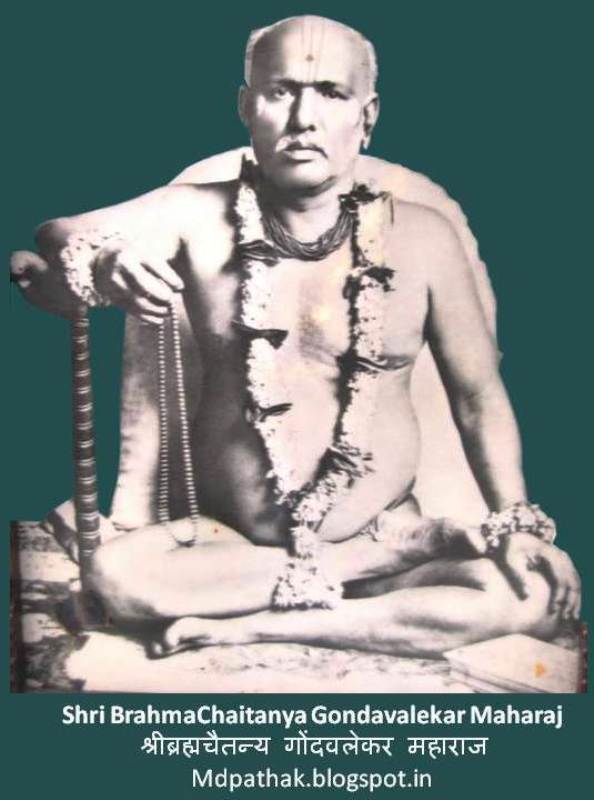 || ऐसा सर्वांगसुंदरु, सकळ विद्यांचा आगरु त्यासी
माझा नमस्कारु, साष्टांगभावे ||
|| जयाचा जनी जन्म नामार्थ झाला जयाने सदा वास
नामांत केला ||
|| जयाच्या मुखी सर्वदा नामकीर्ती नमस्कार त्या ब्रह्मचैतन्य
मूर्ती ||
|| श्री राम जय राम जय जय राम ||
|| जय जय रघुवीर समर्थ l||
Map from Pune to Gondawale to Pandharpur
So now my house warming ceremony invitations are given to all in Pandharpur and we are now traveling back to Pune via Gondavale which is one more famous place in Maharashtra.
After a travel of @ 1.5 hours we reached Gondavale to give invitation for my house warming ceremony to Shri Swami Brahma Chaitanya who is my mothers guru.
So for all of you I have added more information which will be useful to you if you wish to visit the holy place.
Travel Plan :
Start from Pune early morning, reach to Gondavale for afternoon Aarti, attend the same and then have Prasad, take some rest and proceed to Pandharpur.
Prasad is simple and tasty food which you will remember for long time.
Temple is maintained very clean.
The Regular 'Utsav 'of the Temple (Daily schedule) :
| | |
| --- | --- |
| 5.00 – 6.30 – | 'Kakadarathi' and Panchapadhi Bhajan |
| 7.00 – 8.00 – | 'Abhishek' |
| 9.00 – 10.00 – | Namasmaran (Shri Ram Jay Ram Jay Jay Ram) |
| 10.00 – 10.30 – | Vishnu Sahastranama |
| 11.30 – 12.30 – | Bhajan |
| 12.00 – 1.00 – | Naivedya, Arati, and Mahaprasad |
| 5.00 – 6.00 – | Jap (Namasmaran) |
| 6.00 – 6.30 – | Shree Ramaraksha , Shree Hanuman Chalisa, Ram Paath |
| 7.00 – 7.30 – | Naivedya and Arati |
| 7.30 – 8.00 – | Bhajan |
| 8.30 – 9.00 – | Shejarati |
The Regular 'Utsav 'of the Temple (Yearly schedule) :
| | |
| --- | --- |
| The Janmotsav (Birth Ceremony) of shree Godawalekar Maharaj. – | Maga Shuddha Dwadashi |
| Shree Samarth "Ramadas Navami" – | Magha Vadya Navami |
| The Janmotsav of shree Brahmanand Maharaj – | Magha Vadya Dashami |
| The Janmotsav of 'The Lord Shree Rama'(Shree Ram Navami) – | Chaitra Shuddha Navami |
| The Janmotsav of 'The Lord Shree Hanuman' (Hanuman Jayanti) – | Chaitra Shuddha Pournima |
| 'Guru Pournima' – | Ashadha Shuddha Pournima |
| The Janmotsav of 'The Lord Shree Krishna' (Shree Krishnastami) – | Shravan Vadya Astami |
| The "Punya Tithi of Shree Bramhanand Maharaj" – | Bhadrapada Amavasya |
| The "Punya Tithi of Shree Gondavalekar Maharaj" – | Margashisha vadya Dashami |
Stay facility
Rooms are available for stay

श्री ब्रह्मचैतन्य गोंदवलेकर महाराजांची आरती
(Shri Gondavalekar Maharaj Aarti)
जय जय आरती श्रीगुरुराया । सद्गुरुराया ।
नमितों तव पदिं संहरिं माया ॥ध्रु॥
मी जीव हा भ्रम द्वैतपसारा । द्वैतपसारा ।
वारुनी दिधला अद्वैतसारा ॥१॥
परम परत्पर चिन्मयखाणी । चिन्मयखाणी ।
शतमुख स्तवितां मंदलि वाणी ॥२॥
जगज्जीवन प्रभु मंगलधामा । मंगलधामा ।
नामरुपातीत तूं अभिरामा ॥३॥
|| श्रीराम समर्थ ||
If you wish to know more about Swamiji then do read
Website of Sansthan